Horse show hacks
Check out these great life hacks that can improve your overall horse show experience while making you look like a total professional.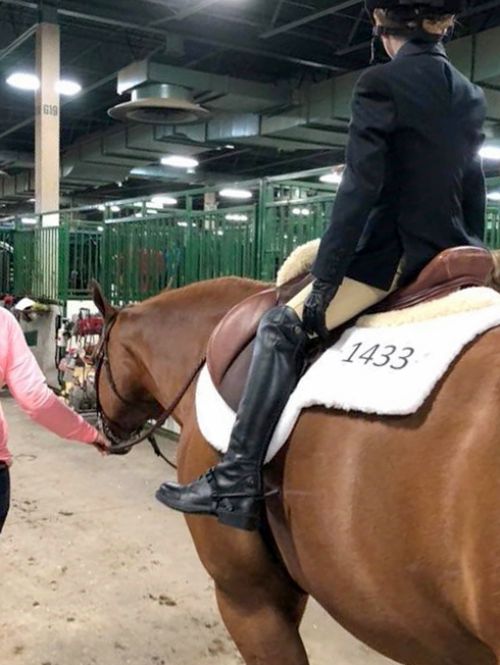 If you're anything like me, you spend an inordinate amount of your time, energy, budget and imagination focused on horse show season. Whether it's pinching pennies to pad the horse show account, watching another training tutorial online, dreaming up the next horse show outfit or challenging rides at home working on learning that new skill, it's no wonder horse shows continue to peak your interest and steal your daydreams.
This hobby easily becomes an all-consuming effort and taking any steps to streamline the complicated horse show process will likely have far-reaching positive effects. Read on to discover some of my favorite horse show hacks that will soon become your go-to's as well!
Do not underestimate the power of a slow cooker
Slow cookers are great because they require very little babysitting, which is ideal for a frantic show day. Having a more nutritious option ready to grab and go will often be kinder on your wallet than the fairground's food stand.
Since I'm being completely honest with you all, it's time I come clean. While I enjoy prepping homemade dishes for a slow cooker, sometimes there's just no room for that in the agenda. So instead of whipping up something from scratch, many pre-assembled frozen entrees work great in the slow cooker. Throw a thawed pan of macaroni and cheese or baked ziti (think Stouffer's or a similar brand), or grab a giant can of soup or stew from a food service store like Gordon's Food Service.
Before you turn your nose up at the idea, some of my most-complimented and quickly devoured dishes have been from this life hack. What does that say about my cooking? That's for another day. Moving on.
Did you know slow cookers are for more than just food? My mother is actually responsible for this fantastic idea. Put water in a slow cooker on "warm" and fold or roll up washcloths and place into the water. You'll want enough water to soak the cloths, plus a little more. Evaporation is inevitable, so having additional water is important. The small size slow cookers are ideal for this. Now your tack stall or horse trailer will be stocked with a warm rag whenever you need to wash your hands or face. This is especially useful for parents of youngsters that need a quick cleaning before they dive into eat or head into the show pen.
...or a pizza cooker
Consider adding a counter-top, rotating pizza oven to your camper. This kitchen gadget has greatly improved my ability to cook a variety of things while at the horse show or camping. Everything from chicken fingers to garlic bread, cookies and of course pizzas, this little gadget is so handy, takes no time to heat up and cleans up easily. A great gift idea for anyone who may struggle in the kitchen.
The conveniency of a mirror
You will find a mirror in your tack stall surprisingly convenient. Whether it's full length or not, a mirror will be a welcome and useful addition. Ladies will love it for makeup, specifically lipstick, application throughout the day. Anyone will appreciate double-checking their hat or helmet before they head into the show arena. Keep in mind a safe place to store this when traveling so your mirror will last for many show seasons.
Extra back numbers
The majority of show organizations allow you to keep the same back number throughout an entire show season. This is especially convenient for a number of reasons, such as being able to leave your number pinned onto your showmanship outfit. There's no need to poke more holes than necessary into your nice jacket, and if the number is placed on well to begin with, it will remain straight and centered until moved again.
I often keep numbers pinned on the sides of my saddle pads as well. While it is not required, having your number on the side of your horse greatly improves its visibility, and I can assure you judges will appreciate that. Be sure that if you're using a hunt seat pad with the large square area (like the one pictured above) that it is meant specifically for your number to be placed there. If you plan to have your number on your jacket instead, then your pad should follow the shape of your English saddle.
Knowing your number ahead of time also allows you to have extra back numbers on hand. Print a variety of sizes, all plenty large enough for a judge to see from center ring, and store them in your tack box.
With these few tips and tricks in mind, hopefully your next horse show adventure will be even easier and more enjoyable. Stay tuned to the Michigan 4-H Horse Program Facebook page for similar tips and video tutorials to improve your horse owning and showing experience!