Hosting an international student changes a family's world view
The Michigan 4-H Polish inbound exchange program expands a host family's view of the rest of the world.
Twenty Polish youth and two chaperones became part of Michigan families for a 2011 one-month summer stay as part of the Michigan 4-H international exchange program. The families opened up their homes and hearts and had the experience of a lifetime. The families provided statements that their world view had changed in collected family summary response evaluations and observational conversations. Statements included that the experience had changed their family's worldview related to knowledge of Poland, the education system and European cultures, and that they now know Poland is a modern, vibrant country with many similarities to the U.S.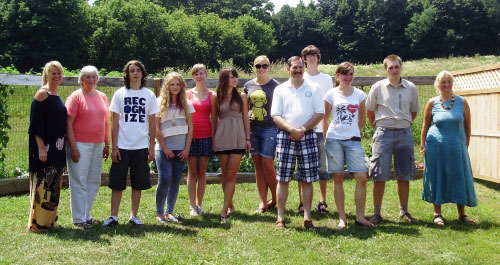 One parent commented, "I had no idea I could get so attached in such a short time. She called me 'Mom' and I cried." A host sibling that was an only child said, "I now have a sister!" One of the Polish students commented that he did not feel like he fit in at home in Poland and yet here in Michigan with his host family, he did fit. Attending one of the host family events, a local county commissioner was impressed with the group of students and their host families. He commented on how the cultural sharing was a positive experience for everyone involved, including the local communities.
The community involvement with these students changed world views as well. Families shared many instances where the Polish youth met people outside the family and how these encounters had an impact on the youth. These included neighborhood gatherings, local fairs, camping, 4-H events and more. The new friends commented on how the Polish students were just like them except they had cool accents! One individual was so inspired from meeting a Polish youth at a 4-H event that they will be traveling with the group of 4-H'ers going to Poland to experience and learn more about the culture first hand.
In 1993, the National Polish 4-H Education Foundation was created in Warsaw with the Michigan 4-H Foundation serving as its organizational partner. This relationship was designed to help foster 4-H youth development programming for Polish youth and to foster cultural sharing that can enhance programming in both countries.
This partnership supports and helps coordinate annual exchange visits by youth, volunteers and 4-H professionals in both Poland and the U.S. The Michigan 4-H Foundation also serves as a lead organization in the United States to connect 4-H in Poland with U.S. programs and resources for program development and growth. Visiting the National Polish 4-H Education Foundation webpage will introduce individuals to the 4-H Program in Poland to compare to 4-H in the USA (a button on the site translates any page into English).
Teens ages 14 to 19 from around Michigan will be traveling to Poland this summer. The majority of youth traveling had hosted a Polish student and are continuing the relationship that had been established. This travel opportunity is coordinated byMichigan State University Extension 4-H Youth Development global and cultural education programs. Global and cultural programs help young people explore, appreciate and value what people next door, across town and around the world have in common and what makes them unique. The youth who travel to Poland this summer will have the chance to make life-long international friends. They will live and explore Poland with a Polish host family and discover many topics of interest in Poland. Applications for travel to Poland are due March 1, 2012.
Here is additional information regarding the Michigan 4-H international exchange programs.