How to join and participate in the spring tree fruit Zoom webinars
Growers that registered for the Spring MSU Tree Fruit Webinars will need to register in Zoom on the day of the webinar.
To join the Spring MSU Tree Fruit Webinar Series, you need to complete a few steps. First, you need to download Zoom; see "Instructions for fruit growers on downloading Zoom for online webinars" for assistance. You also must have a relatively high-speed internet connection or good cell phone service if using mobile devices. If you do not have a good internet connection, we will record the webinars for later viewing. Next, you must register to attend any of these webinars.
Webinar details
Once you have downloaded Zoom and registered for the webinars, you will receive a webinar link via email on the morning of that day's scheduled webinar. This email will include a webpage link as well as a meeting ID. Below is a sample of what that email may look like.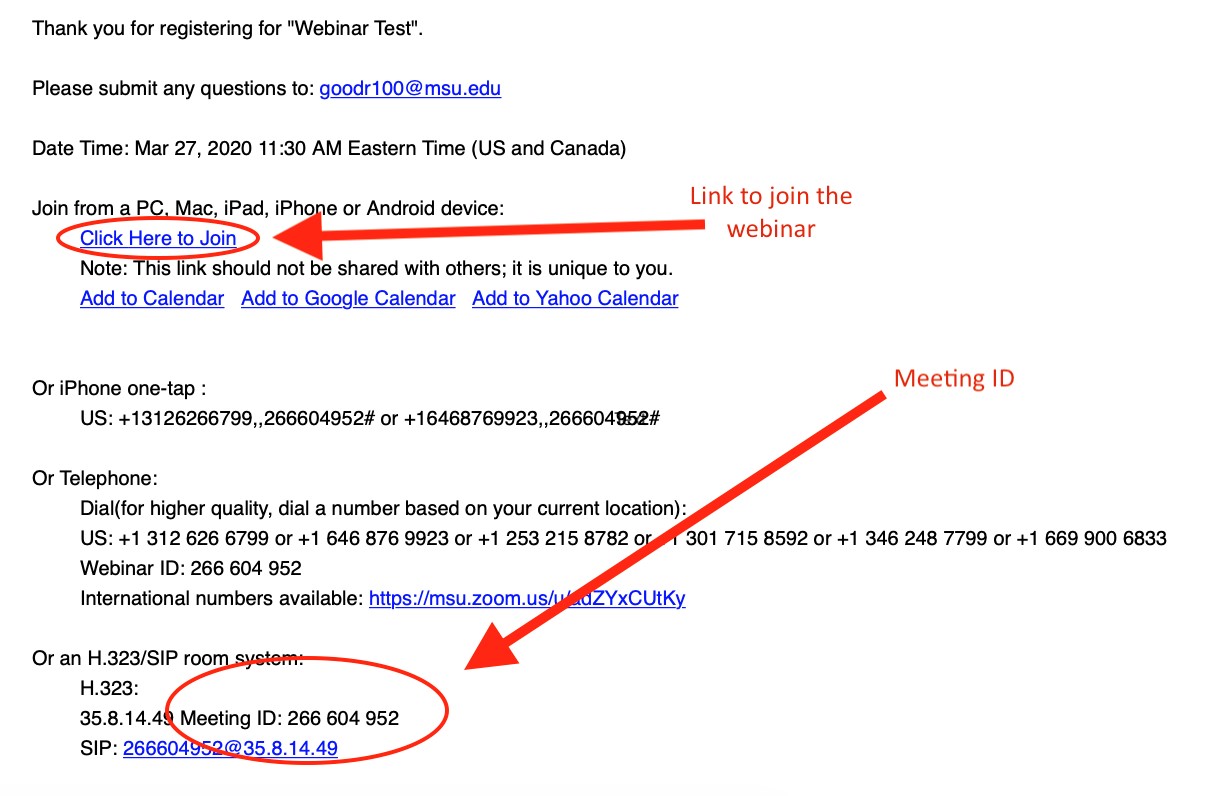 At the time of the scheduled webinar, click the Join Webinar button after you click on the link from your email. You will be required to enter your name and details. Please note that to receive credits, you must register AND enter your contact information into Zoom on the day of the event. Below is an example of what you will see.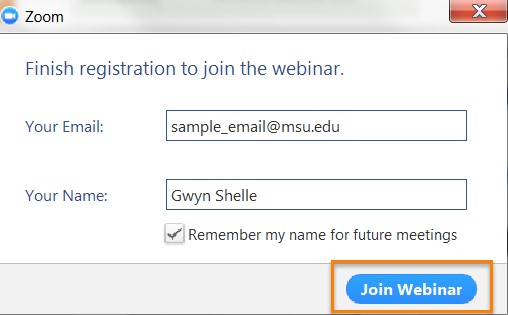 Participants will communicate in Zoom with the chat box function or through the Q&A box function (see image below). All questions must be typed into the "ask questions box" and the speaker will address those questions accordingly. We will provide speaker information on the last slide of each webinar if you have further questions or if you are viewing the recorded webinar. You will also want to make sure you do a sound check to make sure your computer speakers or headphones are working correctly. This will ensure you will be able to hear all speakers on the webinar. Please note that you may not hear sound until the webinar begins. Don't forget to turn your volume up!

Joining a Zoom webinar from an iOS or Android Device
Once you have downloaded the Zoom Cloud Meetings App (see "Instructions for fruit growers on downloading Zoom for online webinars" for assistance), open the application on your mobile device.
Select Join a Meeting and enter the meeting ID. This meeting ID will be found in the email you receive the day of your webinar.
Select the Join Meeting button.
The MSU Extension fruit team will hold a practice session on April 13 to iron out any of the kinks. Please do not hesitate to contact your local Extension educator for help prior to the start of the webinars—we are always happy to help!