How about some new state highway signs for the New Year? Part 2
Agri-tourism, cultural, historical and related operations may be eligible for Michigan special signage programs on interstate highways.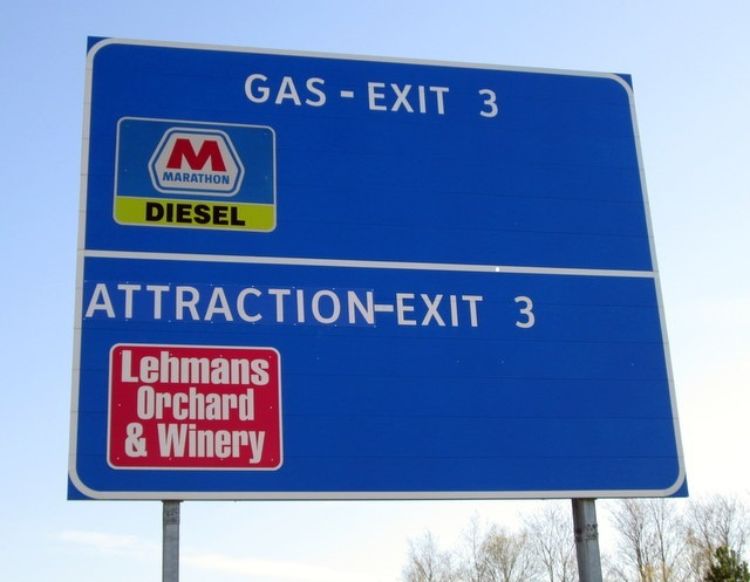 Most of us have seen and used the blue Pure Michigan-branded highway signs along our highways. If you operate one of the many destination businesses or organizations, you may want to consider getting your own in 2016.
The Michigan Specific Services Signage (or logos) program is directed to motorists on interstate highways. The "attraction" category joined lodging, gas, and restaurant businesses in 2013. Businesses in this program are eligible if they derive a major portion of their income from travelers, and have at least 10,000 out-of-area visitors per year, be listed on the Pure Michigan website, have public restrooms and adequate parking, among other criteria. A participant gets two signs; one four by three foot sign is placed approximately one mile from the exit, and a smaller ramp sign. The cost of adding a logo to the appropriate sign is $850 per year direction. A seasonal business may cover or remove the logo sign for a fee of $100 when closed.
"Signage is a really important part of most businesses marketing strategy…and wineries are no exception," says Doug Oberst of Twelve Corners Vineyards of Benton Harbor. "Just locating the winery you are seeking can be a challenge, and mapping apps are always correct. Sign placement is critical, and local ordinances have a big impact on what is permissible. Ironically, the sign that generates the most traffic for Twelve Corners Vineyards is our least expensive sign!" In addition to the Benton Harbor location, Twelve Corners Vineyards operates tasting rooms in South Haven and Grand Haven, Michigan.
Michigan Logos, Inc. oversees the Michigan Specific Services or logs signage program on behalf of MDOT. According to Michigan Logos, "signs along the highways offer businesses exposure to new customers 24 hours a day, seven days a week." Contact their office at 517-337-2267 to start the process.
Michigan State University Extension and Product Center counselors provide free business counseling to Michigan food, agriculture, natural resources and bio-based operations. Call 517-432-8750, or visit our website.
Other articles in this series: