Huron Pines AmeriCorps begins year of service providing environmental education and outreach
Huron Pines AmeriCorps member to serve with MSU Extension and Michigan Sea Grant expanding outreach capacity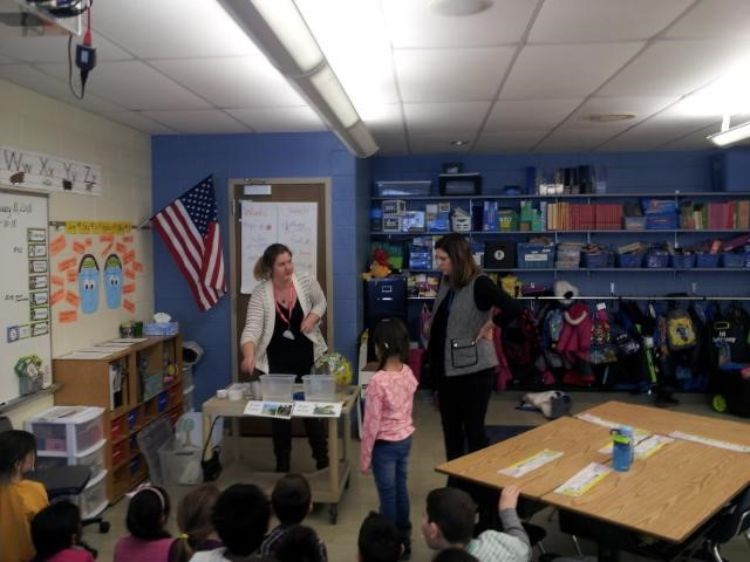 Michigan State University Extension and Michigan Sea Grant gain a new member to help expand the capacity of outreach programs in Macomb County. 2018 is the second year that the Huron Pines AmeriCorps program has placed an AmeriCorps member with MSUE/Sea Grant in Southeast Michigan. Sara DeAngelo is one of 30 Huron Pines AmeriCorps members serving with conservation stewardship agencies and organizations this year. Most of the other 29 members are serving across Northern Michigan.
Serving MSU Extension and Sea Grant, Sara will be supporting three education programs during her 10-month term of full-time service. Since January, Sara has been working on expanding the Water Conservation Program's capacity in Macomb County. She has scheduled nearly 150 classes and presented the program to 1st-3rd grade students to educate them on ways they can choose to act as "water savers" instead of "water wasters." In the coming months, she will be an integral part of the Great Lakes Education Program as well as the Summer Discovery Cruise Program.
MSU Extension and Sea Grant are looking forward to Sara's enthusiasm for environmental education and outreach during her term of service. Let's meet Sara to learn more.
Sara, tell us why you chose to serve with AmeriCorps, and why did you chose Huron Pines AmeriCorps here in Michigan?
While in my last semester of studying Public Health at Southern Connecticut State University, a couple AmeriCorps members had come into one of my classes to talk about the program and the opportunities available. It seemed interesting, but it didn't come back into my mind until last summer while working at a camp in Washington. Many of the other employees had been AmeriCorps members previously and told me about their experiences and what they learned during their service time. After hearing what they had to say I decided that AmeriCorps was what I wanted my next step to be.
I chose Huron Pines AmeriCorps because I was greatly inspired by the camp director I worked under in Washington and her passion to help the environment. I loved how the knowledge that she shared with the kids inspired them and I wanted to do the same. I found Huron Pines and I knew they were the perfect fit.
How has your education and past experiences prepared you for your service with MSUE and Sea Grant?
I'd like to think that everything that I've done has prepared me in some way for my service time. Education is obviously a very important part of that preparation. I graduated from Southern Connecticut State University in May of 2016 with my Bachelors of Science in Public Health. There I studied an array of subjects including Water Supply/Waste Treatment, Program Planning, Environmental Health / Hazards, Education, Biology, Chemistry, Physics and many others. I also took part in an array of extracurricular activities including choir, volunteer events, Public Health Society, study abroad, and many others.
What are you most looking forward to during your service and what do you hope to have accomplished by the end of it?
I am most looking forward to working with the students. It's always fun to go into a classroom and see how the kids react to the information you are teaching them and just how cool they think everything is. I hope that by the end of my service term that I am able to have reached more students than last year, and be able to set up a good foundation for the AmeriCorps member for next year.
Coming from Connecticut, what do you like most about Michigan so far?
This is a hard one, but I would have to say the people. Moving to a new state can be hard but the transition to Michigan has been made much easier by the fact that the people here are so friendly!
I have also seen the lakes from afar and they look amazing. I cannot wait for spring and for GLEP to start so that I can get outside and on the lakes!
Michigan Sea Grant helps to foster economic growth and protect Michigan's coastal, Great Lakes resources through education, research and outreach. A collaborative effort of the University of Michigan and Michigan State University, Michigan Sea Grant is part of the NOAA-National Sea Grant network of 33 university-based programs.
Huron Pines AmeriCorps is a program of Huron Pines and is supported in part by the Corporation for National and Community Service, Michigan Community Service Commission, Huron Pines and contributions from host sites. Huron Pines is a nonprofit 501(c)(3) organization and an equal opportunity provider.
Michigan State University Extension (MSUE) helps people improve their lives through an educational process that applies knowledge to critical issues, needs and opportunities.