Idea sharing: Practicing biosecurity and preventing zoonotic diseases Part 1
Local practices: Youth and adult leaders share their ideas for keeping animals and humans healthy at a recent statewide 4-H event.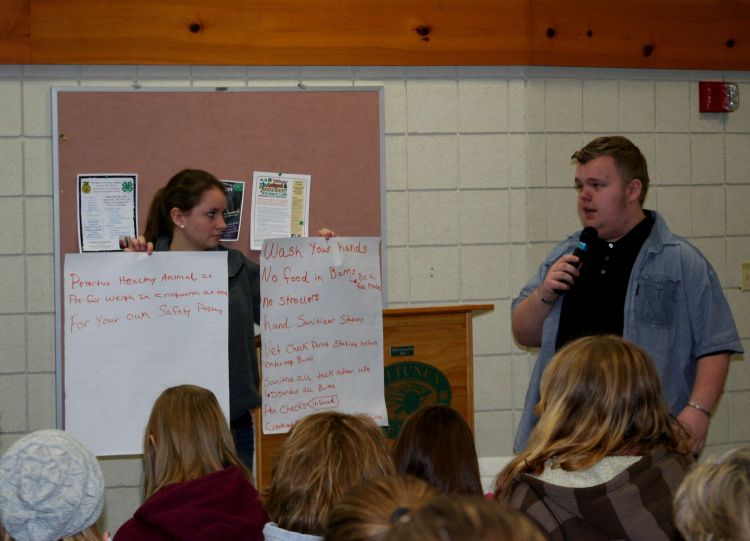 At the 2015 Michigan 4-H Beef, Sheep and Swine Teen and Adult Leaders Workshop held Feb. 28-March 1 at Kettunen Center, 145 attendees from 28 counties across Michigan shared their ideas on how they practice biosecurity and prevent diseases. Michigan State University Extension staff set the stage for the need for youth to practice biosecurity and how 4-H exhibitors can lead the way in helping prevent zoonotic diseases. This explanation included sharing resources found in Animal Science Anywhere lessons as well as the Breakfast on the Farm website to help expand ideas and provide resources for youth and adults participating in their local fair and other public events.
MSU Extension educators, MSU Department of Animal Science students and staff as well as 4-H volunteers facilitated small group discussions and challenged the participants to think about how their actions can help practice biosecurity and prevent the spread of zoonotic diseases. This process resulted in not only ideas, but education and awareness for both the adult and youth workshop attendees.
The teens and adults developed a list of methods for "Practicing Biosecurity and Preventing Zoonotic Diseases." The following ideas were among those presented by the participants.
Keep you and your equipment clean and maintained
Practice good personal hygiene including washing your hands before and after working with animals. This includes household pets as well.
Separate the germs by having a separate set of clothing and shoes for each farm, barn or show. This also includes having a separate pair of shoes or boots for the barn versus other locations. If visiting someone else's barn, consider using disposable boot covers. There is a lot we cannot see that is tracked on our shoes; cleaning them off is a great start to practicing biosecurity.
Clean and disinfect your tools, including making sure trailers are cleaned before loads and disinfected as needed. Don't forget about everything else you use on the animals such as making sure to disinfect grooming equipment from animal to animal. If possible, consider power washing your equipment with disinfectant.
Keep barns clean and organized. This helps prevent concerns as well as makes it easier to notice when something is wrong. This also means keeping feed bins and feed clean as well as making sure pens are clean and freshly bedded.
Wear gloves when working in birthing areas.
Don't eat and drink in the barn.
Keep your eyes open
Monitor your animals daily at home and when at exhibition.
Be observant! Take note of things that look different as well as the behavior of your animals.
Keep your animals clean and healthy
Ask questions of the owner when purchasing new animals to learn about their healthy history.
Make sure to vaccinate your animals and help them pass on their herd immunity to their offspring.
Quarantine new animals before mixing with the rest of your animals.
Have methods of fly control available to make your animals more comfortable and decrease the spread of diseases by insects.
Have clean pens and proper ventilation for your animals.
Don't let sick animals leave your farm. If something may be sick, be proactive and prevent the spread of diseases by monitoring and isolating the animal on your farm.
If possible, isolate animals that are returning home from a show or event.
Always have clean, fresh water available to your animals. If possible, avoid sharing water pails between other animals without cleaning them beforehand.
Have a good veterinarian/client/patient relationship. When giving shots, always use clean syringes and needles.
Make sure your animals are properly identified. Many livestock species require special identification to leave the farm or be shown. For cattle, make sure to have your RFID Tag. Sheep are required to have a Scrapie tag. Swine exhibited in Michigan are required to have a USDA Official ID.
The workshop participants had a diversity of experiences with animals and gathered many ideas on how to practice their own biosecurity. For additional information about the Michigan youth zoonotic disease resources, visit the Michigan 4-H Zoonotic Disease page or the MSU Extension website for animal science content.
Part two of this two-part series can be found at "Idea sharing: Practicing biosecurity and preventing zoonotic diseases Part 2."