Idea sharing: Practicing biosecurity and preventing zoonotic diseases Part 2
Beyond the farm: Youth and adult leaders share their ideas for keeping animals and humans healthy at a recent statewide 4-H event.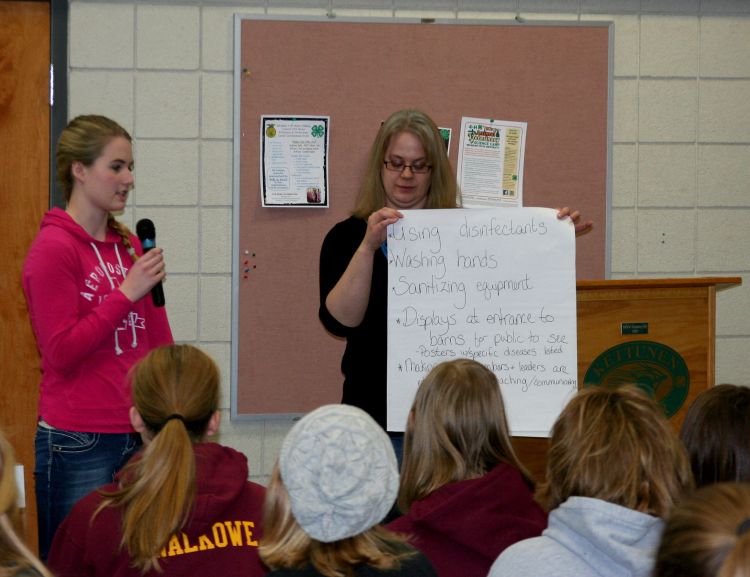 At the 2015 Michigan 4-H Beef, Sheep and Swine Teen and Adult Leaders Workshop held Feb. 28-March 1 at Kettunen Center, 145 attendees from 28 counties across Michigan shared their ideas on how they practice biosecurity and prevent diseases. Michigan State University Extension staff set the stage for the need for youth to practice biosecurity and how 4-H exhibitors can lead the way in helping prevent zoonotic diseases. This explanation included sharing resources found in Animal Science Anywhere lessons as well as the Breakfast on the Farm website to help expand ideas and provide resources for youth and adults participating in their local fair and other public events.
MSU Extension educators, MSU Department of Animal Science students and staff as well as 4-H volunteers facilitated small group discussions and challenged the participants to think about how their actions can help practice biosecurity and prevent the spread of zoonotic diseases. This process resulted in not only ideas, but education and awareness for both the adult and youth workshop attendees.
The teens and adults developed a list of methods for "Practicing Biosecurity and Preventing Zoonotic Diseases." The following ideas were among those presented by the participants.
Think bigger than yourself!
Utilize teams of teens that go to clubs to educate younger members about the disease concerns and preventative strategies.
Be a role model practicing biosecurity. Consider having youth "Ambassadors of the Barns" to work with superintendents to practice biosecurity.
Create and push policy informing biosecurity.
Educate public and 4-H members at fairs and events. Communicate with the public through various avenues including passing out flyers to educate public.
Practice example situations at club meetings.
Have displays at the entrances of barns to educate fairgoers, including signage that reminds people to wash their hands.
Know who is visiting your farm; visitor logs are an easy way to track who is coming and going.
Putting to practice what you have learned beyond the farm
Consider the following ideas to help keep you, your animals and the public healthy.
Use disinfectants to clean public areas and barns.
Sanitize materials where animals travel frequently, such as animal scales.
Have a veterinarian on-call for a public event. Consider having veterinary health check stations that animals go through before entering the barn.
Create educational posters to use at the fair and even display on their pens.
Minimize animals having nose to nose contact at fairs and events.
Have hand sanitizer stations located throughout fair.
The workshop participants had a wide array of experiences with animals and gathered many ideas on how to practice their own biosecurity. For additional information about the Michigan youth zoonotic disease resources, visit the Michigan 4-H Zoonotic Disease page or the MSU Extension website for animal science content.
Part two of this two-part series can be found at "Idea sharing: Practicing biosecurity and preventing zoonotic diseases Part 1."