IFLR partners with MSU Extension to offer online FSMA Produce Rule Grower Training
IFLR is offering a newly updated online graduate course on FSMA's Produce Safety Rule. Students will also have the opportunity to complete their AFDO-certified FSMA Produce Rule Grower Training. The course begins September 1, 2021.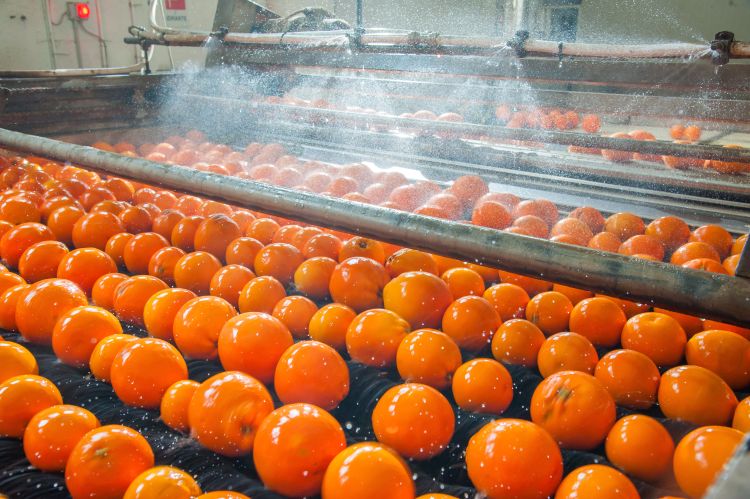 IFLR has partnered with MSU Extension to teach on online course on the Food Safety Modernization Act (FSMA) Produce Safety Rule this fall semester. Students this year will also have the opportunity to earn a certificate of completion for "FSMA Produce Rule Grower Training" from the Association of Food and Drug Officials (AFDO), in addition to their usual graduate-level academic credit.
The course will be taught by IFLR's Kris DeAngelo. Phillip Tocco of MSU Extension will deliver the standardized curriculum for FSMA Produce Rule Grower Training developed by the Produce Safety Alliance. MSU Extension is able to deliver this training at no additional cost to students thanks to a grant from the Michigan Department of Agriculture and Rural Development and the FDA.
The course will cover both regulatory and practical aspects of produce safety. The FSMA Produce Rule Grower Training content is specifically designed to provide a foundation of Good Agricultural Practices (GAPs) which emphasizes both food safety and environmental management goals, while outlining the requirements mandated in FSMA. Students will learn how to identify and reduce risks by drafting farm food safety plans. The focus from farm to fork enhances overall marketplace safety. Topic areas include worker health and hygiene, soil amendments, water quality in pre-harvest and post-harvest environments, crop inputs, wildlife and domesticated animals, land use, and FSMA issues related to produce.
This course also prepares food industry professionals to take on regulatory leadership within their organizations by providing an overview of the legislative and regulatory processes through an in-depth look at the relationship between the Food and Drug Administration (FDA), industry, consumer interest groups, and scientific communities. Students will learn the major provisions of the rule, evaluate FDA's limitations, examine current issues in food law, and explore the intersection of science and law.
All reading assignments will be available as downloads within the modules, via URLs, or through the provided Produce Safety Alliance grower training manual, which will be mailed to students at no additional cost.
Topics covered include the following:
Overview of FSMA
Introduction to Produce Safety and Risk Assessment for Public Health
Worker Health Hygiene and Training Practices
Soil Amendments
Wildlife, Domesticated Animals and Land Use
Agricultural Water, Production Water, and Post Harvest Water
Post-Harvest Handling and Sanitation
How to Develop a Farm Food Safety Plan
Standards for the Growing, Harvesting, Packing and Holding of Produce for Human Consumption
Covered Facilities and Variances
Withdrawal of a Qualified Facility Exemption
Compliance and Enforcement
Who should take this course?
Food industry professionals who need a deep understanding of how

produce

is grown, harvested, packed, held, and regulated in the US.
Food industry professionals responsible for meeting their organization's compliance with FSMA rules.
Food industry professionals who wish to become the "go to" person on FSMA within their organization.
How much time should I expect to commit to this course?
This is a graduate level, 3-credit hour course. Students will typically spend 9-12 hours per week preparing for and completing coursework. Some students may need more or less time based on their skills, experience, and the level of mastery they wish to achieve.
Students opting to complete the FSMA Produce Rule Grower Training will complete the requirements within the regular time commitment required for this graduate course.
How much does the course cost?
Tuition for Michigan residents is $2,357.25 USD per 3-credit course.
Tuition for non-Michigan residents, including international residents, is $3,021 USD per 3-credit course.
Non-credit participants pay $1,695 USD per IFLR course (students join for "information only" and may participate as much or as little as they wish, no enrollment or grade appears on their transcript – some industry professionals prefer this to the pressure of full academic participation)
There is no additional fee for students who choose to complete the FSMA Produce Rule Grower Training.
The FSMA Produce Rule Grower Training manual will be mailed to all students in this class at no extra charge.
When is this course offered?
This course is offered every other year, in the fall semester of even numbered years. This year, class begins on September 1 and ends on December 17, 2021.
How to enroll:
MSU campus and Lifelong Education students enroll using course code FSC 853 and MSU College of Law Global Food Law students enroll using course code LAW 810X.
Contact:
Learn about enrollment at https://www.canr.msu.edu/iflr/enroll/ or email iflr@msu.edu with questions.