Impact = Cloverbuds, mentors and horses
Read this story about yet another Michigan 4-H'er who has made an extraordinary difference in her community by starting a unique 4-H group, the Tuscola Teen Mentors 4-H Club.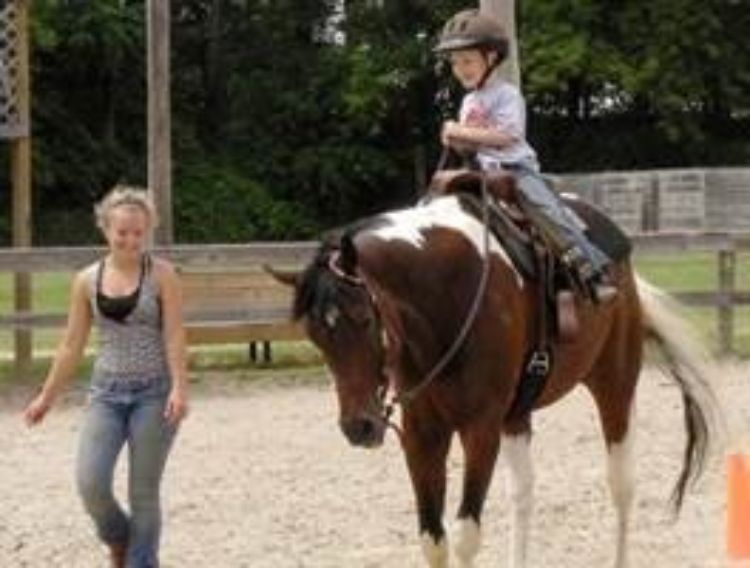 This article is a story about yet another Michigan 4-H'er who has made an extraordinary difference in her community by starting a unique 4-H group, the Tuscola Teen Mentors 4-H Club.

As a child, Emily Dunham was interested in horses. However, she had no access to a horse and her family had no experience with 4-H. When Emily was 11, she met a 4-H horse leader, who allowed her to borrow a horse to show at the Tuscola County Fair. Soon after, Emily's family purchased a horse for her and the rest, as they say, is history. Today, 4 years later, with the help and guidance of many local 4-H adult volunteers and leaders15-year-old Emily has become an accomplished rider, her horse's trainer and, according to one area resident, she is frequently the highlight of many local 4-H horse shows. These would be great accomplishments by themselves, but there's way more to the story!
The Tuscola County 4-H horse program has a rule that 4-H horse participants are not allowed to have any nonfamily member or any horse professional ride their 4-H project horse after May 1 of the current project year. This rule is intended to ensure professional trainers or persons highly trained in horsemanship are not training the 4-H project horse. While this is a good thing, it limits possibilities for who may wish to work with horses through 4-H but do not own horses.
Thanks to the donation of local indoor arenas, the club (which consists of 16 Cloverbuds, 5 mentors and 2 leaders) meets throughout the calendar year. The Tuscola County Fair is an exciting time for the Cloverbuds because it is the culmination of the club's yearlong hard work and dedication. With the support of the Tuscola County 4-H Horse Leaders Committee, fair horse show times have been expanded for Cloverbuds (by providing the 5- to 8-year-olds with an optional, additional day to show the horses), so mentors can concentrate on showing their own project horses yet be available to provide adequate and dedicated support to the Cloverbuds.So, this year, Emily thought about the rule, how she had been interested in horses at a young age but was unable to do anything about it because she didn't own a horse, all the Cloverbuds (5- to 8-year-old 4-H'ers) who couldn't do anything about their interest in horses and she did something about it. She started her own 4-H club in which teenaged mentors, experienced in horsemanship and equine care, work with Cloverbuds who would otherwise have no access to a horse. Mentors donate their time, talent and project horse (if they own one) to the Cloverbuds so the 5- to- 8-year-olds can participate in the Cloverbud horse program at the Tuscola County Fair. Cloverbuds and parents are invited and encouraged to learn all aspects of horse care, as can be seen in the picture on the left of Cloverbuds grooming a horse at the Fowler Center. It's common for Cloverbuds to help Emily at her home with daily chores so they get a full appreciation of the horse-ownership experience.
Even though the club is new this year, Emily would like to see it grow and continue long after her time as a
4-H youth leader is done. In a few short months, this club has built interest in the 4-H horse program by significantly increasing the Tuscola County 4-H Cloverbud participation, and by providing an opportunity for parents and children to experience and learn about horse ownership. As Heather Middleton, Tuscola County 4-H program coordinator, notes, this group really says a lot about 4-H and what it teaches. With support from volunteers, a 4-H'er began a program in which all of the club's members learn by doing and gain leadership skills. The mentors, from various parts of Tuscola County, share in the club responsibilities and planning, and they experience firsthand the satisfaction of giving back to their community. Most importantly, they work together for a common goal and in the process they develop close friendships with one another. Together, they share a value system that will follow them into adulthood and last a lifetime. And the Cloverbuds? They are thrilled that they can ride a horse. They really look up to their mentors; their faces light up when they are on their horses and when they get an award; and they are so very, very proud of what they're doing.