Improving halter judging with form to function
When it comes to judging a class of halter horses, sometimes it's best to return to the basics.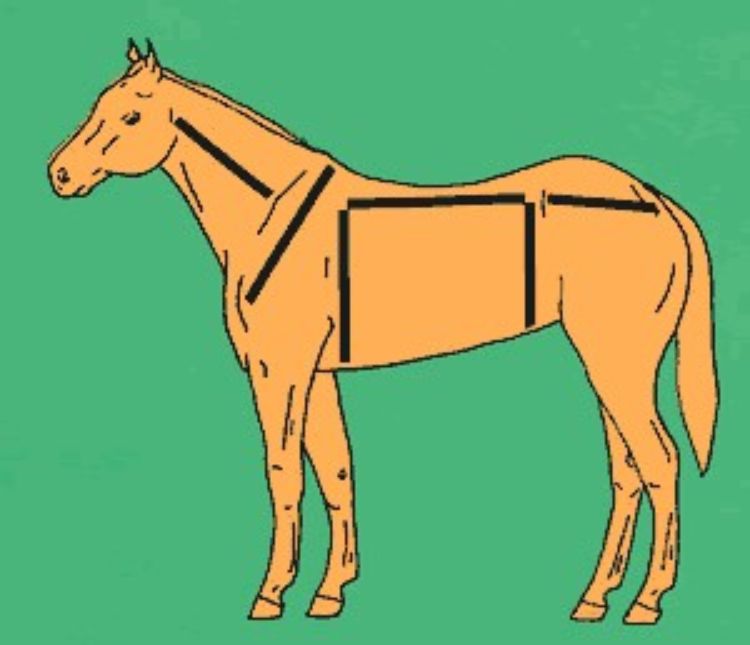 When looking at a class of halter horses, it can sometimes be difficult to determine which order you should place them in. At times like this, it is important to go back to the basics and remember the ever so important form to function that John Shelle has taught throughout his time at Michigan State University. Overall, a structurally correct horse will result in a higher quality and longer lasting performer; this is what is known as form to function. My Horse University offers a great DVD on Form to Function along with practice classes and oral reasons.
If you find yourself questioning how to place a class, Michigan State University Extension offers the following simple things to remember to help you sort out horses.
Balance is essential. A horse that evenly divides into three equal parts when looking from the profile gives a better visual appearance than those who do not. As you can see in the picture, this horse is easily divided into three parts: front end, barrel and hindquarter. Additionally, we want to see a horse with a smooth blending of body parts, as does the horse in the picture.
Correct legs are very important. A good set of "wheels" will provide the horse a foundation for their entire performance career. When we stand in front of a horse, we want to see an individual that drops a straight line from the point of shoulder through the knee down through hoof. When we look at a horse's hind leg alignment from the profile view, we want to have a straight line that runs from the point of the buttock and follows down the back of the cannon bone. Any deviation from ideal can potentially cause undue stress on joints, tendons, ligaments, etc., and may limit the horse's athletic potential. Horses with bones in correct alignment will likely move more fluidly and stay more serviceably sound for a longer period of time.
Longer, more sloping shoulders allow for greater reach. A laid back shoulder allows horses to reach out further as there is greater room for the humerus bone to rotate before it contacts the shoulder blade, which increases stride length and contributes to quality of movement. In every type of performance, we desire long strides. Horses with longer strides will more efficiently cover the ground and tire less easily.
Breed character and suitability will also be determining factors. Depending on what breed or class you're evaluating, a horse that exhibits greater breed characteristics will be placed higher than one who shows very few. This is accentuated most in purebred classes such as purebred Arabian halter, as you are looking for a horse to breed and pass on your desired breed traits. Another example would be a hunter in hand class where you are looking for a horse that shows a great amount of potential and suitability to go over a fence at some point in its career.
When a halter class becomes difficult to place, remember these basics along with your other desirable features, and the horses will begin to sort themselves. By breaking each horse into pieces and seeing how those pieces come together, challenging decisions will become easier. Looking up class specifications and breed characteristics prior to a contest will also help sort tough classes. Keep these tips in mind, and you will find yourself placing your next halter class with ease.
Interested in starting a 4-H horse judging team? Check out this useful Michigan State University Extension article, "How to start a 4-H horse judging team." Also, be sure to also "like" the Michigan 4-H Horse Leaders Facebook page for up-to-date information on state-level horse programs and events.
The MSU Horse Judging Team will again be organizing the Fifth Annual Hoofin' it for Horses 5K Run/Walk at the MSU Horse Teaching and Research Center. This event, which is the team's biggest fundraiser, will be April 3, 2016, and is open to the public.