Improving home insulation for savings and comfort: Part 4
Adding or increasing the amount of insulation in different areas of the home can have a positive impact on energy use and comfort.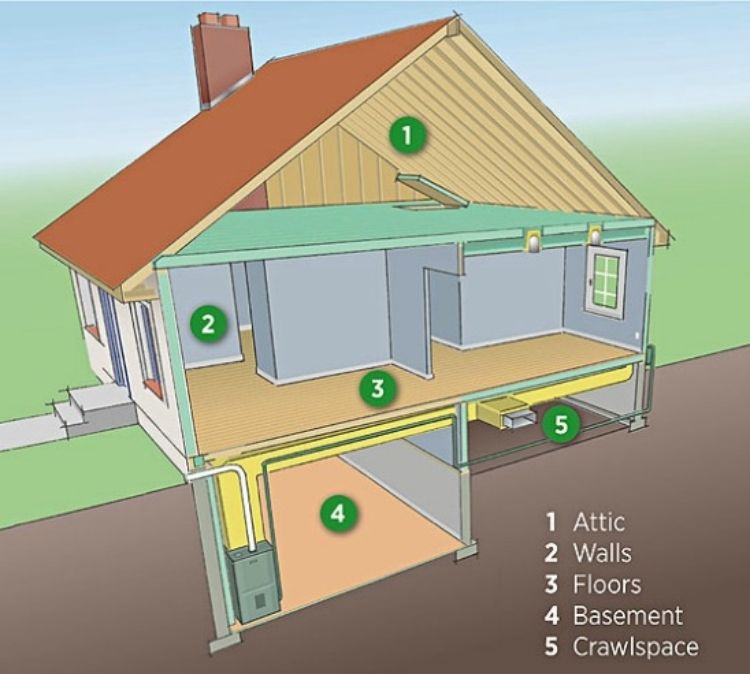 Unless your have a new house or have done renovations that included adding insulation, you can probably reduce your energy use (and bill) by adding more insulation to one or more areas of your home. Increasing insulation can save money even in newer homes and pay for itself in a short period in older homes.
To determine if your home needs additional insulation, see the Michigan State University Extension article: Improving home insulation for savings and comfort: Part 3.
Let's look at the different areas in the home that should be evaluated for optimum insulation and energy efficiency.
Attics
In winter, up to one-third of your heat is lost through an uninsulated or under insulated attic. During the summer, you can have a 60 percent heat gain in your home through the attic. The most frequently used insulation for attics is either loose-fill or batt (roll) insulation. While loose-fill is less expensive than batt insulation, it is messier to work with.
Ductwork
The ducts are the system of metal boxes that transport the heated or cooled air throughout the house. If the ducts are located in an uninsulated, area, such as an unheated basement or crawl space, valuable heat will be lost. By encasing the ductwork in insulation specially made for them, more heat or cooling will be disbursed in the living areas of the home.
Exterior Walls
For an existing home, blown-in insulation might work best because it can be added through the exterior walls without disturbing interior areas of the home.
If you are doing some remodeling, you can have a professional add spray foam or wet spray cellulose insulation. If you are doing the upgrades yourself, batt or roll blanket insulation will probably be the most economical and efficient option.
Floors
If the floor is above an unheated area, such as a garage or crawl space, the first step is to seal all potential air leaks between the two areas. This will increase the efficiency of the insulation and minimize any contamination from activities in the garage (car exhaust, paint and cleaning solvents, etc.).
Basements
Almost any type of insulation can be used on basement walls and insulation can reduce the threat of insect infestation. Basements are more likely to have water, humidity and mold issues. So pay particular attention to moisture control when increasing insulation in basements.
Crawl Spaces
Whether your crawl space is ventilated or unventilated will have impact how you insulate it. You can insulate the floor between the house and the crawl space and ventilate the crawl space. Or, you can insulate the walls of the crawl space and close off any ventilation.
Consumers Energy and Detroit Edison are offering homeowner rebates for increasing home insulation in the home. Rebate amount is based on both location and amount. It can be professional installed or a do-it-yourself project. Deadline for installation is December 31, 2014.
For more information on home insulation, see the Michigan State University Extension bulletin "Home Maintenance and Improvement: Insulation" R2798. The U.S. Department of Energy has a variety of information on insulation as well.
Part five of this series will cover how to hire a contractor.
Other articles in this series: