In the Weeds podcast highlights key findings from Kellogg Biological Station research
Agriculture is an intricate system of inputs and outputs. Come listen to the "In the Weeds" podcast as we explore the complexities.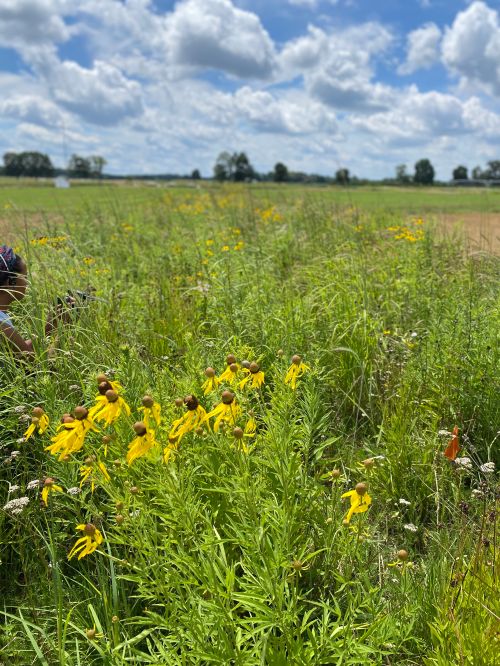 In the first series of this season's "In the Weeds" podcasts from Michigan State University Extension, Monica Jean, field crops educator in the Saginaw Bay region, and Sarah Fronczak, environmental management educator, are joined by researchers conducting projects at one of Kellogg Biological Station's (KBS) long-term research sites and alongside farmers. You may have heard speakers talk about prairie strips and how they can be a helpful addition to landscapes, but what exactly are they and how would you even manage one? An article summary by Fronczak titled "Burning questions about prairie strips answered on In the Weeds podcast" details the conversation Fahimeh Baziari, project coordinator with KBS, and Nate Haan, a postdoctoral fellow at MSU, had on prairie strips. Listen to the full episode here!
Listen Here: Burning Questions about Prairie Strip I
Listen Here: Burning Questions about Prairie Strip II
Organic matter(s)
As soil health has become the metric by which most people monitor conservation practices in agricultural fields, debates over how to best measure the health of soil have been fierce. Organic matter (OM) is important for overall soil functioning but may not be the best indication of soil health alone. The organic matter content of soil changes very slowly over time and does not capture how management practices influence soil properties from one year to the next. Christine Sprunger, assistant professor of soil health at MSU, and her lab hope to detangle this conversation by finding effective and approachable indicators for soil health on farmland throughout Michigan, especially for the somewhat elusive biological factor of soil health.
On the Long-Term Ecological Research (LTER) sites at KBS, biological, chemical and physical soil indicators have been used to monitor how differing agricultural practices influence the soil since 1989. Sprunger used this research baseline and farm sites throughout Michigan to determine what tests best capture differences in management. Sprunger found that in Michigan, as in the rest of the Midwest, soil respiration, permanganate-oxidizable carbon or PoXC (the active pool of carbon) levels and the soil protein content are accurate and sensitive indicators of how management practices influence the soil year to year. When combined with more data, respiration, PoXC and total organic matter may be able to tell us more about the true path and retention of carbon in soil over time. Listen to the full episode to learn more!
Listen Here: All There Is to Know About Organic Matter
Lady beetles as helpers in agricultural production
Lady bugs are one of the most identifiable insects in North America, but they represent a small number of a much larger insect family. The lady beetle family includes thousands of species. Over 450 are found in North America, and all prey on aphids, mites and other insect eggs.
Unfortunately, this group of beneficial insects is facing a threat of survival. "It's like death by a thousand paper cuts," Christie Bahlai, assistant professor at Kent State University, explains on the podcast. Between less diverse vegetation, an overuse of neonicotinoids and urban sprawl, lady beetle populations have been on a steady decline.
What can be done to help? Getting rid of all pesticide applications is not the solution according to Bahlai. Rather, beneficial insects can be used as an initial response in a targeted and quantifiable way. Through modeling and statistics, her research team was able to determine how fast aphid populations can grow relative to how fast natural enemies can eat them given certain weather conditions. If this dynamic action threshold shows that the aphid populations get naturally consumed to taper below the economic damage threshold of a crop, they recommend waiting on pesticide application.
How do we make way for these beneficial insects and produce what we need? By planting in marginal lands with native prairie species! Learn all about this practice and working with lady beetles on your farm in the full episode of this podcast.
Listen Here: The Lady Beetle Apocalypse
Precision conservation planning
The world of remote sensing and using satellite or drone imagery can provide a wealth of information about a field. This industry has grown remarkably in the past several years; the issue no longer lies in how to capture these images, but how to make sense of them. Information gained from remote sensing can be used for variable fertilizer application, seeding rate modifications or for the precise placement of tile drains. MSU Foundation Professor Bruno Basso wants producers to consider another use for this data- precision conservation planning.
Yields vary from year to year for a variety of reasons and the factors affecting variability are not the same from field to field. In Basso's research group, taking the long-term scope makes yield variability less hazy. By combining a history of yield maps with yield stability maps (maps that display areas of the field that perform at, below or above average the mean yield), farmers can visualize their most and least profitable areas of the field. With this combination of information, you can see which zones are the least profitable year to year.
Basso and his research team would suggest these zones may be better used when placed in a conservation practice like prairie strips or prairie clusters. The goal is to reduce input costs over time, find a beneficial, low-cost option for the field area instead, and meet the farm's overall bottom line. With fertilizer costs tightening the budget and nutrient concerns being top of mind for many producers, such an approach could take the guesswork out of conservation planning. Listen to full episode to learn more!
Listen Here: Improving Profitability by Installing Conservation Precisely
To hear these podcast episodes and more, follow the "In the Weeds" podcast from the Michigan Field Crops team. We discuss pressing issues and upcoming trends in agriculture with farmers, agribusiness professionals and Michigan State University Extension educators. The podcast is available on Spotify, iTunes and embedded on the Field Crops Team website. New podcasts are posted every week. To receive notifications for new episodes, please subscribe to our feed on Apple Podcast or whenever you listen to podcasts.