Insights, ideas and innovation shared at Connecting Entrepreneurial Communities Conference
Best community development practices shared and connections made border to border at the Connecting Entrepreneurial Communities Conferences in October 2015.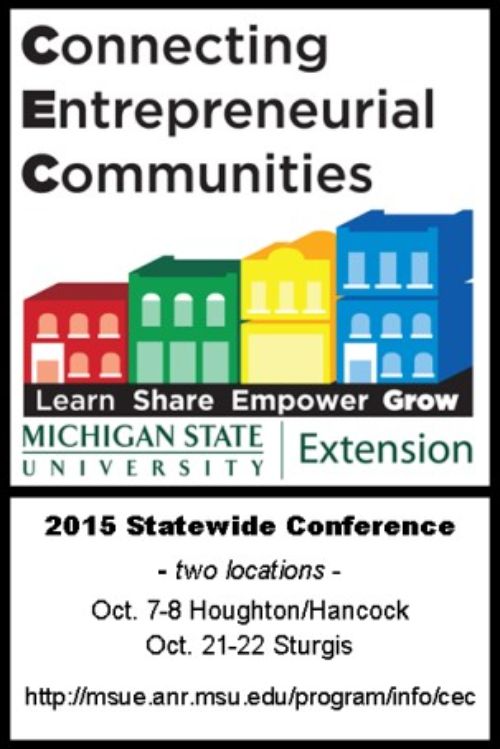 Two statewide gatherings of community movers, organizations and businesses, focused on growing and sustaining entrepreneurial cities, towns and regions, took place Oct. 7-8, 2015, in Houghton/Hancock, Michigan, and Oct. 21-22, 2015, in Sturgis, Michigan. This annual Michigan State University Extension conference, known as Connecting Entrepreneurial Communities, went border to border this past year by holding events in both of Michigan's Peninsula's.
The purpose of the conference was to:
Generate excitement about the role of entrepreneurs in growing resilient communities.
Share innovative resources, information and tools.
Strengthen regional capacity and support for entrepreneurs.
Build clusters of communities that are passionate about entrepreneurship and prepared to act.
To achieve its purpose, 23 different breakout sessions were offered along with two keynote speakers at each location. The keynote speakers were all local entrepreneurs who shared how they got started, their insight on business from setbacks to success and what they learned along the way. The keynote speakers in Houghton/Hancock were Dick Gray, co-owner of Keweenaw Brewing Company, and Robert "Bob" Jacquart, CEO of Jacquart Fabric Products. The keynote speakers in Sturgis were Gene Harrison, president of VCI, Inc., and Paul Smith, president of Great Lakes Chocolate and Coffee Company. For those who could not attend, the keynote speaker's presentations can be found online at the Connecting Entrepreneurial Communities program website.
Another big hit of the conference was its closing session, "60 ideas in 60 Minutes." Participants shared successful innovative programs in their community or ideas they learned at the conference they would like to implement. See the ideas generated from this session at the last three conferences. Other session topics focused on travel and tourism, arts, agriculture, food and culture, developing entrepreneurs, community best practices, fostering resiliency and youth as entrepreneurs. To showcase the hosting community and local entrepreneurs, these breakout sessions were held in local businesses and organizations throughout Houghton/Hancock and Sturgis. To get a sneak peek at the sessions and the communities, check out the Connecting Entrepreneurial Communities photo gallery.
If you missed this year, don't miss next year! In October 2016, the Connecting Entrepreneurial Communities Conference will be heading to the Thumb area to Port Huron, Michigan, for another exciting opportunity for community and business leaders to share successes, invest in ideas and empower entrepreneurs.