Interested in hops production and management? Attend the 2013 IPM Academy!
Register now for the 2013 Integrated Pest Management Academy, Feb. 19-20, to learn how to start and manage your own hops production. Other crop-specific sessions are also available.
Are you interested in diversifying into hops production to help supply Michigan's growing microbrewery sector? Do you want to learn more about hop yard setup, and hops pest and disease management? Are you interested in how shifting weather patterns could have an effect on your bottom line? Then you should attend Michigan State University Extension's second annual Integrated Pest Management Academy (IPMA13), Feb. 19-20 at the Okemos Conference Center in Okemos, Mich.
Along with the half-day session introducing hops, saskatoon and chestnut production, other crop-specific sessions include: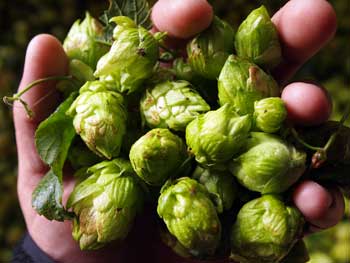 Deciduous Tree IPM
Apple and Cherry IPM
Conifer IPM
Communicating Climate Change
Scouting Techniques for Field Crops and Forages
Vegetable IPM
Emerging Issues in Field Crop Pesticide Resistance
IPM in Small Fruit Crops
For more information on what these sessions include, please visit the IPMA13 registration page.
Dr. Jonathan Comstock from Cornell University's Department of Horticulture will be the Academy's keynote speaker and address the weather challenges of the 2012 production season. Comstock is a climate change expert and is co-author of both the Agriculture and Ecosystems chapters of the recent New York ClimAID Report, which looks at climate change vulnerabilities and adaptation strategies. MSU experts will also be on hand to discuss irrigation, frost protection and changing weather patterns in Michigan.
The cost of this program is $225. Registration is open through Feb. 12, but space is limited so register today. For more information, or to request a paper registration form, please contact Erin Lizotte at 231-944-6504.
Additional resources
This program was developed with support from the Sustainable Agriculture Research and Education (SARE) program, which is funded by the U.S. Department of Agriculture — National Institute of Food and Agriculture (USDA-NIFA). USDA is an equal opportunity provider and employer.
Photo credit: Rob Sirrine, MSUE