Department of Animal Science
Read about the international programs, research, and collaborations of the Department of Animal Science
About Us:
The Department of Animal Science (ANS) promotes education, research and outreach programs in a wide range of areas from animal production, breeding and genetics to nutrition and animal welfare. There are focuses on the safe and economical production of food and fiber, and on animals for recreational purposes, without compromising the environment or jeopardizing the health and well-being of farm animals and farming communities. Faculty actively collaborate with governmental agencies and the industry while providing high-quality education and resources to serve Michigan, the U.S. and internationally.
The Department has diverse faculty expertise. As of 2018, there were 15 faculty members in dairy, eight in laboratory services, five in beef, five in swine, five in equine, five in multidisciplinary areas, four in poultry, three in sheep, one in companion animals and one in wildlife. In the year 2018-19, there were 458 students (432 undergraduates: 26 post-graduates) enrolled in various programs within the department. One-third of the post-graduates are international students. Undergraduate and post-graduate (M.S. and Ph.D.) degree programs offer rewarding careers in academia, government, the livestock industry, veterinary medicine, and biomedicine in the United States and globally.
International Collaborations:
The Department actively engages in collaborative research and outreach and partners with numerous institutions and countries worldwide. The Department hosts international scientists and scholars for seminars, workshops, and collaborative research programs -- providing a platform for faculty and students to share their research experiences internationally. In addition, students participate in education abroad programs, internships and professional exchanges outside the United States. Through international collaborations, students and faculty members engage globally with researchers and institutions contributing towards creating safe and environmentally friendly animal production systems.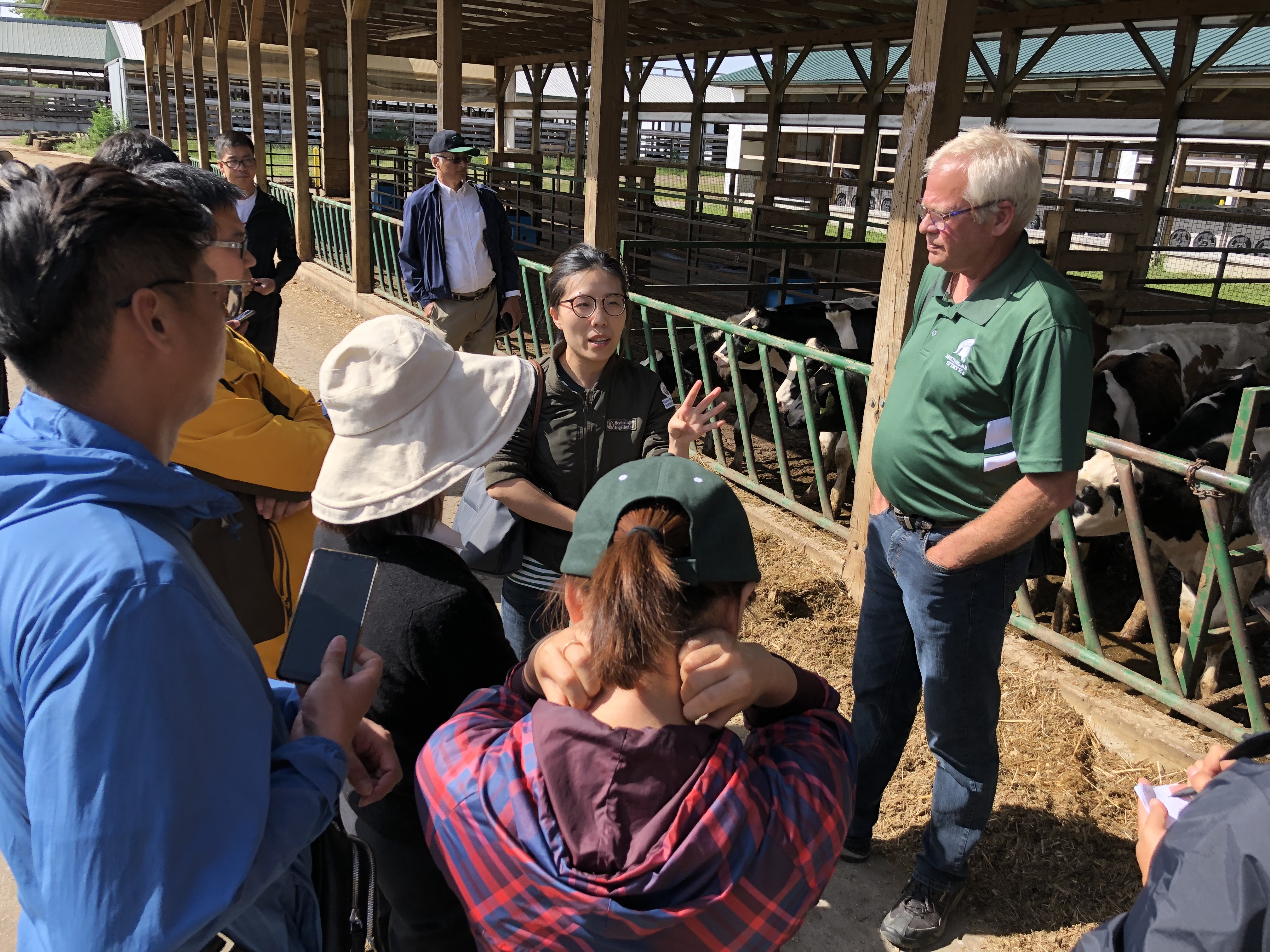 Education Abroad Programs:
Study abroad programs include Horse Industry of Ireland in Northern Ireland and Dairy Husbandry, and Environmental Stewardship in the Netherlands. Additionally, students annually participate in LoopAbroad and Safari4U programs. Some students participate in semester- or summer-long exchanges, including College of Agriculture Food & Rural Enterprise in Northern Ireland, University College Dublin, and Wageningen University in The Netherlands. Several students also participate in the One Health program to Nepal each year with College of Veterinary Medicine, the BEAM Kenya program, the Department of Fisheries and Wildlife program that focuses on conservation in South Africa, and the program to Antarctica with the Colleges of Natural Science and Lyman Briggs.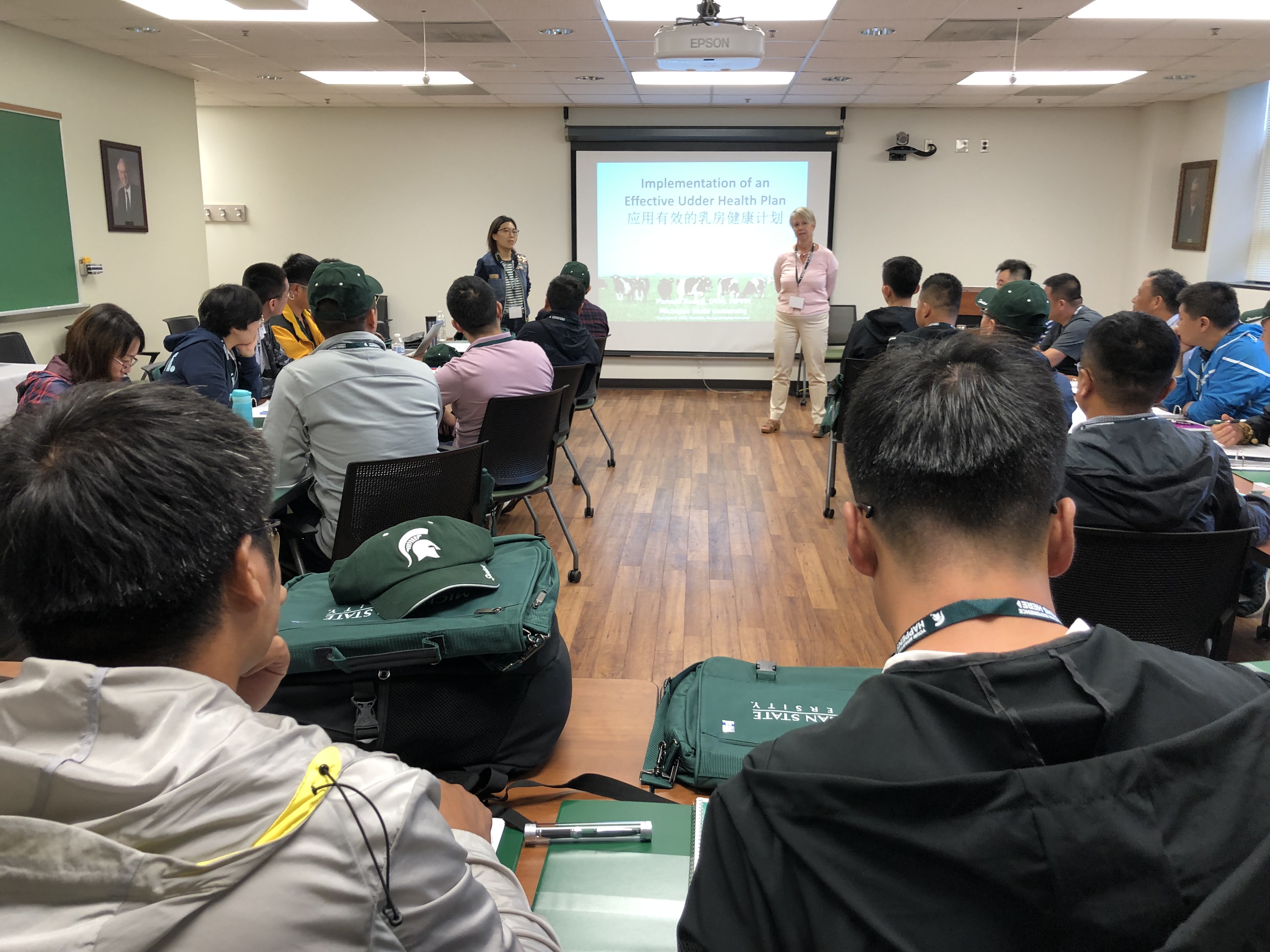 International Collaborative Research:
Faculty have a collaborative project with British researchers on "Deciphering the Role of Melatonin in the Regulation of Uterine Function." Other international research projects include Artificial Intelligence Methods to Select Marker Panels for Genomic Prediction (BioGreen21 Phase 3, Korea), and Animal Breeding and 'Omic' Technologies Applied to Sustainable Food Production jointly implemented with Sao Paulo State University, Brazil. Faculty have also conducted a study with scientists at the National Dairy Research Institute of India to determine whether ammonia fiber expansion would enhance the feeding value of wheat straw for lactating buffalo and cattle; collaborated with scientists in the Netherlands, the United Kingdom, and Canada to determine the heritability of feed efficiency in lactating Holstein cows and to determine the genetic relationship of cow type traits with feed efficiency; and with scientists at the University of Gent, Belgium, to create web platforms for formulating dairy cow diets.
Additionally, faculty have several international collaborations on animal welfare that include improving the transition between rear and lay environments to improve welfare and productivity of aviary-housed laying hens; and impacts of extended pullet housing on production, behavior and welfare both with University of Bern in Switzerland. Other collaborations include phenomics and genomics of behavioral and growth traits in group housed pigs with Scotland's Rural College (United Kingdom), KU Leuven (Belgium), and U Buenos Aires (Argentina); and reducing production losses using behavioral and genomic tools to identify pigs suited for group living with Scotland's Rural College (United Kingdom).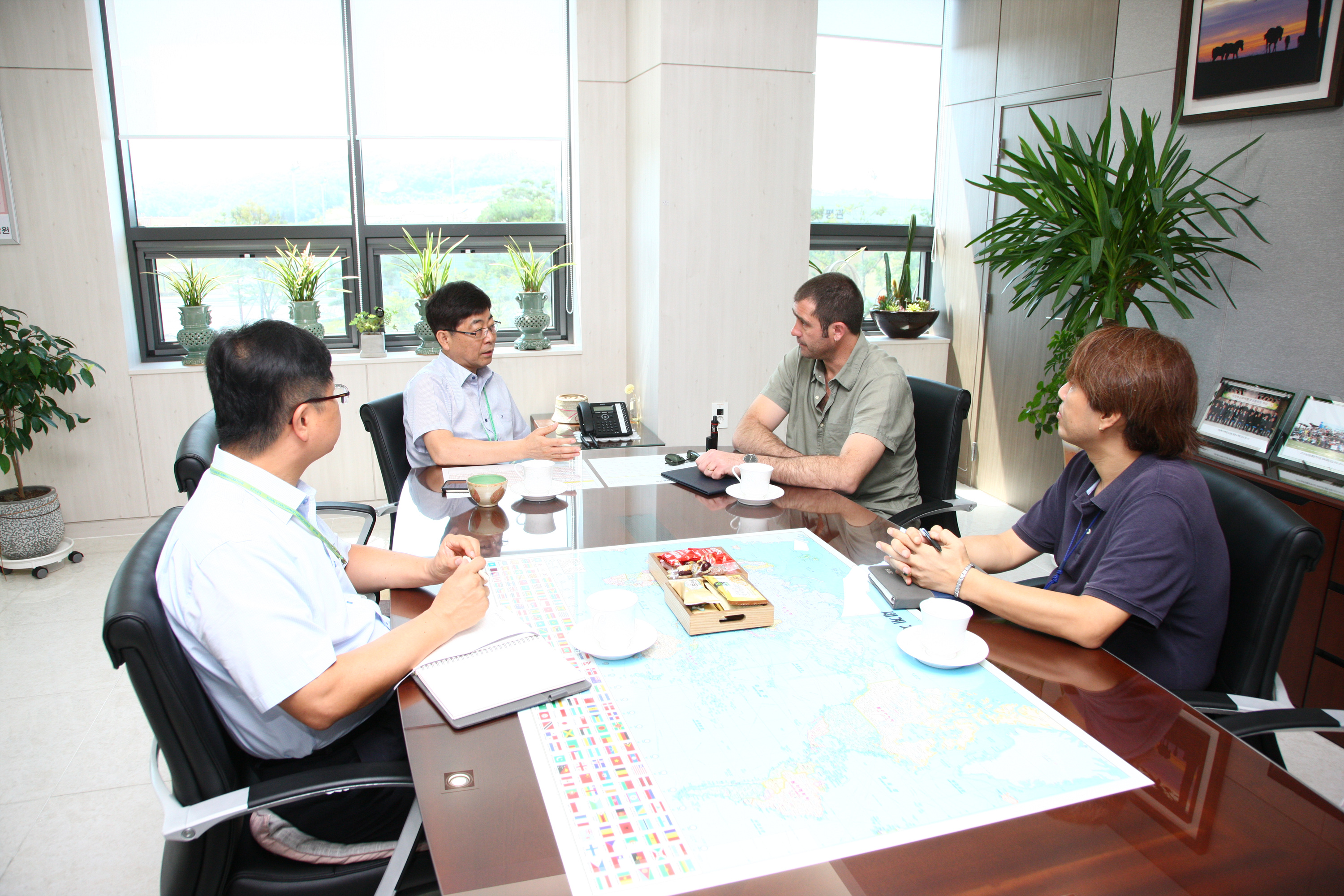 International Training and Outreach:
Faculty participate and present papers and seminars at international venues and invite international scholars to MSU for exchange visits and training. In 2018, at the International Congress of the International Society of Applied Ethology in Bergen, Norway, ANS faculty held a workshop on "Engaging students in learning about production animal welfare assessment."
The department offered a mini-course on applied Bayesian modeling using STAN at an annual meeting of the Argentinian Chapter of the International Biometrical Society, a post-graduate course on Artificial Intelligence applied to animal genetics at Chungnam National University Korea; and training on mastitis prevention and control to Chinese veterinarians at MSU.
ANS and the CANR's World Technology Access Program (WorldTAP) have jointly organized the International Food Safety Short Course for the past 20 years. As of 2019, a total of 579 participants from 75 countries have attended and benefited from this international short course. The Department also occasionally offers an international short course in animal agriculture.
Publications and Sharing of Knowledge and Experiences with Global Community:
In 2018-19, faculty gave over 47 talks in international professional conferences and workshops and published several articles in peer-reviewed journals, including the Journal of Animal Science and the Journal of Dairy Science. Select faculty publication are as follows:
Genetics:
Abdoli, R., S.Z. Mirhoseini, N. Ghavi Hossein-Zadeh, P. Zamani, M.H. Ferdosi and C. Gondro (2019). Genome-wide association study of four composite reproductive traits in Iranian fat-tailed sheep. Reproduction, Fertility and Development, 31:1127-1133.
Al Kalaldeh, M., J. Gibson, S.H. Lee, C. Gondro and J.H.J. van der Werf (2019). Detection of genomic regions underlying resistance to gastrointestinal parasites in Australian sheep. GSE 51:37.
Castro Dias Cuyabano, B., H. Wackel, D. Shin and C. Gondro (2019). A study of genomic prediction across generations of two Korean pig populations. Animals 9:672.
Dairy:
Bals, B.D., F. Teymouri, D. Haddad, W.A. Julian, R. Vismeh, A.D. Jones, P. Mor, B. Van Soest, A. Tyagi, M.J. VandeHaar, V. Bringi. 2019. Presence of acetamide in milk and beef from cattle consuming AFEX-treated crop residues. J. Agric. Food Chemistry, 67:10756-10763. doi: 10.1021/acs.jafc.9b04030.
Mor, P., B. Bals, A.K. Tyagi, F. Teymouri, N. Tyagi, S. Kumar, V. Bringi, M. VandeHaar. 2018. Effect of ammonia fiber expansion on the available energy content of wheat straw fed to lactating cattle and buffalo in India. J. Dairy Sci. 101:7990-8003.
Animal Welfare:
Chen C, Zhu W, Steibel J, Siegford J, Wurtz K, Han J, Norton T. 2020. Recognition of aggressive episodes of pigs based on convolutional neural network and long short-term memory. Computers and Electronics in Agriculture, 169:105116. doi: 10.1016/j.compag.2019.105166.
Chen C, Zhu W, Liu D, Steibel J, Siegford J, Wurtz K, Han J, Norton T. 2019. Detection of aggressive behaviors in pigs using a RealSense depth sensor. Computers and Electronics in Agriculture, 166:105003. doi: 10.1016/j.compag.2019.105003.
O'Malley CI, Turner SP, D'Eath RB, Steibel JP, Bates RO, Ernst CE, Siegford J. 2019. Review: Animal personality in the management and welfare of pigs. Applied Animal Behavior Science, 218:104821. doi: 10.1016/j.applanim.2019.06.002.
Wurtz K, Camerlink I, D'Eath RB, Peña Fernández A, Norton T, Steibel J, Siegford J. 2019. Recording behaviour of indoor-housed farm animals automatically using machine vision technology: A systematic review. PLOS ONE, 14 (12): e0226669. doi: 10.1371/journal.pone.0226669.
One guest edited journal issue with international collaborators: Guest Editors: Siegford J, Camerlink I, Cockram M. 2019. Special Issue on Ethology for Health and Welfare. Applied Animal Behavior Science. virtual volume.
For More Information, Please Contact:
Dr. Pamela Ruegg
Professor and Chair, Department of Animal Science
E-mail: plruegg@msu.edu