International tourism continues to climb without interruptions
The annual report reflects the previous year's statistics and changes in the industry. This could help shape tourism in your community.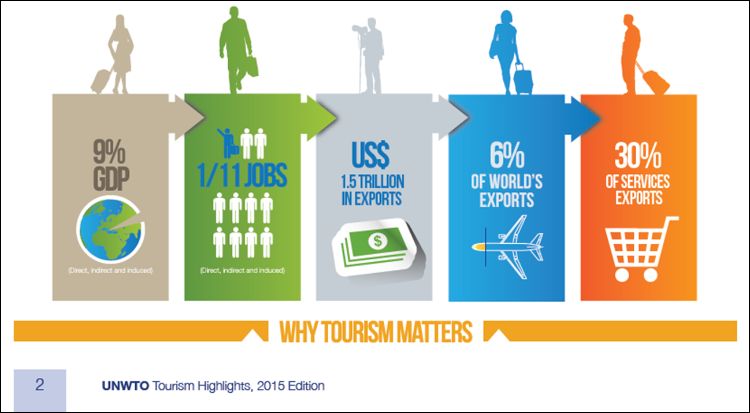 Information from the United Nations World Tourism Organization is released annually, this information is to serve as awareness of the international trends and implications of tourism. Michigan State University Extension educators recommend using this information to help understand and perhaps shape tourism in local communities, states, and countries.
The World Tourism Organization, an agency of the United Nations, is "responsible for the promotion of responsible, sustainable and universally accessible tourism" and "serves as a global forum for tourism policy and a source of tourism know-how." They document tourism facts and figures annually by region and country in a report that reflect the significance of the industry globally with long-term outlooks, projected changes, and a review of the previous year's statistics and figures (decades are highlighted as well).
The annual report reflects the previous year's statistics and changes in the industry.
General Key figures highlighted from the annual report have not fluctuated all that much during the last three years. The UNWTO still considers that:
One in 11 jobs worldwide is in the tourism industry
Tourism accounts for nine percent of the GDP (direct, indirect and induced impact)
Tourism is responsible for six percent of the world's exports
Annually, the top ten countries with highest international tourist arrivals has changed, but only slightly. France, the United States, Spain, China, Italy, Turkey, Germany, United Kingdom, and Russia Federation rankings have remained the same. Mexico, on the other hand, climbed into tenth place after receiving 29.1 million visitors in 2014.
While focused on key trends in international tourism by region and nation, the 2015 report does also focus on purpose of visit and mode of transport as well. Knowing tourists' purpose can help communities and countries to know their customer better and perhaps help shape new and more efficient services and business, which may lead to stronger economies and communities.
Purpose of visit (inbound):
53 percent of the inbound of tourism in 2014 was for "leisure, recreation, and holidays". 27 percent of the traveler's purpose was for visiting friends and/or relatives (VFR), health, religion or other reasons. Travel for business and/or professional reasons accounted for 14 percent of the international arrivals. Six percent did not specify their reason(s) for purpose of visit in 2014.
Mode of transport (inbound)
54 percent arrived via air while traveling abroad.
39 percent of travelers arrived via road to their destination country.
Five percent of international tourists arrived via water.
The remaining two percent arrived via rail.
UNWTO Tourism Highlights and other publications dating back to 2010 are available.
Tourism is a major industry for Michigan, one that contributes significantly to the State's economy and number of jobs. In fact, approximately 214,000 people are employed in Michigan's tourism industry. And Michigan generated about 2.4 billion dollars in taxes from tourism in 2014. Michigan State University Extension works with local communities throughout the state to identify strengths and assets to leverage for tourism.