Invasive pest information offered through the Eyes on the Forest and Woodland Stewardship Workshop
Don't miss this full day workshop that will provide training on how to monitor sentinel trees for invasive exotic forest insects and provide you with all you need know about best forest management practices for a variety of different forest types.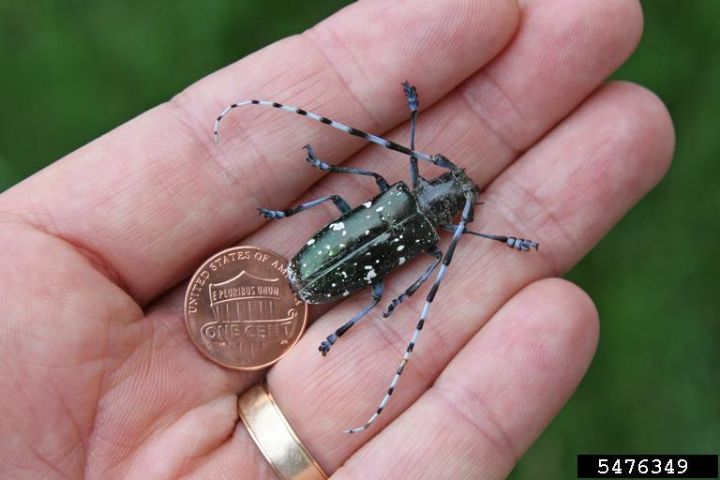 Even though the groundhog has told us that spring is just around the corner, winter in the middle of February can seem to go on forever. Getting outside to enjoy some fresh air can be a challenge in the frigid winds and the scenery of bare tree branches. There are some activities that can be done more easily before those leaves start to sprout, however. Even though insect pests are as dormant as the trees they infest at this time of the year, there are signs of previous seasons' damage that may be easier to see without leaves obstructing the view. Taking a look at the trunks and branches of maples and other trees at this time of year may help detect any potential existence of a dangerous exotic invasive pest—Asian longhorned beetle (ALB).
As earlier Michigan State University Extension news articles have described (see the Michigan State University Extension article for more information), the ALB is a large, one to 1.5 inch black beetle with distinctive white spots and long antennae with alternating black and white bands. It is native to China and the Korean peninsula, and probably hitched a ride to the U.S. via wood packing materials as early as 1996. Although ALB has not officially been found in Michigan, there is a confirmed infestation located east of Cincinnati, OH.
ALB is a serious threat to many tree species, particularly all species of maple, birch, sycamore, willow, poplar and buckeyes. That means there are lots of potential hosts located in this state in which ALB could take advantage. This pest can kill trees in a few seasons. Females first lay their eggs in small depressions created in the tree's bark. When the eggs hatch, the larvae bore into the tree and create tunnels or galleries in both the living tissue just under the bark as well as the wood of the tree's branches and trunk. Larvae become larger as they feed, eventually pupating and emerging from the tree as adults. When they emerge, they leave behind large, three-eighths inch exit holes (large enough to easily stick a standard pencil into). Multiple infestations eventually starve the tree of needed water and nutrients, as well as threaten the structural integrity of the tree itself.
During this time of the year, it is possible, though still not simple, to find those large exit holes. Early infestations usually begin near the top of the tree, which can be some distance from a viewer on ground level. If you happen to be an avid birder or other enthusiast with a good set of binoculars, this is a great way to use them to search for those potential holes.
Want to learn more about what you can do to help keep this pest, and other potentially damaging exotic invaders, out of Michigan's forests? The Michigan Eyes on the Forest team has partnered with the Michigan Forest Association to host a workshop on forest health and management titled, Eyes on the Forest and Woodland Stewardship. The workshop is being held as part of the Agriculture and Natural Resources Week, sponsored by Michigan State University.
The Eyes on the Forest program is designed to enlist volunteers to keep an eye on the telling conditions of a tree for signs of disease or decline by adopting a sentinel tree of their choosing, and monitoring it a few times a year. The goal of the Michigan Eyes on the Forest program is to increase awareness of three invasive exotic insects that have the potential to produce widespread damage to our Michigan forests.
The Eyes on the Forest and Woodland Stewardship workshop will be held on Monday, March 7 from 9 a.m. until 3:30 p.m. at the Kellogg Hotel and Conference Center in East Lansing. The registration fee of $10 covers the entire day of presentations, materials, refreshments and lunch. Register for the March 7, 2016 workshop today.
Did you find this article useful?
---