Investing in Mackinac County Youth with 4-H and MSU Extension 2018
In 2018, 55 youth participated in 4-H and other school enrichment programs.
In Mackinac County 4-H, we believe in the power of young people. By providing opportunities to learn and lead, 4-H helps youth become informed and engaged community members. While exploring new topics and activities in an experiential way, youth build the skills they need for life.
According to research completed by the Institute for Applied Research in Youth Development at Tufts University, 4-H'ers are four times more likely to make contributions to their communities, two times more likely to be civically active, and two times more likely to make healthier choices.
On September 15th the Life of the Straits program was held on Mackinac Island. Thanks to contributions from the Mackinac County Child Protection Round Table and Mackinac County 4-H Council all attendees were provided ferry tickets to and from the Island at no cost.
Two students from the Geology Department at Lake Superior State University guided youth and their parents through a geology lesson while a local teacher from Mackinac Island Schools guided youth and their parents through a history lesson. Michigan Sea Grant provided snacks and lunch for the day.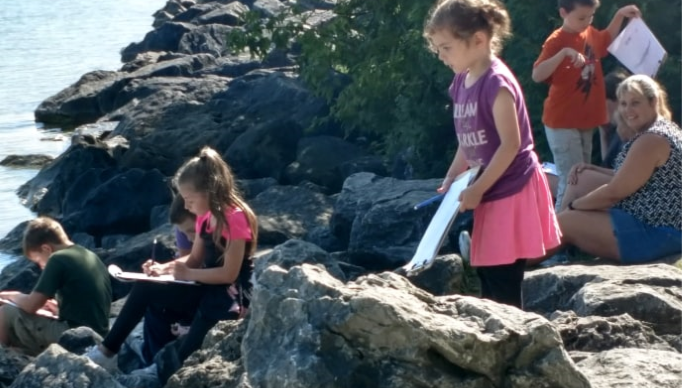 In total 23 youth and 9 adults were in attendance and participants came from 4 different counties (Mackinac, Chippewa, Luce, and Cheboygan counties). The program proved to be a success and plans are in place to make Life of the Straits a yearly staple program in Mackinac County. Future plans also include expanding to program to happen over multiple days in multiple counties who have waters in the Straits area.
This past year the Mackinac Island Horse Club celebrated their 20th year as a club. The Horse Club has a winter and summer component. During the winter months they gather in the gym at Mackinac Island School to review safety and practice their technique.
During the summer months they gather at the stables on the Island. Each youth gets to ride horses boarded at the stables for the summer season. This club has given many youth the opportunity to learn how to become skilled riders. The club has a strong foundation in the community and is an annual program for youth to participate.