Is my child ready for downhill skiing? Part 2
Tips on what to ask and expect of a ski resort's lesson program for young children.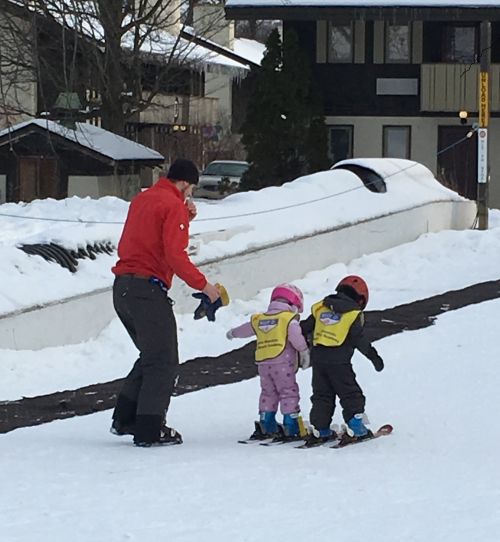 Whether your family is ready to hit the slopes of a local ski hill for the day or venture to a ski resort for a vacation, you will want to be prepared. Thinking about ski lessons for first-time skiers or a refresher course for the experienced ones is always a good idea. For older kids and adults, it can be an opportunity for a "tour" of the ski hills. Who would know the resort better than a ski instructor? You may find yourself on a dangerous double black diamond with no other way but down or miss out on a hidden gem on the back hills that was designed just for you.
When enrolling a young child in a lesson, most of the time ski resorts require a minimum age of 4 years old. Attention span, motor skills and physical strength are all things to consider when thinking of a lesson for the first time. Even though you may want to stay and watch your child on the ski hill, consider coming back at the end of the lesson to take pictures and be encouraging during the last 10 minutes so they don't get anxious and upset as the lesson begins. You know your child best and what they will be able to handle.
Wolfgang Russold, director of SnowSports Academy at Boyne Mountain Resort in Boyne Falls, Michigan, suggests parents ask some important questions when they contact a SnowSports desk for a lesson.
What is the minimum age to be in a ski lesson or snowboard lesson?
Are rentals included in the price of the lesson?
Should I get my rental equipment in advance?
Are lift tickets included in the price of the lesson? Are lift tickets required?
Where is the meeting space?
When should I arrive for my lesson?
Is food included in the price of the lesson? Lunch? How many snacks?
Does the class take a break?
Do you offer half-day lessons (two hours) or full-day lessons (four hours)?
How will you contact me if there is an emergency such as an injury? Cell phone service might be limited due to remote location, mountains or number of people in the area.
What is your pick up and drop off procedure?
What is the ratio of children to instructors? Age and ability will determine this ratio. A young beginner, aged 3-6, should be in a group of 1:6 or less.
Will my child be going on a chairlift? While not guaranteed, it is a possibility. Snowsport instructors are very good at teaching kids to ski. Chances are that in a very short time your child will be able to stop. Once that happens, they will more than likely be heading to a chairlift. At Boyne Mountain, a 3-6 year old will not ride the chairlift alone. They will be riding the lift with another adult.
What is your cancellation policy?
What other activities are provided? Is there a plan in case my child or another child in the lesson group has lost interest? Asking this will assure your eager skier won't sit inside all day when another child is not willing to go back out.
Finally, to get kids ready for the big day, Michigan State University Extension suggests reading books and watching videos with people skiing successfully. Tell your child they will need a lesson to learn to ski well and that is how you learned to ski. Always talk positive about the cold weather, crowds and skiing in general. Don't push them. Follow the lead of your child. If they are not ready, waiting an hour, a day or maybe until next trip might be all they need to have a great day on the slopes. Some resorts like Boyne Mountain offer a free magic carpet and beginner chairlift. So skiing for five minutes or five hours will be a great experience for all.
See "Is my child ready for downhill skiing? Part 1" for tips on how to be prepared for winter fun on the ski hill.
For more articles on child development, academic success, parenting and life skill development, please visit the Michigan State University Extension website.