It's time to clean, drain, dry and dispose!
Four easy steps can protect Michigan lakes and rivers from invasive species.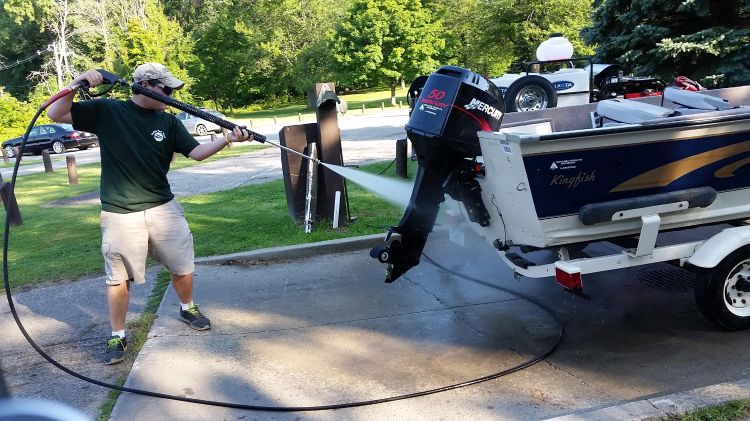 Boating season is right around the corner. Michigan is a water wonderland and you may be one of the millions of people who are looking forward to taking to the water to fish, paddle or cruise our lakes and rivers this summer. If you are a boater, you likely already know that aquatic invasive species have severely altered many of our waterways. For example, non-native zebra mussels encrust solid surfaces (including boat hulls and motors) below the waterline and their sharp shells make walking barefoot on some beaches out of the question. The invasive Eurasian water milfoil is one of many non-native plants that have choked out favorite fishing spots and swimming holes because of the damage these invaders cause. It is illegal in Michigan to launch a watercraft or place a trailer in the water if it has aquatic plants, zebra mussels or other prohibited species attached.
Here's the good news, stopping aquatic invasive species can be easy! Boaters should make a habit of taking these three simple steps:
Clean: Remove all visible mud, plants and animals from boats, trailers and gear. This can be done by hand or, better yet, by washing with hot water (140-160 degrees F).
Drain: Empty all water from bait buckets, live wells, bilges and any other container that may contain lake or river water.
Dry: Allow boats, trailers and gear to dry thoroughly before moving to another lake or river location. Even if you are unable to clean with hot water, several days of drying will destroy most invasive species.
Dispose: of plant material and unused bait properly. They can be placed in trash receptacles.
Here's even more good news! Mobile boat washing units will be deployed across Michigan this summer to help make it even easier for you to "clean, drain, dry and dispose" to stop invasive species in their tracks. Michigan State University (MSU) is partnering with the Michigan Department of Environmental Quality and the Huron-Manistee National Forest to offer a statewide Mobile Boat Wash program. There are several regional programs too. Keep an eye out for these mobile units this summer when you are out with your boat. Be sure to take advantage of their free boat washing services and Michigan Clean Boats, Clean Waters invasive species information!
If you, your community or organization are interested in bringing MSU's Mobile Boat Wash program to your local boating access site, view the program flyer, watch this short new video about "Why It's Time to Clean, Drain & Dry" or contact Dr. Jo Latimore (latimor1@msu.edu or 517-432-1491). This service is available free of charge.
If you are interested in volunteering to help with boat inspections at your lake, visit the Michigan Clean Boats, Clean Waters website at www.micbcw.org to learn more.
For more information on aquatic invasive species in Michigan, visit the State of Michigan's invasive species website.