Janice Ransom awarded the 2013 MSU Extension Meritorious Service Award
Throughout her 23 years at MSU Extension, Janice Ransom has proved her dedication to the organization and received recognition for her service.
Janice Ransom, Receptionist for Ionia County Michigan State University Extension, was awarded the 2013 MSU Extension Meritorious Service Award. Director Tom Coon personally presented the award to Ransom at the Ionia County MSU Extension office the morning of October 31, 2013.
Ransom started her career as a 4-H secretary at the Ionia County MSU Extension in 1990 and now serves as the receptionist for the office with office manager responsibilities as a large part of her position.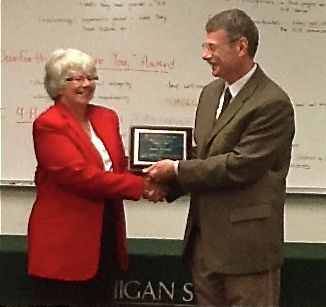 "As the first contact point for clients, Janice always provides each client with a professional, pleasant welcome and image of MSU Extension" said Don Lehman, MSU Extension Coordinator. "Janice is client focused and follows through to ensure that clients get the assistance they need by offering her expertise or connecting them to local and statewide staff".
Shortly after starting her career, Ransom volunteered to take the Master Gardener certification and served as the office expert for over 15 years as she assisted clients needing insects, plants and plant disease identification and management.
Ransom has been very flexible throughout her 23 years as MSU Extension and, as funding for support staff was reduced, Ransom increased her responsibilities without complaint and has made it a seamless transition. We have always been able to depend on her to follow-through when she says she will take care of something or do the investigation work and report back.
Ransom has been very active in justifying the need for county funding by tracking the number of clients visiting or calling the office. In 2012 alone, Ransom managed 4,543 clients who either called or came into the office for assistance. Congratulations Janice!
Did you find this article useful?
---