Join the Northern Michigan Small Farms Conference on-farm on August 14
Five farms will co-host the event with farm tours, workshops and community connections.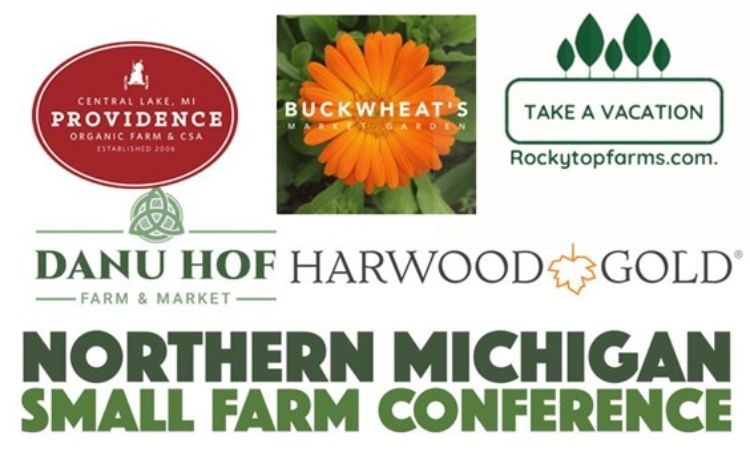 The Northern Michigan Small Farm Conference is back. This time, we're in person and on the farm! Learn more about the event and register now to join in the fun and be part of the movement to reimagine Michigan agriculture on Monday, August 14 from 10 a.m. to 4 p.m. at various locations in Northern Michigan.
Farm tours and hands-on experiences are among the best ways to learn about the craft and science of farming. This year's Northern Michigan Small Farm Conference is bringing that and more — workshops and discussions, all-ages activities, item swaps, art experiences, Farm Bill listening sessions — to our community of farmers and agricultural and ecological innovators.
Farm tour and workshop locations:
Providence Organic Farm, Central Lake
Rocky Top Farms, Ellsworth
Danu Hof Family Farm, Mancelona
Buckwheat's Market Garden, Central Lake
Parsons Farm & Harwood Gold, Charlevoix
Registration includes access to the event, PLUS one year's worth of access to the online digital archive. Rocky Top Farms has cabins, yurts, tents and camping. Reserve your spot today. Workshop and tour information can be found at https://www.smallfarmconference.com/2023-conference .
Workshops and Farm Tours
Workshops will include tours of each host farm and a diversity of topics including carbon-friendly farming, forest-raised pork, vegetable production, better chicken tractors, marketing, maple syruping and roundtable discussions. There will also be plenty of time for social connections throughout the day.
Become a Sponsor
Support the Northern Michigan Small Farm Conference and reach 6,000+ people on our email list, and nearly 7,000+ folks that follow our social media channels. Sponsor guide and registration is at www.smallfarmconference.com/sponsor. For additional questions, please contact us at nmsfc@crosshatch.org.
SARE supports sustainable farms and farm educators
Michigan's Sustainable Agriculture Research and Education (SARE) program supports the Northern Michigan Small Farms Conference and other sustainable agriculture workshops and farmer gatherings throughout Michigan. Apply at https://www.canr.msu.edu/misare/michigan-sare-mini-grant for up to $1,500 for organizing an event that teaches farmers and farm educators about farm innovations that improve environmental sustainability, farmer and community well-being and farm profitability.
SARE shares numerous resources for farmers and agriculture educators including books, bulletins, videos and more. For more information about SARE grants and resources, visit https://misare.msu.edu/index.html or https://www.sare.org/. SARE has distributed $8,698,525 to fund 305 grant projects in Michigan since 1988. The program aims to support an inclusive mix of farmers and does not discriminate on the basis of race, color, national origin, religion, sex, gender identity (including gender expression), sexual orientation, disability, age, marital status, family/parental status, income derived from a public assistance program or political beliefs.
MSU is an affirmative-action, equal-opportunity employer, committed to achieving excellence through a diverse workforce and inclusive culture that encourages all people to reach their full potential. Michigan State University Extension programs and materials are open to all without regard to race, color, national origin, gender, gender identity, religion, age, height, weight, disability, political beliefs, sexual orientation, marital status, family status or veteran status. This information is for educational purposes only. Reference to commercial products or trade names does not imply endorsement by MSU Extension or bias against those not mentioned.