June is "Great Outdoors Month"
Get outside during Great Outdoors Month this June!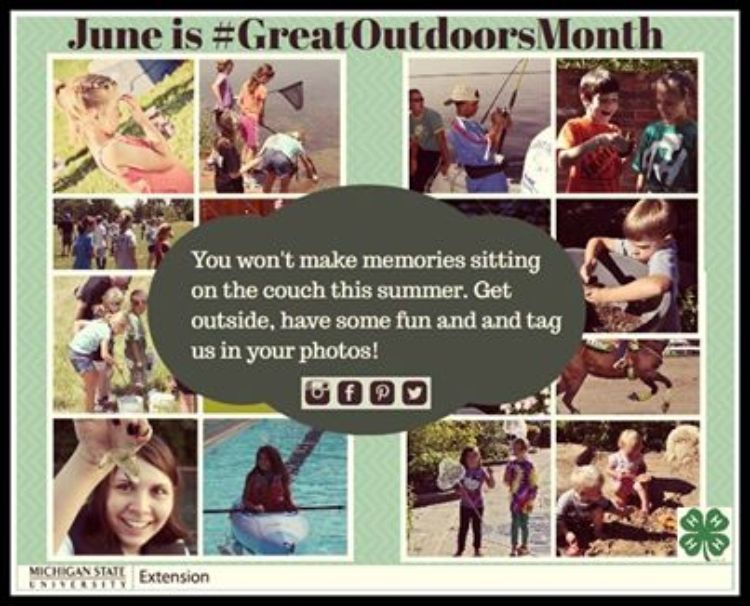 Get off the couch! Put down your iPad! Smear on some sunscreen, spray on insect repellent, put on your boots and get outside – June is Great Outdoors Month! Spending time outdoors refreshes the mind, body and soul and with warm weather and longer days, there is so much to see and do. What a wonderful time of year to spend some quality time with family and friends in the Michigan outdoors.
If you live in Michigan and are looking for an outdoor location to explore, the state of Michigan is blessed with many options. We have Great Lakes, national forests, beautiful in-land lakes, rivers and streams, national lakeshores, state and county forests, county parks, and the list goes on and on. Some of the more notable outdoor locations in Michigan include Pictured Rocks National Lakeshore, Sleeping Bear Dunes National Lakeshore, Porcupine Mountains Wilderness State Park, Pigeon River State Forest and the three national forests Ottawa, Hiawatha and the Huron-Manistee. If you don't live near one of these treasures, check out one of the hundreds of locations near you: many local parks, centers and trails are just waiting for use. Or, if you have very young children, your backyard is a good place to start!
Once you've decided on a location, it's time to select an outdoor activity to enjoy. With so many to choose from, it can be challenging to decide what to do! Perhaps you could start with a simple hike, swim or bicycle ride. Canoeing, kayaking, paddle boarding and tubing are also refreshing and fun sports on a hot day. Another great activity for youth is fishing – be sure to bring some snacks while you catch some fish! Camping requires more equipment and effort but the rewards are equally great. These are just a few ideas to get you started; there are many more outdoor activities in which to engage. Try one that interests you or consider helping a young person with a new activity.
Whatever outdoor pursuit and location you select, be sure to go prepared. Having the right equipment and supplies will ensure a successful experience and keep you and others wanting to go again. Use ample sunscreen and insect repellent. Bring plenty of water and healthy snacks to keep you hydrated and your energy level high. Wearing the appropriate clothing will also keep you comfortable and protected and good footwear is a must! Lastly, check that all your equipment is working properly so you can avoid unnecessary breakdowns and unwanted repairs. Remember you want to have fun out there, so making the right preparations will go a long way to making your Great Outdoors Month outing a successful experience for all.
Of course, the outdoor experience doesn't have to end in June. Every month and every season has something to offer; as the weather changes, so do the activities. As summer warms up, swimming and water sports will become more popular. Autumn lends itself to color tours, hiking and hunting. Winter brings skiing, snowshoeing and ice fishing. As spring arrives, so does kayaking, wildflower walks and syrup-making. So why not get out there to enjoy Great Outdoors Month and all the seasonal activities that Michigan has to offer?
If your young person really enjoys the great outdoors, they may be interested in the Michigan 4-H program, Outdoor Adventure Challenge (OAC). This program involves youth in outdoor activities such as rock climbing, backpacking, kayaking, canoeing, caving and winter camping. Adult leaders, trained and certified in these specific disciplines, take youth on these outdoor excursions where they learn and experience a variety of outdoor skills while developing character traits and life skills that will last a lifetime. For youth who want to explore what Michigan out-of-doors has to offer, this is an excellent opportunity to gain skills and experience the great outdoors!
Learn about other youth outdoor education programs with Michigan State University Extension.