Keep children safe this summer
More than 40 percent of all children's injuries requiring an emergency room visit happen between May and August. Keep an eye out for these top five causes of injury!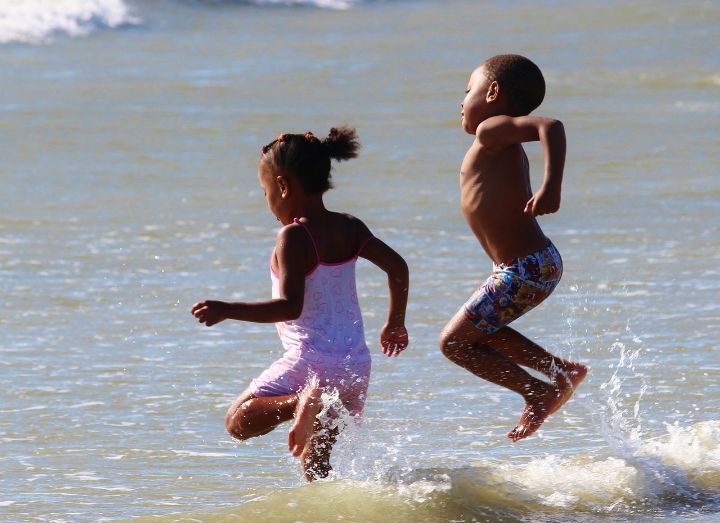 Summer is a time to head outside; bask in the sun, play in the waves, have picnic lunches and ride bikes! Along with these fun summer activities, comes an increased risk of accidental injury. Analysis of emergency room data show that more than 40 percent of children's injuries happen between May and August. However, more than 90 percent of these summer emergencies can be prevented. It's important to be prepared before you head out to play. Keep an eye out for these top five causes of summer injuries.
Falls
According to the Center for Disease Control and Prevention(CDC), falls are the leading cause of non-fatal injury to children. Playgrounds are the most commonly cited source of fall-related injuries. Help keep your kids safe by choosing playgrounds with a thick covering of shredded tire or mulch versus concrete or blacktop. Avoid having smaller children play on equipment that is too large for them; talk with older children about appropriate and safe use of the playground equipment. Be aware of other fall hazards, such as loose railings on decks and elevated surfaces in the home (such as tables, counters, etc.).
Bicycle Injuries
More than 400,000 children under the age of 19 are treated for bicycle-related injuries every year. Arms and legs are the most likely to be injured, but head injuries are the most serious. The majority of head injuries are avoidable by the use of a properly fitting bike helmet. From the smallest child on a tricycle, through adulthood, everyone should always use a bike helmet when riding a bike. It's also important to be sure the bicycle fits the child correctly and that children have been taught the rules of the road before setting out on a bike ride.
Motorized Vehicles: Cars, golf carts, scooters, ATV's… All present risk of injury to children. From injuries caused by falling off of an ATV to those sustained in a motor vehicle crash, it's important to exercise extreme caution when using motorized vehicles with young children. The American Academy of Pediatrics and the National Highway Traffic Safety Administration offer recommendations to parents regarding the appropriate selection and use of child restraints. Nationwide, more than 80 percent of car seats inspected have been found to be used incorrectly. Take time to find a car seat technician to inspect your children's seats before you head out on that summer vacation!
Burns
From campfires to fireworks, fun in the summer often comes along with an increased risk for burns. The CDC indicates that more than 300 children are treated a day in emergency rooms for burns. The most common cause of burns in young children is scald burns from hot liquids. Older children are more likely to be burned by actual contact with flame. Parents should always keep hot liquids away from table and counter edges where young children can reach them, and carefully supervise all children around fires, fireworks, candles and other sources of open flames.
Drowning
Most child drownings happen between Memorial Day and Labor Day. For every ten drownings there are thirty near misses. It is recommended that children are never left unattended near water of any depth; children can drown in as little as one inch of water. Children should be taught basic water safety, as well as how to swim. Parents and other adults who are supervising children should remain within an arms length of children in the water; they should also learn how to swim, if they do not know already. All parents should learn CPR and first aid. Visit the American Red Cross or the American Heart Association to find a CPR course near you.
Michigan State University Extension reminds you that a little bit of prevention can go a long way to keep your children safe this summer! Plan ahead before you set out and enjoy the great summer weather with your family. For more safety tips visit Safe Kids,The American Academy of Pediatrics and the Center for Disease Control and Prevention.
---