Kettunen Center workshops enhance 4-H experience for youth and volunteers
Michigan 4-H offers various state-wide workshops throughout the year that enhance the 4-H experience for youth and volunteers.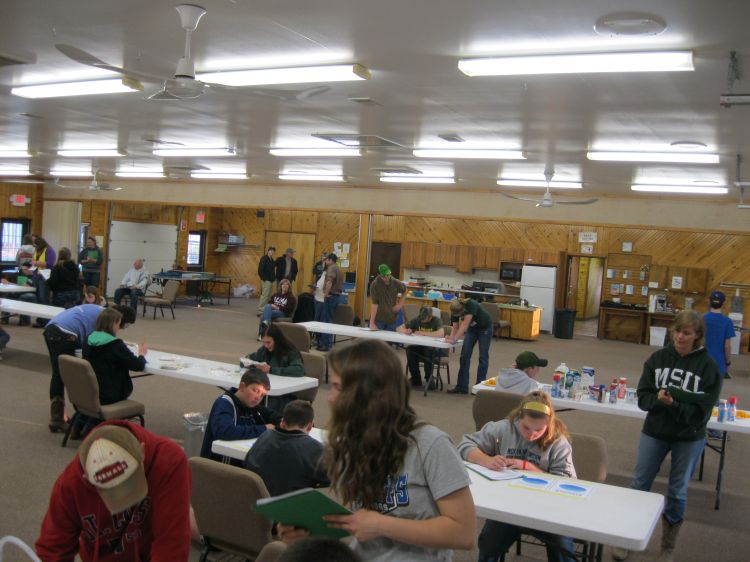 4-H members learn and grow within their clubs with every meeting, fair, community outreach activityand club event. These gatherings are important for youth to connect with peers and positive adult role models through common experiences. Local experiences are vital to maintain strong, active clubs, but there is much more youth may participate in. Michigan State University Extension through the Michigan 4-H program is proud to offer weekend long workshops to enhance the 4-H experience for youth and volunteers. These workshops connect youth from across the state to dive more in-depth into their content area, learn about what other clubs are doing, and make new friends. MSU Extension staff, university faculty and industry experts attend the workshops to share their knowledge, inspire youth and learn along the way themselves.
Savannah Katulski, an Animal Science student, member of both the collegiate and 4-H dairy judging teams, and Oakland County 4-H alumni said, " The Kettunen Center workshops for both the veterinary science and livestock [beef, sheep, and swine] areas were very influential in my future. I made lots of friends and was exposed to many industry individuals. As a soon to be graduate in Animal Science at Michigan State University, I can say looking back, that my experiences at the Kettunen Center made a very positive impact in my life."
Collegiate dairy judging teammate, Animal Science student, and Osceola County 4-H alumni Bridget Moore agrees saying, "Attending workshops during my 4-H career was educational, fun, and I met awesome friends! It's a great chance to meet industry members and future professors from MSU. It's a great place to start learning and digging in deep to your interests. I would recommend any 4-Her to go!"
Andrew Weaver, Midland County 4-H alumni, Animal Science senior, former member of the MSU Meat Judging Team, and member of both the 4-H Veterinary Science and Livestock Programming Committees concurs with Katulski and Moore. "This year will be my ninth year attending Kettunen Center workshops as either a 4-H member or presenter. Each year I look forward to meeting new friends, seeing old ones, and working together to better 4-H and Michigan youth. From professors in Animal Science to veterinarians to youth from across the state, Kettunen Center has allowed me to make connections that will be lifelong and beneficial not only in academics, but also in the agriculture industry."
Adam Conover, Livestock Academic Specialist in the department of Animal Science, leads multiple livestock sessions at the 4-H Beef, Sheep and Swine Teen and Adult Leaders Workshop. When asked about his experiences at the workshop, Conover stated, "The thing that I look forward to the most about the workshops is the interaction with the broad array of diverse Michigan youth interested in livestock. They seem to stem from a number of backgrounds, but all come to the workshops with the same goal: learn more about their projects and ultimately grow as individuals."
Workshops are generally offered at the Kettunen Center, in Tustin, though there may be other location throughout the state. The center is a full-service conference and retreat facility that is owned and operated by the Michigan 4-H Foundation. Kettenen Center, originally known as Camp Kett, opened in 1961 and was the nation's first 4-H volunteer and training center. Since it's opening, the center has been a premier facility for youth and adults alike to learn, grow, and enjoy the beauty of the 160 acres of forest and wetlands.
There are still several workshops left in the 2014-2015 season. Don't delay in registering! Workshops have limited space and registration deadlines.
The schedule for 2015-2016 will be released later in the year. Check the 4-H Volunteer Training Workshops for the most up-to-date information.