Know when to replace athletic shoes
Athletic shoes have an expiration date. If you walk or run for exercise, you should plan on replacing your shoes every 350 to 500 miles or every three to six months.
August 23, 2018 - Author: Kris Swartzendruber, Michigan State University Extension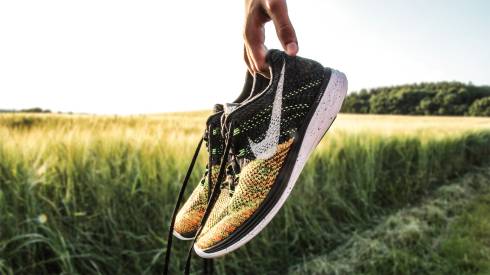 Did you know that your athletic shoes have an expiration date? If you are walking or running for exercise on a regular basis, your shoes have a limited lifespan. Each time you take a step, you are breaking down the material in your shoes that provides cushioning and support.
The typical athletic shoe is only made to last approximately 500 miles for people who walk and 350 to 500 miles for heavy runners or hard-foot strikers (people that hit the ground harder than normal with their feet). Weight and use is also a factor, the more you weigh and the more often you use your shoes, the faster your shoes will wear out. Most athletic shoes, used on a regular basis, need to be replaced every three to six months.
The problem with athletic shoes is that the aging process starts even before you buy them. Athletic shoes are glued together, so as soon as they leave the warehouse and enter the shelf of a store, the glue is deteriorating. The air pockets that provide cushioning may also start to decrease. Before purchasing an athletic shoe, make sure it is a current model and ask the store personnel how long the shoe has been at the store.
Michigan State University Extension recommends the following tips to help your athletic shoes last longer:
Only use athletic shoes for exercising. Avoid using your walking/running shoes for everyday use. The more these shoes are used, the more wear and tear they will receive. Shoes used every day are also exposed to a higher level of foot moisture and bacteria, which causes them to break down faster.
Make sure athletic shoes are allowed to dry out. Keep your walking/running shoes stored in a place where they are exposed to air. Avoid storing them in gym bags, hot vehicles or sunlight.
Wash your athletic shoes carefully. Use cold water, gentle detergent and air drying if you choose to wash your athletic shoes. This will help decrease the breakdown of the glue used to assemble them.
Rotate athletic shoes. Start alternating the use of older shoes, with newer ones. This is a good way to gauge when it is time to replace shoes that are starting to wear out.
The following articles/links provide additional information about the importance of paying attention to the wear and tear of athletic shoes:
Selecting and Fitting a Running Shoe
American Academy of Podiatric Sports Medicine
MSU Extension encourages individuals and communities to adopt healthy lifestyle choices. For more information about programs that focus on physical activity, contact your local MSU Extension office.
---