Korean delegates reflect on homestay in Michigan
Six Korean delegates share their exchange experience in Michigan, how it has influenced their lives and the bond they have with their host family.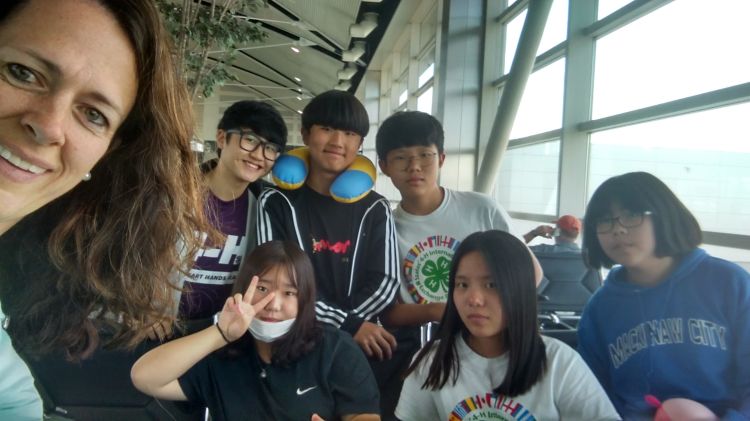 On July 22, 2017, Michigan 4-H International Exchange Program welcomed 12 month-long international exchange students from Korea for the first time. The delegates varied in age from 12 to 16 years old and were hosted by Michigan families who shared their daily life and explored a few sights around Michigan.
Our partner organization is Korea 4-H, so these delegates have a good understanding of our 4-H program. The Korean parents recorded videos for their child to watch once they arrived and the theme was stay healthy. Michigan 4-H International Exchange Programs are looking forward to many more years in partnership with Korea 4-H. This Korean delegation welcomed their host families at the matching ceremony with a dance to the song "Korea" by Park Jae-Sang, otherwise known as Psy. From that moment on, the families knew they were going to have a great time with their delegate.
The month-long stay ended Aug. 18, 2017, when all the delegates returned to Lansing, Michigan, to catch their flight back to South Korea on Aug. 1—at least that was the original plan. Unfortunately, six of our Korean guests missed their flight back to Korea, so they were able to stay one more day.
Enjoy reading their perspective of their experience here in Michigan in the following interview, as I was able to have a conversation with exchange students Jung Seo Yeon, Oh Taegyun, Lee Su Jin, Kim Byeongjun, Kim Su Hyun and Lim Yu Jeong.
D'Ann (D): What is it like to wait to hear about your host family?
Korean delegates (KD): "Nervous, I didn't know who would host me."
"Exciting."
Kim Su Hyun: "I think I can't go here without host family." (He was the last delegate to be placed with a host family. The Anderson host family was found just a few days before they were leaving Korea.)
(D): What did you hope to experience during your exchange?
Kim Su Hyun: "I wanted to ride a horse and I did. It was what I expected riding a horse would be like. It was my first time."
(KD): "I wanted to experience any food I could."
"I wanted to go to Chicago. Not good, because I didn't go."
"I did get to go to Chicago and it was very good."
(D): How did you prepare to come to the United States?
Kim Su Hyun: "I prepared by myself since I do not have a mother. My father just gave me money. I studied about Michigan and practiced English with a tutor. I went to an English speech contest and I won first place."
(KD): "Study American life. It was the same when I was here to what I studied. One example is in Korea I have one sized towel. In America, you have many size towels."
"I learned to cook Korean food so I could cook for my host family."
"We bought new clothes."
"We bought gifts for host families."
(D): How did you choose gifts?
(KD): "Korean culture store to find gifts."
"Healthy Korean gifts, like ginseng candy and tea. Health is important to Korean culture."
(D): Who decided you should come on exchange?
(KD): "My parents. My dad wanted me to learn English more to use in jobs with companies and English is the universal language."
"My parents wanted me to learn about a different language."
"I decided to go on exchange to have a culture experience in American. It is important, so I wanted to learn about American culture."
"I wanted to learn more English and American culture."
"I came to make some friends."
(D): Who paid for your trip here?
(KD): "Parents pay for trip."
(D): How will you use this experience back in Korea?
(KD): "Show friends. We can write down our experiences in a journal and share with others wanting to travel to America."
"Help you with your career."
(D): Describe your feelings right now.
(KD): "It was fun."
"So much sad, long time to see host family again. Promise to stay in contact."
"Best summer ever. Enjoyed living with brothers and mother and father."
"Little bit sad. Can't translate my feelings."
"Very happy because conversation has improved and confidence has improved. Had fun and happy to be here."
(D): How have you changed because of this experience?
Kim Su Hyun: "I improved myself in confidence. I can have conversation with foreigners that visit Korea."
(D): What did you miss most from Korea while you were here in America?
(KD): "Korean food, Kimchi, family, my parents of course."
"I missed my computer."
"I missed my bike, it is very expensive and I do jumps with it."
"I miss my friends."
Since this was Michigan 4-H International Exchange program's first year hosting Korean delegates as coordinator, we also learned many things from the experience. Koreans like to have fun and their food is spicy. Health is important to their culture and when I asked them about that, they said, "Isn't health important to everyone?" Delegates brushed their teeth after every meal, even in restaurants. They were active as much as they could be.
If your family is interested in hosting a Korean delegate next summer, complete an application at States' 4-H International Exchange Program. Michigan looks forward to welcoming 12 more delegates the summer of 2018.
4-H grows international friends. If you would like to learn more about International Exchange Programs here in Michigan, visit Michigan 4-H International Exchange Program or contact D'Ann Rohrer, state coordinator, leadership and civic engagement team member, at drohrer@anr.msu.edu.
To learn about the positive impact of Michigan 4-H youth leadership, citizenship and service and global and cultural education programs, read our 2016 Impact Report: "Developing Civically Engaged Leaders." Additional impact reports, highlighting even more ways Michigan State University Extension and Michigan 4-H have positively impacted individuals and communities in 2016, can be downloaded from the MSU Extension website.