Last chance for a 2012 Farm Bill
Congressional Farm Bill proposals offer significant opportunity for improved programs and bipartisan deficit reduction.
The U.S. Farm Bill is multi-billion dollar piece of legislation that governs numerous federal programs related to food and agriculture. Funding authorized by the Farm Bill has a substantial national impact through programs in nutrition ($772 billion), crop insurance ($91 billion), commodities ($63 billion), conservation ($64 billion) and other areas. This year, the Farm Bill is once again due for renewal.
Baseline of mandatory outlays for Farm Bill Titles (FY2013-FY2022 in billions of dollars)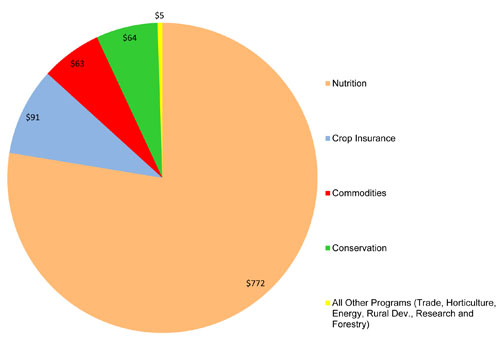 Reauthorization became a priority when programs under the Food, Conservation, and Energy Act of 2008 began to expire on September 30, 2012. The Senate responded swiftly by approving its version of the new Farm Bill in June (S. 3240), and the House Agriculture Committee followed suit in July (H.R. 6083). However, House leaders have refused to put either version of the bill to a vote, citing the need for additional spending cuts. While not unexpected, a stalled Farm Bill is especially frustrating this time because, believe it or not, the majority of Republicans and Democrats largely agree on the changes to be made.
Commodities and crop insurance
Most people concede that farming is especially risky business that necessitates some type of financial safety net. Current agricultural commodity programs support farmers through direct and counter-cyclical payments based on commodity production and market prices respectively. Critics argue that these payments are inequitably distributed, favoring large producers of staple commodities over small, specialty growers. This position is supported by research indicating that since 1995, 74 percent of all commodity payments have gone to just 10 percent of subsidized farms, while 62 percent of U.S. farms did not collect any commodity payments. The Senate and House agree that direct commodity payments should be eliminated from the new Farm Bill at an estimated savings of $20 billion over 10 years.
There is also consensus that federally subsidized revenue protection programs should be enhanced to compensate. Both proposed versions of the new Farm Bill allocate additional funds ($5 billion in S. 3240; $10 billion in H.R. 6083) to the current $91 billion crop insurance baseline and extend existing disaster assistance programs. Some worry that additional crop insurance subsidies will encourage production on environmentally sensitive lands.
To address this concern, the Senate included a "conservation compliance" amendment in S. 3240 which ties crop insurance premium support to a grower's conservation practices. Many agricultural organizations have publically opposed this measure, leading the House Agriculture Committee to withdraw a similar amendment from H.R. 6083.
Conservation
Over the years, the conservation title of the Farm Bill has grown to include 23 different programs that pay farmers to either remove land from production or alter their management to enhance the environment. Larger components include the Conservation Reserve Program (CRP), the Environmental Quality Incentives Program (EQIP) and the Conservation Stewardship Program (CSP).
These programs represent the most significant source of federal funding for conservation. However, demand for certain programs has declined over time and overlap between others creates redundancy. Both S. 3240 and H.R. 6083 propose to save an estimated $6 billion through consolidation of existing conservation programs into fewer streamlined options. EQIP, for example, would be reauthorized with 5 percent of its baseline funding dedicated to wildlife habitat enhancement previously covered by the Wildlife Habitat Incentives Program (WHIP, to be repealed). The most significant cuts in conservation spending proposed are 25 and 22 percent reductions in the CRP and CSP enrollment caps.
While reductions in enrolled acres have the potential to roll-back conservation gains, all parties appear to agree that increased efficiency will save money. More information on conservation programs in the new Farm Bill is available as a recorded webinar sponsored in part by the National Agricultural and Rural Development Policy Center and Michigan State University Extension.
Nutrition
The largest difference between S. 3240 and H.R. 6083 is in the depth of proposed cuts to the nutrition title, particularly the Supplemental Nutrition Assistance Program (SNAP, formally the Food Stamp Program). Both proposed bills include changes to rules regarding the redemption of SNAP benefits, as well as funding to combat benefits trafficking. However, the Senate proposal removes only $4 billion from the baseline, while the House Committee proposal eliminates additional programs to total $16 billion in savings. As the largest Farm Bill title ($772 billion), this disagreement amounts to only 1.5 percent of total nutrition appropriations. Yet, it is this relatively insignificant disagreement that has stalled the Farm Bill. Republican House leaders want more cuts to SNAP; Democrats and the White House do not agree.
Overall, the Farm Bill proposals represent the kind of thoughtful bipartisan give-and-take that has been missing from American politics. Of nearly $1 trillion in total appropriations, S. 3240 and H.R. 6083 differ by only 1.2 percent ($12 billion). As farmers stare over the so-called "fiscal cliff" of automatic tax increases and spending cuts, passing a five-year Farm Bill should be prioritized. Doing so would not only ensure a more predictable future for agriculture, but could set a precedent for responsible deficit reduction as well.
References
Did you find this article useful?
---
You Might Also Be Interested In