Late planted corn: should I change my seeding rates?
Since more than 60% of corn in Michigan has not been planted yet, many are asking if seeding rates should be changed. The short answer is no.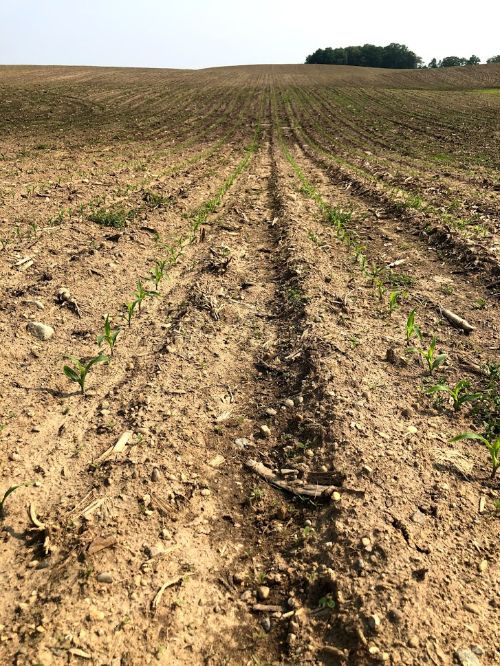 In 2018, farmers were worried because corn planting was delayed in Michigan due to the weather. But compare that to our planting progress in 2019, and now you have a sense of what being delayed really looks like.
Based on the last Michigan Crop Weather report provided by USDA, less than 40% of corn has been planted so far. When we compare this data with last year's data, more than 60% of corn was in the ground by the end of May. We can start to realize that maybe we shouldn't have complained about last year's planting season.
Because of such a delayed planting season, farmers that haven't planted yet, which includes almost 60% of farmers in Michigan, start to wonder if they should change their seeding rates. The short answer for this question is no; you most likely don't need to change the seeding rates due to your delayed corn planting.
Just as a reminder, recommended seeding rates take into consideration that 90% of the plants will survive, so you will be planting 10% more plants than your desired final plant population. For example, if you want a final stand of 30,000 plants per acre, you will need to plant 33,300 seeds per acre (32,000/90%).
According to previous studies, there is no direct relationship between economic optimum corn population and planting dates, suggesting that planting populations will remain the same regardless of the planting dates.
There is one thing to remember; soils, in general, will be warmer in June compared to late April or May so corn germination, emergence and stand establishment will probably occur faster in delayed planting, allowing a higher percentage of final stand success. That might allow you to reduce your seeding rates while allowing you to achieve the same desired final stand. In times when crop prices are not at their best, that might help you to save a little on seed costs.
If you are interested in learning more about this topic, make sure to watch this short video
Field Crops Virtual Breakfast is back for the 2019 growing season. In agriculture, things can change fast. To help growers keep up with weather, pests and crop management issues, the MSU Extension field crops team will again hold free Virtual Breakfast sessions every week during the growing season via Zoom video or phone conference. These virtual meetings will take place every Thursday morning from 7-7:30 a.m. starting April 25 through Sept. 5, 2019.
Participating is easy. Join using your computer or mobile device (audio and visual) following the Zoom link: https://msu.zoom.us/j/552324349. Or, call in from your phone (audio only) by dialing 669-900-6833 and enter meeting ID 552-324-349. To receive a weekly email reminder of the Virtual Breakfast, sign up at http://eepurl.com/gm-PIv. Participants receiving emails can opt in or out at any time.
Follow us on Facebook and Twitter for breaking news: @MSUEFieldCrops.
MSU Extension offers additional educational resources and programs to help farmers as they deal with delayed planting seasons at https://www.canr.msu.edu/agriculture/delayed-planting-resources.