Learn about collegiate equestrian opportunities
Many universities like Michigan State University offer opportunities to be a college equestrian.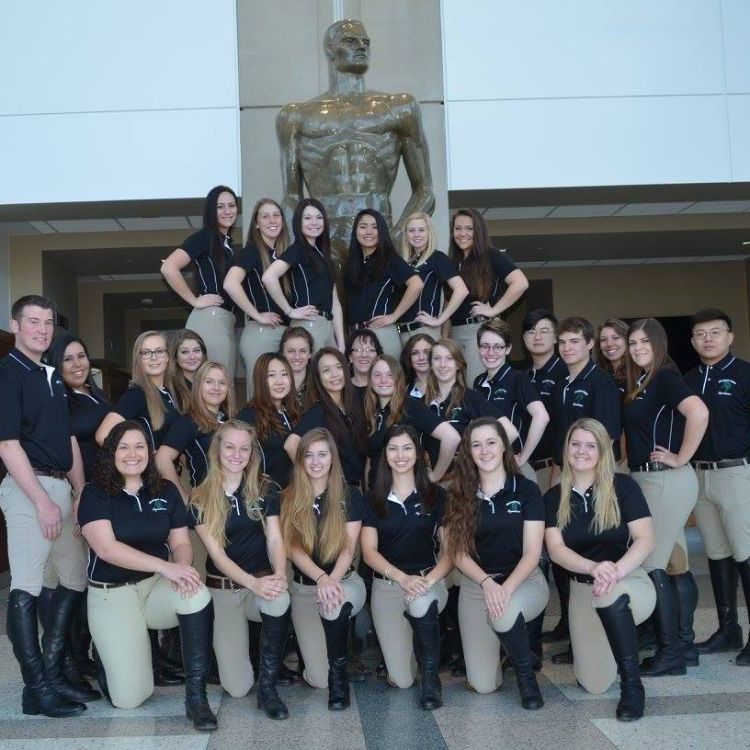 The Intercollegiate Horse Show Association (IHSA) was founded by Robert E. Cacchione in 1967 as a sophomore at Fairleigh State University. Cacchione says, "IHSA is based on the principal that any college student, regardless of skill level, financial status or riding experience should have the opportunity to compete on a college equestrian team. IHSA offers numerous scholarship opportunities while emphasizing education, sportsmanship, and team spirit. IHSA serves over 400 college and university teams across the United States and parts of Canada, with more than 8900 active riders. Collegiate equestrian, like Olympic equestrian competition, remains one of the only sports in the world where young women and men compete equally."
At an Intercollegiate Horse Show Association show, you don't know what horse you will ride until you draw the name out randomly just prior to your class. Yes, you read that right—riders meet a horse just moments before they enter the show arena and potentially take it through a full fence course or perform a reining pattern!
Riders are given very limited details regarding their new mount. A short description may provide details such as rider should carry a crop, horse needs set up for leads, horse needs spurs, etc. There is certainly an element of luck that helps riders on which horses they may draw to ride.
Intercollegiate Horse Show Association offers hunter seat as well as western style of competition. The hunter seat skill levels are beginner walk/trot, advanced walk/trot/canter, novice, novice over fences, intermediate, intermediate over fences, open, open over fences, alumni and alumni over fences. The western skill levels are beginner walk/trot, intermediate, novice, advanced, open, reining, alumni and alumni reining.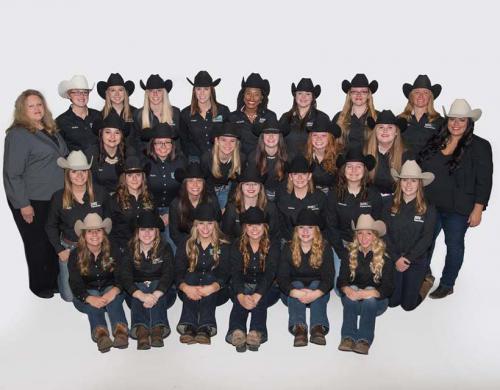 With traditional horse shows, riders have the advantage of knowing their horse and being familiar with how the horse should be ridden, which in turn allows for the rider to focus more on the details of their equitation. However, in Intercollegiate Horse Show Association competitions, you are riding an unfamiliar horse, using the skills you've attained previously to determine how to best handle that animal, and your performance affects the overall team's success.
Often, equestrian sport is an individual sport, and for many riders the Intercollegiate Horse Show Association is one of the few opportunities to compete as part of a team. Not only that, but being a member of the Michigan State University (MSU) Equestrian Team, or similar student organization, can make a large university like MSU seem much less intimidating.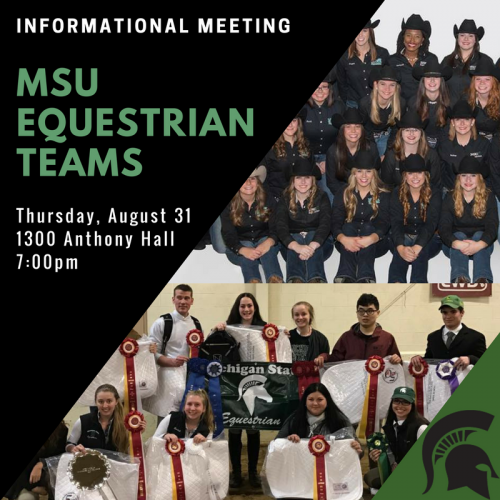 Want to learn more about MSU equestrian teams? Check out their Facebook pages: MSU Hunt Seat Equestrian Team and MSU Stock Seat Equestrian Team.
Are you an MSU student looking for more information? Be sure to join us at our annual informational meeting on Thursday, Aug. 31, 2017, at 7 p.m. in 1300 Anthony Hall.
In addition to Intercollegiate Horse Show Association competition, there is also the National Collegiate Equestrian Association (NCEA). The National Collegiate Equestrian Association competitions focus on solely the elite competitors. In 1998, equestrian was identified and adopted by the National Collegiate Athletic Association and the Committee on Women's Athletics as an emerging sport for women at the Division I, II and III levels. Currently, there are 18 Division I and four Division II programs sponsoring equestrian.
The mission of the National Collegiate Equestrian Association, in concert with the mission and vision of the National Collegiate Athletic Association, is committed to providing collegiate opportunities for female equestrian student athletes to compete at the highest level, while embracing equity, diversity and promoting academic and competitive excellence.