Learning about climate change can help youth become active global citizens — Part 2
These resources and lesson plans can help youth learn and teach others about Goal 13 of the Sustainable Development Goals.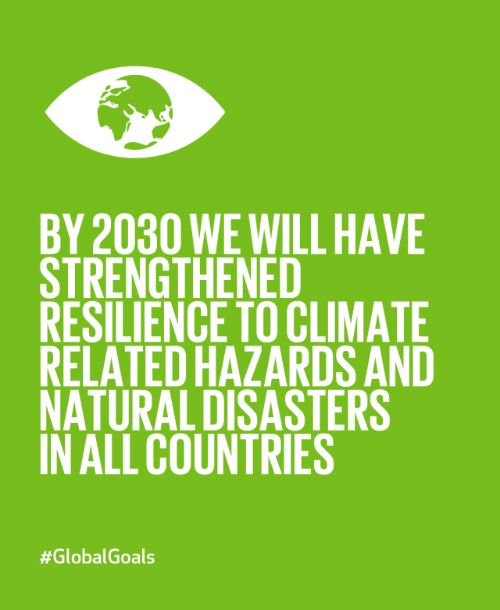 This is the final articles in a two-part article series. To read Part 1, go to "Learning about climate change can help youth become active global citizens – Part 1."
Goal 13 of the Sustainable Development Goals includes a variety of targets related to preparing people and countries for the likely effects of climate change and combating additional human caused impacts on the climate. The targets include increasing every country's ability to respond to climate-related hazards and natural disasters, incorporating "climate change measures into national policies, strategies and planning," improving people's knowledge and ability to change behaviors and systems that contribute to climate change, and providing funding and resources to address the needs of developing countries related to climate change actions and impacts. To learn more about these goals, download this overview of Goal 13 developed by the United Nations (UN).
Adult and youth leaders can help other youth and children learn about topics related to Sustainable Development Goal 13 in order to be informed and active global citizens.
Here are some resources and lesson plans that can be used to help learn, and teach others, about these issues.
Learn the basics of global climate change. A good resource for older youth to explore some of the basics of climate change is provided on the National Geographic website. The site includes seven essential things to know about climate change, based on the scientific data that is currently available. NASA's Climate Kids website is a great place for younger youth to visit for a wide range of information about global climate change.
Take your climate literacy to the next level. There are many resources and lesson plans available to help young people develop their understanding of the planet's climate and climate change related issues. Resources available on the topic include many at no cost that cover a wide range of ages and levels of engagement.
For those looking for a comprehensive curriculum on climate change for older youth (middle to high school ages), the UNESCO Climate Change in the classroom is one option. Primarily designed for a formal classroom based learning environment, Climate Change in the classroom could be adopted by informal educators to lead educational experiences with older youth. The program consists of six days of programming, which are presented in the online curriculum that includes a facilitation guide, presentation materials and participant worksheets.
An excellent source for a wide variety of climate change based lesson plans is the Climate Literacy and Energy Awareness Network (CLEAN) Collection of Climate and Energy Educational Resources. CLEAN's resource collection contains over 650 "free, ready-to-use resources rigorously reviewed by educators and scientists." The materials in the collection are appropriate for middle and high school aged youth.
For younger audiences, Simon Says Save The Climate, a collection of resources developed by UNICEF, Hippo Works and the World's Largest Lesson is an option for further exploration of climate related topics. The 12 animated episodes in the Simon Says Save the Climate! video series that are available to stream online at Vimeo and YouTube, and a set of educational materials and worksheets is available to download, as well as a comic book.
Take action on climate change. Our Climate Our Future, a climate education experience created by Alliance for Climate Education, is a multimedia based website that utilizes interactive videos to help young people "explore the science, impacts, and solutions of climate change." The Our Climate Our Future course can be completed by individual youth working independently, or by youth working together in a group setting. The course walks youth through science, impacts and solutions related to climate change, and provides examples of youth led action projects that have been implemented by young people throughout the United States to address climate change related issues.
To learn about the positive impact of Michigan 4-H youth leadership, citizenship and service and global and cultural education programs, read our 2016 Impact Report: "Developing Civically Engaged Leaders." Additional impact reports, highlighting even more ways Michigan State University Extension and Michigan 4-H have positively impacted individuals and communities in 2016, can be downloaded from the MSU Extension website.
Other articles in series