Learning about global inequalities helps youth become global citizens
Learning about Goal 10 of the Sustainable Development Goals can help inform youth as active global citizens.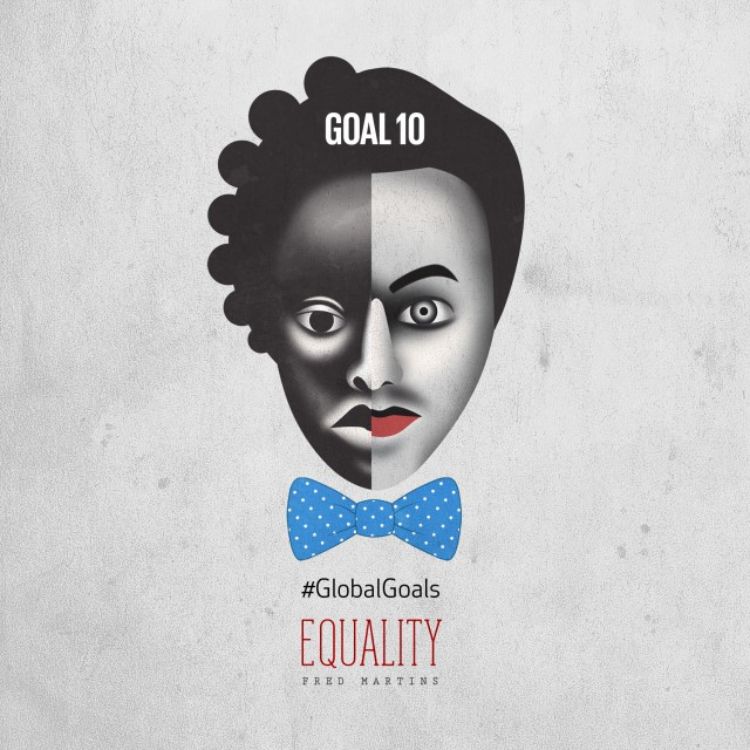 The wealthiest 1 percent of the global population now owns more wealth than the rest of our planet's population combined. That's according to "An Economy for the 99%," a report issued in January 2017 by Oxfam that explains the gap between the richest and poorest members of our global society continues to grow at a dramatic pace. The report shows that in the year 2016, eight men had the same amount of wealth as the poorest 50 percent of the global population, which is equal to 3.6 billion individuals.
"Inequalities based on income, sex, age, disability, sexual orientation, race, class, ethnicity, religion and opportunity continue to persist across the world, within and among countries," according to the United Nations. Leaders from 193 countries have committed to Goal 10 of the United Nations (UN) Sustainable Development Goals, which aims to "reduce inequality within and among countries." The Sustainable Development Goals are 17 interconnected goals that seek to transform our world by ending all forms of poverty, eliminating inequalities and improving the state of the world's natural and human-made environments through sustained international cooperation and efforts over the next 15 years.
By learning, taking action and teaching others about global inequality, young people can play a valuable leadership role in helping to accomplish Goal 10, as well as the other Sustainable Development Goals. Here are important facts provide by the UN and some related educational ideas related to Goal 10 of the Sustainable Development Goals that can help youth learn and be engaged as global citizens.
"On average, and taking into account population size, income inequality increased by 11 percent in developing countries between 1990 and 2010," according to the UN.
According to "An Economy for the 99%," "New research by economist Thomas Piketty shows that over the last 30 years, the growth in the income of the bottom 50 percent has been zero, whereas income of the top 1 percent have grown 300 percent."
"Evidence shows that, beyond a certain threshold, inequality harms growth and poverty reduction, the quality of relations in the public and political spheres and individuals' sense of fulfilment and self-worth," says the UN.
Children from the world's poorest countries are three times more likely than children from the richest countries to die before age 5.
Goal 10 includes a variety of target goals related to reducing inequality. The targets include creating greater income growth for the poorest members of the population high than the national average, improving regulations of global financial markets, and promoting "social, economic, political inclusion for all, irrespective of age, sex, disability, race, ethnicity, origin, religion or economic or other status."
Adult and youth leaders can help other youth and children learn about topics related to Sustainable Development Goal 10 in order to be informed and active global citizens. Here are some resources and lesson plans that can be used to help learn, and teach others, about these issue.
Explore lesson plans from The World's Largest Lesson. The World's Largest Lesson, an initiative of the UK-based organization Project Everyone, provides five separate lesson plans that include a focus on learning about reduced inequalities. The lessons range in time from 30 to 60 minutes, and are designed to be used with youth between the ages of 5 and 18.
Plan and host an Oxfam America Hunger Banquet. Young people learn best when they have the opportunity to make connections between their learning and "the real world." One excellent way for young people to learn about global inequalities and teach others about the topic is by planning and hosting an Oxfam America Hunger Banquet. The event demonstrates the real world distribution of wealth and food by dividing diners into three groups whose size is based on the real world distribution of global wealth. Oxfam America provides an excellent planning guide and free resources that can be used by youth to plan and lead a banquet and teach others about global inequality in a highly impactful and memorable experience.
Compare your household income to the rest of the US Population. The Organization for Economic Co-operation and Development (OECD) provides a simple, 10-step tool that compares your perception of income inequality in your country with reality.
To learn about the positive impact of Michigan 4-H youth leadership, citizenship and service and global and cultural education programs, read our 2016 Impact Report: "Developing Civically Engaged Leaders". Additional impact reports, highlighting even more ways Michigan State University Extension and Michigan 4-H have positively impacted individuals and communities in 2016 can be downloaded from the MSU Extension website.
Other articles in series