Learning about global infrastructure and innovation helps youth become global citizens
Learning about Goal 9 of the Sustainable Development Goals can help to inform youth as active global citizens.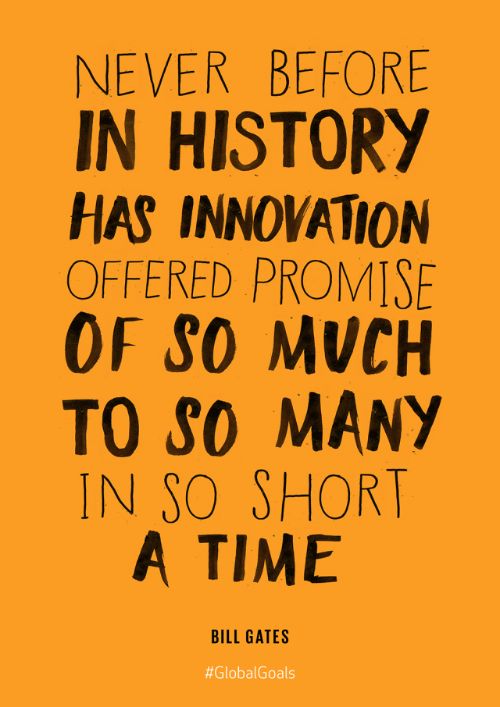 Leaders from 193 countries have committed to support the building of resilient infrastructure, promote inclusive and sustainable industrialization and foster innovation by the year 2030, which together form Goal 9 of the United Nations (UN) Sustainable Development Goals. The Sustainable Development Goals are 17 interconnected goals that seek to transform our world by ending all forms of poverty, eliminating inequalities and improving the state of the world's natural and human-made environments through sustained international cooperation and efforts over the next 15 years. The UN Sustainable Development Goal 9 is "Build resilient infrastructure, promote inclusive and sustainable industrialization and foster innovation."
By learning, taking action and teaching others about the need for investments in infrastructure, inclusive and sustainable industrial development and technological innovation, young people can play a valuable leadership role in helping to accomplish Goal 9, as well as the other Sustainable Development Goals. Infrastructure is often something we take for granted in the United States. When you turn on the faucet, clean water comes out; when you plug an appliance into the wall, there is electricity to power it; when you want to go somewhere, there are roads to take you there.
Here are four important facts provided by the UN and some related educational ideas related to Goal 9 of the Sustainable Development Goals that can help youth learn and be engaged as global citizens.
"Basic infrastructure like roads, information and communication technologies, sanitation, electrical power and water remain scarce in many developing countries," according to the UN. Recent water infrastructure issues, such as those that have occurred in Flint, Michigan, show this is not only an issue for developing countries.
Globally, 2.6 billion people do not have reliable, full-time access to electricity; 2.5 billion people lack access to basic sanitation; over 1 billion people have no reliable phone service; and nearly 800 million people do not have access to water.
Undeveloped and inadequate infrastructure limit people's access to health care, education, markets to sell products, jobs, information and training.
"Inclusive and sustainable industrial development is the primary source of income generation, allows for rapid and sustained increases in living standards for all people, and provides the technological solutions to environmentally sound industrialization," according to the UN.
Goal 9 includes a variety of target goals related to infrastructure, industrial development and innovation. One target of the goal is to "Develop quality, reliable, sustainable and resilient infrastructure, including regional and transborder infrastructure, to support economic development and human well-being, with a focus on affordable and equitable access for all."
Another target is to make internet access available to all people in the least developed countries as an affordable price by the year 2020. Access to information via the internet can contribute to increased levels of innovation within developing countries.
Adult and youth leaders can help other youth and children learn about topics related to Sustainable Development Goal 9 in order to be informed and active global citizens. Here are some activities highlighted by UK-based Global Dimension that can be used to help learn, and teach others, about these issues.
Explore the World Economic Forum Global Competitiveness Rankings. The Global Competitiveness Report, issued by the World Economic Forum, ranks 144 countries based on 12 "pillars" of economic productivity and prosperity. Two of the 12 pillars are infrastructure and innovation. Using the World Economic Forum's Global Competitiveness Report website, youth can compare their country's ranking with other countries on a wide variety of data points related to infrastructure (Pillar #2) such as quality of roads, railroads, ports, air transportation, electrical supply, mobile and fixed telephone subscriptions and lines, and innovation (Pillar #12) such as capacity for innovation, quality of scientific research institutions and spending on research and development.
Explore "Technology Justice" with Practical Action. Practical Action, a UK-based, international, non-governmental organization "uses technology to challenge poverty in developing countries," according to the Practical Action website. As innovation and technology go hand-in-hand, Practical Action's Technology Justice resources provide an excellent set of tools for youth to explore their own, and others, access and use of sustainable technologies in their everyday lives.
Watch "Reimagine the future: Innovation for every child" video series on YouTube. This set of YouTube videos, produced by the United Nation's Children's Fund (UNICEF) highlights the ways young people around the world are influenced by technological innovation and how they use technology to create practical real world innovations for themselves and others.
For those wishing to engage youth in discussions about the topic of infrastructure, here are some examples of questions and ideas to further the conversation.
Discuss what infrastructure you have in your community and how it is funded. How much is having roads worth to you? Even if you never drive anywhere, are roads important?
If you were living in poverty, how might internet access affect your ability to get out of poverty?
Is your water safe to drink? How do you know? Have you ever had it tested? Residents of Flint, Michigan, thought their water was safe and were even told it was safe by the government when it was not. How would access to drinkable water affect your life?
To learn about the positive impact of Michigan 4-H youth leadership, citizenship and service and global and cultural education programs, read our 2016 Impact Report: "Developing Civically Engaged Leaders." Additional impact reports, highlighting even more ways Michigan State University Extension and Michigan 4-H have positively impacted individuals and communities in 2016, can be downloaded from the MSU Extension website.
Other articles in series