Learning leadership through a game of cards
We can learn a lot about being a successful leader through cards, games or a friendly competition.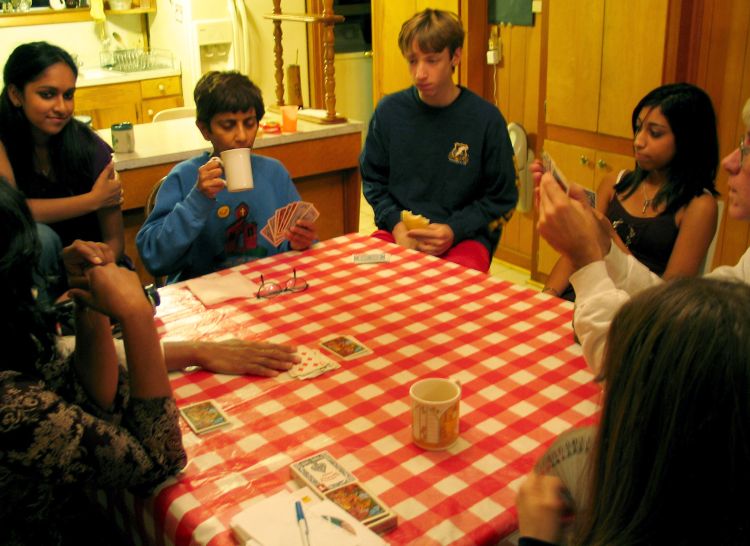 Leadership can be taught in so many ways because throughout life, we learn in many different ways. Early on in life we learn from parents, grandparents, teachers and other adults telling us how to behave in situations. Often in those times, if given a choice to make our own decision, those choices are limited to safe choices that won't take us too far off track. We also learn by example from watching those around us. Later, we learn from our decisions and choices, both good and bad. That learning continues through our entire life and when we mature enough, we realize we can learn from everyone and every situation. This knowledge is very powerful and can make the toughest of situations bearable. These kind of learning experiences, to make choices that teach leadership and other important life skills, happen every day in 4-H even though youth may not know it until they've matured.
It wasn't until I was an adult that I understood the life lessons my grandmother was teaching me through a game of cards. My grandmother loves to play cards and games. When I was young she and my grandfather would take the time to teach all of us grandchildren the latest and greatest card game. Now, being that we were very young, one may have thought it would be good to go easy on us. This was not the case. We understood early on that you played all out, all of the time and others around you will respect you for that and rise to your level or strive to achieve your level.
Patience was a must when teaching a game of cards. Learning comes in many different ways to different people. Grandchildren are no exception, with each of us learning in our own way and at our own pace. However, patience is only granted to those that are trying, paying attention and working hard.
Once a game has been started, there is no quitting in cards. A game could be many hands, not just one round. If a hand was not going in your favor, the game could be long and painful, but it was never OK to give up, throw a tantrum or quit.
There is no cheating in cards. If you cheat you are selling yourself short, disrespecting the people around you and the win will be meaningless. Work hard, be trustworthy and truly win was Grandma's motto because with these characteristics, you would be a winner even if you lost.
Sooner or later we would get stronger and winning a hand against Grandma would give us such a great sense of accomplishment. The hard work, pushing through the hard times and trying again and again finally paid off and taught us perseverance. However, we were also taught to be humble, because if you gloated about beating Grandma, she would turn around and beat you for many games to come. But if you took the win in stride, she would grumble about losing because she never liked to lose, but you could see the pride in her eyes of how far you had come.
She also taught us that when the opportunity arises, you seize it no matter what. If you have the opportunity to send an opponent back home in marbles, you had better do it. The opportunity may not come around again and going for it when it does is the only approach. This taught us that sometimes we have to make tough decisions, but be a risk taker. With great risk, comes great reward as long as you remember previous lessons of remaining humble and working hard.
You can see that although Grandma was hard on us when playing cards, she was trying to instill life lessons that would be with us forever. Through cards, games or a friendly competition, we can learn a lot about leadership. It can teach us not to quit, self-accomplishment, perseverance, to be humble, good sportsmanship, build our character, to take risks and to work hard. Many youth participate in their county fairs where they present their 4-H projects. Through these presentations, youth are learning how to speak to a judge, how to present themselves in front of others, to take risks by putting something out there to be scrutinized and placed, to be humble and other strong leadership skills.
We may not all have a grandmother to teach us leadership through a game of cards, but 4-H can fill that gap. 4-H teaches these skills that can be used throughout a lifetime through fun, engaging, youth activities such as projects or leadership programs. To learn more about becoming a strong leader through the Michigan 4-H program, visit Michigan State University Extension's 4-H Youth Development website.