Lenawee County dairy farm to host this summer's last Breakfast on the Farm event Aug. 27
Come to Hartland Farms for the last Breakfast on the Farm event of the year. Join us for a delicious breakfast, and learn how Michigan farms work hard to bring safe, nutritious food to our tables.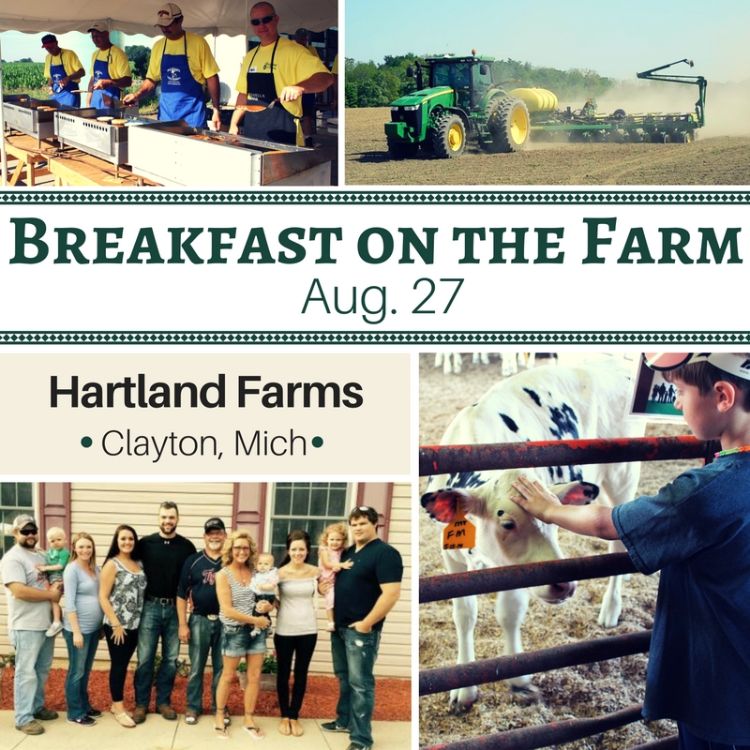 Michigan State University Extension will be teaming up with Hartland Farms to host this year's final Breakfast on the Farm (BOTF) event Saturday, Aug. 27. This is a free and fun event that gives families the opportunity to see where their food comes from.
This Breakfast on the Farm event will give visitors a chance to learn more about a Michigan dairy farm. The event will take place from 9 a.m. to 1 p.m., with breakfast served until noon. Hartland Farms is located at 1580 Hughes Highway, Clayton, Michigan.
The farm is a family run farm operated by Brad and Tracy Hart and their three sons Chad, Nick and Burke. Established in 1836, it is now a seventh generation farm. The Hart family farms 2,400 acres of corn, soybeans, wheat and alfalfa, most of which are used to feed their 970 cows. This BOTF event gives people an opportunity to meet the family that works so hard to ensure a clean, well-run farm. Visit the meet the family page at our BOTF website to learn more about the Hart family.
At this BOTF event, equipment will be on display for the public, giving people a chance to look at the technology that Hartland Farms uses to run a safe and efficient farm. Visitors will also be able to see how cows are milked in the milking parlor. The calf barn will be open so attendees can interact with calves ranging from one day to eight weeks old.
"One of the reasons we're hosting BOTF is because I'm a big believer that we have to be able to show the public that we do care about how our food is produced: safely, correctly, sustainably," said Brad Hart, owner of Hartland Farms. "We want people to understand that cows come before family sometimes as far as family events. If there is a cow problem, we have to take care of it."
Hartland Farms is dedicated to producing high-quality, safe food for the community. Breakfast on the Farm is free, but tickets are required to eat breakfast. Free tickets are available at the following businesses in Michigan and Ohio:
Michigan
Addison: Addison Public Library
Adrian: First Federal Bank; Lenawee County Farm Bureau; Lenawee County Library; Lenawee MSU Extension
Ann Arbor: Washtenaw MSU Extension
Britton: Britton Branch Library
Clayton: Clayton Branch Library
Deerfield: Roberts-Ingold Memorial Library
Hillsdale: Hillsdale Community Library; Hillsdale MSU Extension
Hudson: Bob's Market House; First Federal Bank; Hudson Public Library
Ida: Monroe County Farm Bureau
Jackson: Jackson MSU Extension
Jonesville: Jonesville District Library
Morenci: Stair Public Library
Onsted: Onsted Branch Library
Petersburg: Summerfield Petersburg Branch Library
Tecumseh: Lenawee Fuels
Ohio
Archbold: Farmers & Merchants State Bank
Delta: Farmers & Merchants State Bank
Swanton: Farmers & Merchants State Bank
Sylvania: Farmers & Merchants State Bank
Wauseon: Farmers & Merchants State Bank; Fulton County OSU Extension
West Unity: Fulton County Farm Bureau
Statewide sponsors for the 2016 BOTF events include: Corn Marketing Program of Michigan, United Dairy Industry of Michigan, Michigan Wheat Program, Michigan Farm Bureau, Michigan Farm Bureau Insurance, Michigan Foundation for Agriculture, GreenStone Farm Credit Services, Dairyland Seed, Michigan Milk Producers Association, Michigan Soybean Promotion Committee, Zoetis and Crystal Flash.
For more information about the Lenawee County BOTF or other events, please visit the Breakfast on the Farm website. Questions can be directed to Ashley Kuschel at 586-469-7616 or kuschela@anr.msu.edu, or Mary Dunckel at 989-354-9875 or dunckelm@anr.msu.edu.