Lessons from a horse show parent
Save yourself the strife, heed this advice from a seasoned horse show parent!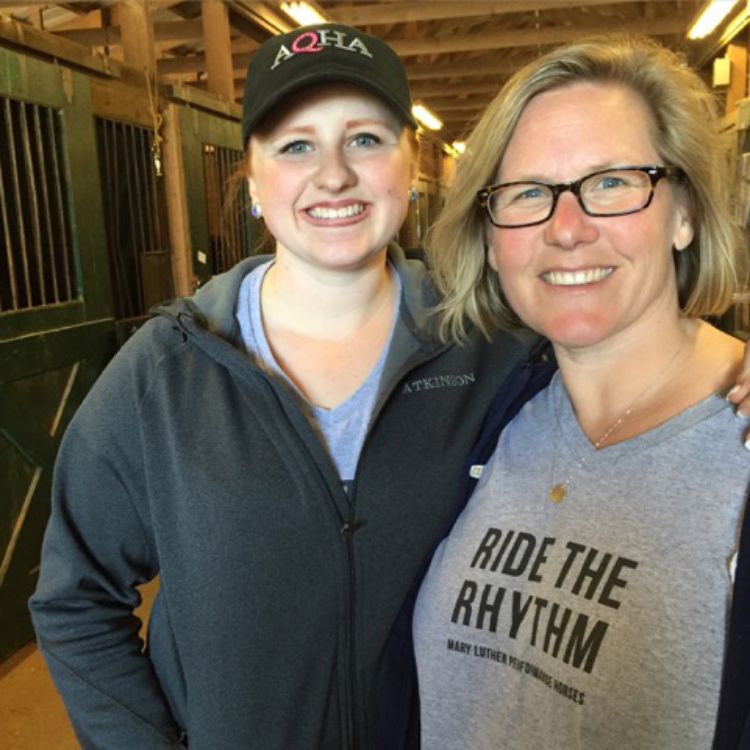 Over the years through my horse showing adventures, I have had the opportunity to meet individuals that often quietly, selflessly and without hesitation help make the horse show world go round: the horse show parent*. (*Disclaimer, the role of horse show parent is often filled by more than just a biological parent. There are wonderful role models filling these shoes each day.) It struck me recently while I was chatting with one of these everyday heroes, Amy Atkinson of Spring Lake, Michigan, that someone must share the lessons they've learned throughout their experiences. Amy so graciously shared with me many tips she's learned over the years as a horse show mom. Why was Amy the right one to ask? Let's read a little bit about her journey before we read her tips.
Seven years ago, we were encouraged by a friend who had grown up showing horses to give it a try. My 10-year-old daughter, Lily, had been trail riding for several years. We had an older mixed-breed trail horse, Solo, that was strong-willed, had no ground manners and had never been to a show. Lily had ridden mostly bareback for the first few years and, to this point, had not had a professional lesson. But, she had great posture, an amazing seat and was very enthusiastic. I had no idea how that all would translate to a horse show. Going to a show of this kind was something I knew nothing about. I rode hunter/jumpers as a kid and went to some shows, but from what I was gathering, this would be a lot different. And, boy, was I right about that.
I remember the night before the show. I had no idea what that all entailed, but we all showed up at the barn that evening to get things ready. Long story short, this little trail horse of ours didn't bathe, stand well, clip or load, so this was going to be an adventure. And, it was. I'll spare you the details, but it was definitely a three-person job, and in the end we shut her in the stall and left the barn as she banged and banged to get out. I had no idea what we would find when we arrived the next morning.
We were up at 4:30 a.m. and to the barn before sun-up. We flicked on the lights of the barn only to discover that our mare had escaped from her stall. The polo wraps from her clean, white legs were unraveled and trampled in the shavings, the sliding stall door unhooked and off the track, and she was wandering around alongside the pasture where her friends spent the night. I'm not sure how she managed to get out, but it likely happened early as she had worn a path near the gate from all her pacing. After over an hour of prodding, we got Solo in the trailer and off we went.
We bought a western-style shirt and blingy belt at the local tack store, polished up her zip-up paddock boots and found some plain black slacks at JC Penney. Everything else was borrowed – the saddle and bridle, the show halter and the black cowboy hat, which was way too big, but nothing a little rolled up paper towel and some bobby pins can't solve.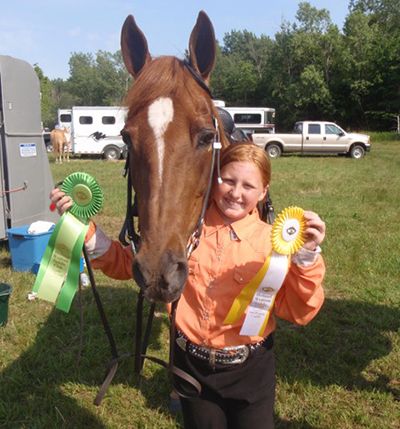 Needless to say (otherwise I wouldn't have been asked to write this), this first experience went quite well. I didn't kill the sassy horse, and Lily didn't get run-over in showmanship, stayed on the horse on the rail, impressed everyone with the obstacles in trail class, came home with a couple ribbons and got encouraging comments from the judges. And, so, we were hooked – or, at least Lily was. That's where the slippery slope began.
We went to a couple more shows that summer and discovered there was a middle school equestrian team, which she would be eligible for the following year as a sixth grader. We spent the next few years learning the ropes and improving the outfits, tack and ultimately the horses between then and now. We've been incredibly blessed by the people who have helped us along the way, and continue to be.
Lily has spent the last seven years honing her skills, riding a lot of different horses, learning from amazing horsepeople, getting lessons, attending clinics, showing a lot and getting involved as a volunteer, 4-H member and teammate. Last year, she began showing her American Quarter Horse (AQHA) gelding, Truman, "Invitations Are Good," as an all-arounder on the Michigan Quarter Horse Association (MQHA) circuit. She also has an AQHA mare, Harley, "Mighty Pretty Storm," that she does gymkhana classes with. She finished last year as the top rookie rider in the state and in the country. She finished second in the novice youth division with MQHA and third in the open youth division. She has ridden both of her horses at the All American Quarter Horse Congress in Ohio, finishing in the top 10 in equitation. Her high school varsity team earned a spot in the Michigan Interscholastic Horsemanship Association (MIHA) State Championship the past three years and won the title last year. She earned reserve champion and multiple top 5 and top 10 awards at the AQHA Level 1 Championships in North Carolina this past May. She'll be a high school senior in the fall and we're exploring options for riding in college as well as a degree in pre-veterinary medicine. This sport can take you places you never imagined. It'll teach your child more life lessons than you could possibly fathom. And the time you'll spend together is priceless.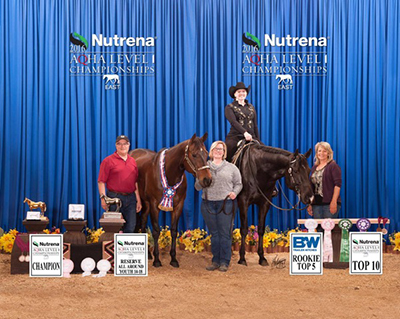 Lessons we have learned in the horse showing world
Surround yourself with the best people.

Get to know people at the shows. You'll see the same people over and over again and it's good to have friends. They will become your show family.
You'll need help and advice along the way. Be very open to it. (Read a great article on accepting criticism).
Don't be afraid to ask a lot of questions. There are always people that know more than you do about this stuff. Don't hesitate to swallow your pride, you don't have to be the smartest person in the room.
Align yourself with good teachers, leaders and trainers. Make sure you like who these people are inside and outside the show environment. They will be making a huge impression on your child.
Horse showing is an individual sport, but it takes a dang village to make it happen.

Give your child appropriate responsibilities whenever you can.

Teach your child to clean their own tack. It's not your job, and they will take much better care of their tack if they are the ones maintaining it. The same can be said for bathing their horse, too.
Make a checklist and encourage your child to get the trailer and their things organized the night before the show. They should know where everything is and that everything is packed. They're never too young to take responsibility for their things.
Encourage your child to set goals and help them understand the work it will take to reach those goals. Without a plan, a goal is only a wish.

Organization is the key to success.

Have some favorite back numbers and make duplicates of them on card stock so you can get them put on your pads early in the day before it gets hectic.
Pack sunscreen, water and food. Make sure your nervous, busy child remembers to eat and drink or they will pass out and fall off their horse. It's not pretty.
Print out the showbill, entry forms and patterns at home before the show so you have copies at the show and can fill out forms in advance.

Horses are expensive and showing horses can get really expensive. Set a budget and look ahead at the season and plan for what you want to do. There will always be surprises. With that in mind, remember that there are a lot of used tack and show outfits available, so you don't have to break the bank getting started. You don't have to be the flashiest person in the ring. A clean, well-kept, tidy outfit and a good hat are always in style.

Encourage your child to watch others compete. Pay attention to who is winning and watch the way they present themselves. Take notice of their posture and position in the saddle, the way they handle their space in the arena and the way they ask their horse to move. It'll serve to be way more valuable than you telling them what to do. They can see it for themselves and emulate the winners.
Be encouraging and positive. Going in the arena and being judged is daunting and some kids handle the pressure better than others.
Don't fight with your child at the shows. Discuss up front that horse shows are stressful for everyone. Be a team and handle the hectic times together. Check out this My Horse University webinar on "Parenting Tips at the Horse Show."

Recognize that you can't control everything.

Sometimes the horse you have is not the right horse for the job. It's best you come to terms with that versus trying to jam a square peg in a round hole. It never ends well.
Judging is subjective. The judge is in the middle of the arena and they do not have eyes on the back of their head. Most importantly, they are watching everyone in the ring, not just your kid. So when your kid doesn't get the blue ribbon, there's probably a very good reason for it.
Riding is a sport for athletes. It requires discipline and hard work for the horse and the rider. It's not for the weak at heart.

Lastly, figuring out how to get your daughter's hair in a tidy little bun that fits neatly below the brim of their hat is a big accomplishment. There should be a ribbon Mom gets for that!
I cannot say enough about the amazing experiences that owning and showing horses has afforded my daughter. I am so grateful for the time it has given us together over the years. Without a doubt, she is the person she is today because of the lessons she has learned from this amazing sport.
I couldn't agree more with Amy, especially on her last statement. I, too, was fortunate enough to grow up in this environment and I can truly say it shaped me into the woman I am today. I hope you found these tips as useful as I did! Hopefully, horse show parents – especially the new horse show parents – can save themselves a good deal of time and strife by heeding Amy's advice!