Lighter, Quicker, Cheaper Placemaking helps Marquette achieve its vision
The City of Marquette is using Lighter, Quicker, Cheaper Placemaking to help implement its vision for a walkable, bikeable business district on Third Street.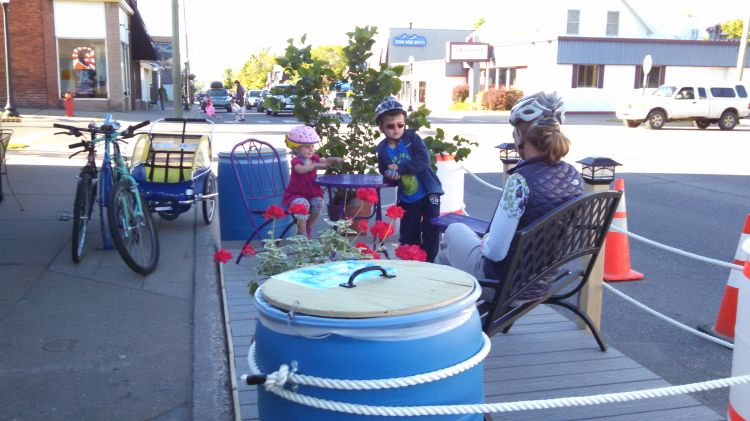 The City of Marquette recently began experimenting with an approach to placemaking called 'Lighter, Quicker, Cheaper. Thanks to a grant from the Michigan Association of Realtors, the Marquette Downtown Development Authority worked with local businesses to implement several Lighter, Quicker, Cheaper placemaking projects along Third Street in Marquette. Additional funds for this project were provided by the City of Marquette, Marquette Downtown Development Authority, Marquette Community Foundation, and River Valley Bank. Additionally, the Michigan State University School of Planning, Design & Construction is providing technical assistance.
The Lighter, Quicker, Cheaper (LQC) approach to placemaking focuses on low-cost, experiments to improving quality of life in the community and relies on local residents, business owners, artists and staff to construct or implement the improvements. Projects may include new seating made of recycled lumber in a public space, potted trees and shrubs added to a street to create greenspace, artistically painted crosswalks to help calm traffic at an intersection, or adding vibrancy to the blank side of a building with a colorful mural. For other LQC Placemaking ideas, read Workshops reveal small-town placemaking strategies.
In Marquette, a bike corral, several artistically painted benches and two low-cost parklets have been installed on Third Street. In a separate effort, the Downtown Development Authority placed several crosswalk signs on the centerline of the street to make crosswalks more visible to cars and to slow traffic. The City of Marquette is also planning to improve the lane markings on the street to better accommodate bicyclists. By the end of the summer, a dedicated bike lane will be added to one side of the street (heading uphill) and a sharrow will be added to the opposite travel lane, which heads downhill.
It is important to note that the steps Marquette is taking on Third Street are part of a vision for the corridor that emerged from the Third Street Corridor Sustainable Development Plan developed in 2013. City planners witnessed the corridor gradually becoming more dominated by cars with increasing numbers of parking lots and drive-thru businesses. In addition to the bicycle and pedestrian improvements mentioned above, the city also recently waived the off-street parking requirements for businesses on Third Street. This measure will help maintain walkability by protecting against further loss of density along the corridor to accommodate cars in surface parking lots.
While LQC Placemaking can be implemented in any community, whether sanctioned by the municipality or not, the planning process for Third Street in Marquette has certainly helped shape the future vision for the corridor and brought various public entities, businesses, and non-governmental organizations together to all work towards the same goal.
If your community could use help strategizing about how to bring diverse interests in the community together to plan a future vision, contact a Michigan State University Extension land use educator.