Lilac: An old-fashioned, favorite shrub
Lilacs are a favorite shrub because of their flowers and fragrance. Cultivars of several Asian species rebloom, are resistant to mildew and more compact in size, and have a pleasant fragrance and attractive blossoms.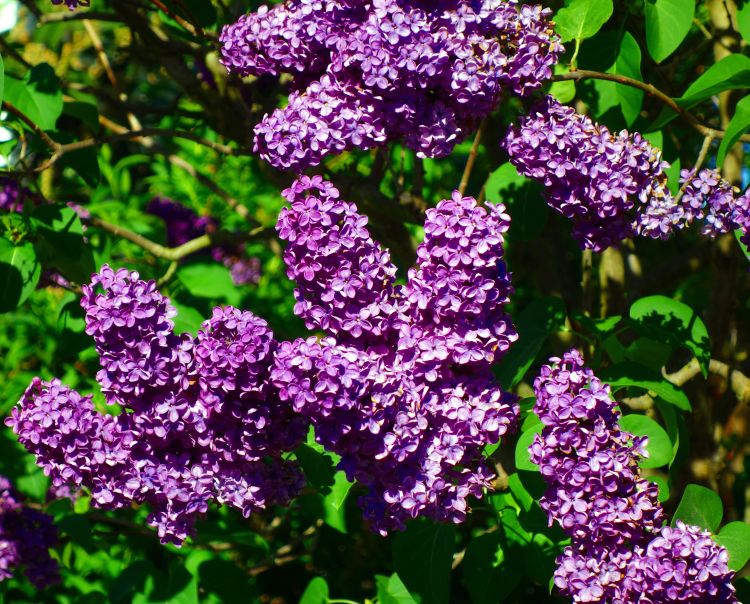 Even people not well-acquainted with flowering shrubs are usually familiar with the common lilac. Renowned for their sweet fragrance and beautiful flowers, lilacs are a sentimental favorite of many, and a shrub that in most years in mid-Michigan is in bloom around Mother's Day.
Common lilac (Syringa vulgaris) originates from Eastern Europe, and in the United States its use as a landscape plant dates back to the 1700s. The oldest reported lilacs in North America were planted in 1750 at the Governor Wentworth estate in Portsmouth, New Hampshire, now operated as a State Park. They were mostly destroyed by armillaria root rot (another disease that lilac is subject to), but the planting is being restored.
There are over 2,000 cultivars and hybrids of common lilac. Because of their susceptibility to powdery mildew, Michigan State University Extension recommends they be planted in full sun in areas with good air circulation. Several cultivars of note include 'Sensation,' which has deep purple flowers edged in white; 'Charles Joly' with double magenta purple flowers; and 'President Grevy' with double light blue flowers. All three cultivars are extremely fragrant. 'Primrose' has large trusses of fragrant, single, creamy white flowers.
There are around 20 species of lilac, most originating from Asia. Several cultivars of Asian species that are popular in today's landscapes include Syringa pubescens subsp. patula 'Miss Kim' and S. meyeri 'Palibin.' 'Palibin' is a compact form of the Meyer lilac that matures to a height of about 4-5 feet and a spread of about 5-7 feet. The flower clusters are pale pink, fragrant and abundant on a mature plant. 'Miss Kim' has ice-blue to lavender-colored flowers with a sweet fragrance. It is a little larger than 'Palibin,' maturing at a height and spread of 4-7 feet. Both 'Palibin' and 'Miss Kim' are resistant to powdery mildew, a disease that plagues common lilac, as are several other species of Asian lilacs.
Another compact, slow growing lilac with good resistance to powdery mildew is called 'Tinkerbelle.' It is a cross between Syringa meyeri 'Palibin' and Syringa microphylla 'Superba.' 'Tinkerbelle' is similar in habit to 'Palibin,' but has a spicy fragrance and wine red flower buds that open to light pink. At maturity, its size is around 5-6 feet tall by 5 feet wide.
Japanese tree lilac, Syringa reticulata, has come into common use as a street tree and grows 20-30 feet tall. Although it lacks the fragrance of common lilac and smells more like privet, it has beautiful white flowers and attractive, cherry-like bark with prominent lenticels. It, too, is resistant to powdery mildew.
A newer development among lilacs has been the introduction of cultivars that rebloom. They haven't necessarily lived up to the claims, especially in hot and humid Midwest summer climates. For instance, Syringa 'Josee' is better at re-blooming in locales with cooler summers. However, Syringa 'Penda' (Bloomerang) seems to be a more reliable performer in our Midwest climates. It is a dwarf that matures to only 3-4 feet tall.
If you would like to see collections of different cultivars and lilac species, consider visiting:
Sunny Fields, a private Botanical Park with Michigan's largest collection of lilacs located in Emmett Township within Michigan's Thumb area. Tours are available by appointment, and bloom updates and visiting hours can be accessed by calling 810-387-2765.
Royal Botanical Gardens, 680 Plains Road West, Burlington, ON Canada. The Katie Osborne Lilac Dell at Canada's Royal Botanical Gardens is home to approximately 800 different kinds of lilacs—one of the largest lilac collections in the world. Royal Botanical Gardens is also home of the International Cultivar Registration Authority for lilacs.
Mackinac Island Lilac Festival. This year's event is scheduled for June 8-17, 2018.