Local food lovers and cyclists come together for food and farm bike tour
The fourth annual Tour de Food was hosted by Skyline Camp & Retreat Center, to better connect residents to farmers and good food through a family friendly outing.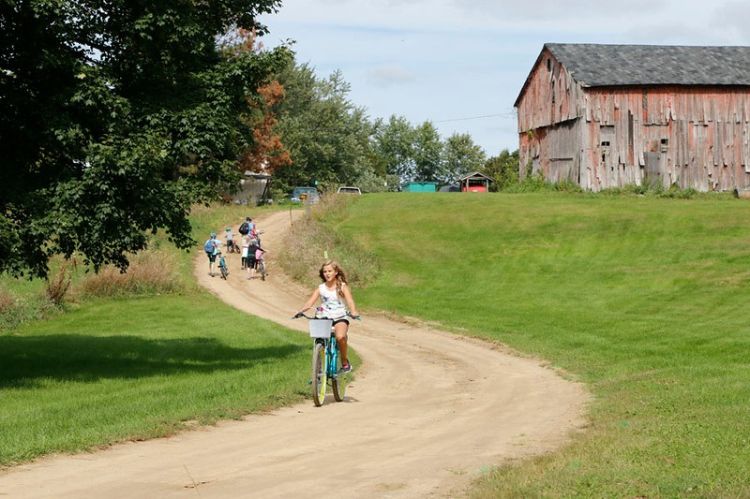 Sunday, Sept. 20 was a perfect example of an extended summer day. It was 70 degrees, sunny and cloudless with a refreshing breeze. Organizers of the upcoming event breathed a sigh of relief because participants would stay warm and dry on their adventure. Skyline Camp & Retreat Center was the epicenter of activity in northern Macomb County that day. The pavilion was bustling with bikers and drivers checking in for their biking or driving tours.
This year marked the fourth annual Tour de Food, a bicycle (and driving) tour of 13 local farms and fundraiser for the camp and retreat center. Participants had the choice to ride a selection of tiny trips (3-4 miles), a 10 or 20 mile route, or drive any of the options. A new route is developed every year to include new farms and to improve the experience for the riders. The route is specifically developed to be family friendly so that everyone can safely participate.
The farms that are featured showcase the beautiful landscape and agricultural diversity of northern Macomb and southern Lapeer counties. The producers had a wide variety of items they grew or produced, including: grapes, honey, vegetables, apples, cider, maple syrup, eggs, and alpaca fiber goods. No matter which route participants choose, they are guaranteed to see and experience a number of different types of farms. The ride or drive offers participants the opportunity to visit each of these different farms, learn a little bit about what life on that farm is like, and purchase any of the products that the farm has for sale. Any products that are purchased at the farm are delivered to the home base of Skyline Camp & Retreat Center at the end of the day, so that riders don't have to carry all their local food and goods with them.
This year the tour incorporated an educational component of a trivia scavenger hunt. Michigan State University Extension worked with the participating farms and event organizers to gather questions about each of the farm's operations. Riders and drivers were encouraged to start conversations with the farmers and volunteers at the sites to learn a little more about their farm and products.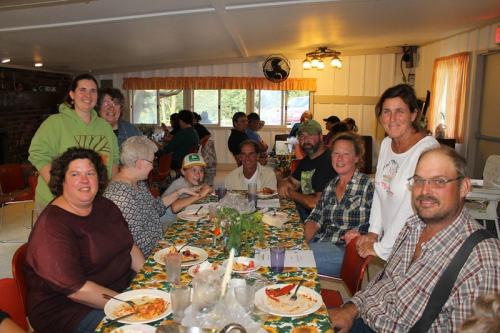 The day culminates in a delicious farm to table dinner hosted at Skyline. The dinner is entirely prepared by the kitchen staff at the center, using ingredients from every site on the tour that sells local food products, and some neighboring farms to access ingredients that weren't available from those on the route. The menu included pickled vegetables, homemade bread, a colorful salad, roasted vegetables, and lasagna featuring a local specialty on each layer. The dessert was a seasonally appropriate raspberry and apple tart. Even the table decorations were picked from Skyline's grounds.
The tour was truly a demonstration of a community event. More than 175 volunteer hours were tracked in the preparation of the tour. This year 131 cyclists, 34 car riders and 139 eaters of the farm to table dinner participated! All proceeds go to benefit the camp and its programming. Skyline serves hundreds of campers each summer, providing youth and older special needs campers with a chance to experience a positive sense of the natural world, of community and of self. They reach out to offer camp to those who wouldn't otherwise have the opportunity, and are always seeking funds to be able to offer "camperships."
Michigan State University Extension promotes connecting with local food producers, food system education and family friendly activities, to work towards a healthier and better informed future for Michigan residents.