Local food network in Flint celebrates at its first Annual Meeting
Evaluation results from the Annual Meeting indicated that participants consider the overall value of the network to be excellent.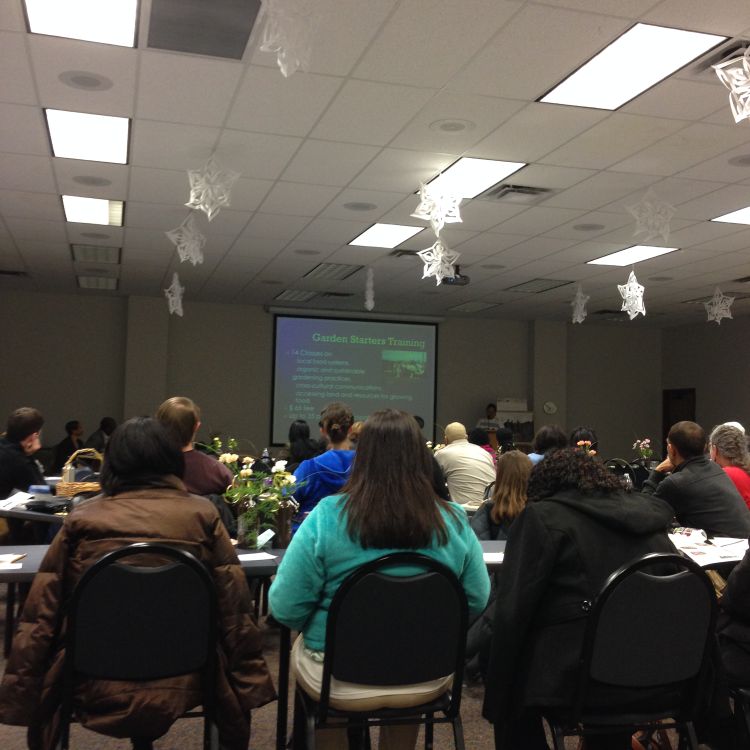 Formed in 2009 following many community conversations and growing local food support, edible flint is a local food network of people and organizations interested in collaboration around healthy food access, productive reuse of vacant land and education around local food systems in Flint, Michigan.
The network engages in efforts that support residents' ability to grow and access healthy food; encourages the priorities of healthier and more active lifestyles; improves public awareness of the benefits of locally-grown fruits and vegetables through urban gardening/farming and promotes season-extending farming techniques and community supported agriculture (CSA) programs, supporting a healthy food system. Collaborating with numerous local partners is integral to the edible flint network. edible flint divides its efforts among five different work groups, each self-organized to address specific issues and opportunities in the local food system. Throughout the year, edible flint's work groups envision, plan and implement these efforts using a consensus based decision-making model.
On Thursday, March 27, edible flint held its first Annual Meeting, celebrating accomplishments from last year and the recent news that it had been granted 501c3 nonprofit by the IRS. Its 2013 annual report highlighted the organization's accomplishments from last year, which included training 32 students through the Garden Starters Intro to Urban Food Gardening class series; selling 300 Garden Starters' kits (each kit contains 18 types of seeds and 10 types of transplants); tilling 67 gardens; testing soil in 40 gardens and delivering 350 yards of compost.
One goal of the edible flint Annual Meeting was to share the 2014 Garden Starters kits & services information, which residents rely on for support in their community, private and market food gardens. The garden training classes and kits are available to residents throughout Genesee County, and the services (soil testing, tilling and compost delivery) are available for food gardens located in the City of Flint. Another goal of the annual meeting was to recruit new supporters, and organizers were pleased to have 50 participants attend. Stations were set up around the room highlighting the work groups' work.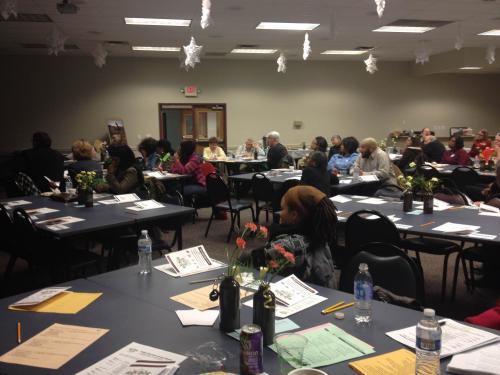 A preliminary report on an in-depth assessment of convenience and grocery stores within the City of Flint that was performed by a Human/Community Nutrition & Dietetics doctoral student from Michigan State University in 2012 was also shared at the meeting. This food access assessment work was undertaken in conjunction with the Access and Education workgroup of edible flint. The study assessed 187 stores with a tool that covered 11 categories and a total of 63 different dimensions of assessment. Later in 2014, the data will be shared in community forums in Flint. The group seeks to increase understanding about how food choices affect health, and advocate for policy changes that will increase the availability and access of healthy food.
Evaluation results from the Annual Meeting indicated that participants consider the overall value of the network to be excellent. Comments included, "edible flint is doing good work", "I'm proud to work on edible flint projects" and "I appreciate the vision of Flint residents". Two Michigan State University Extension Community Food Systems educators are directly engaged in edible flint efforts, providing support and expertise for the training classes, the Co-op set of growers who collectively sell their produce at the Flint Farmer's Market, the annual Garden Tour and several other initiatives.