LPI Year in Review
This year, the Land Policy Institute's contribution to research and outreach efforts have included such topics as placemaking, economic development, regionalism, legacy cities and land use, among others.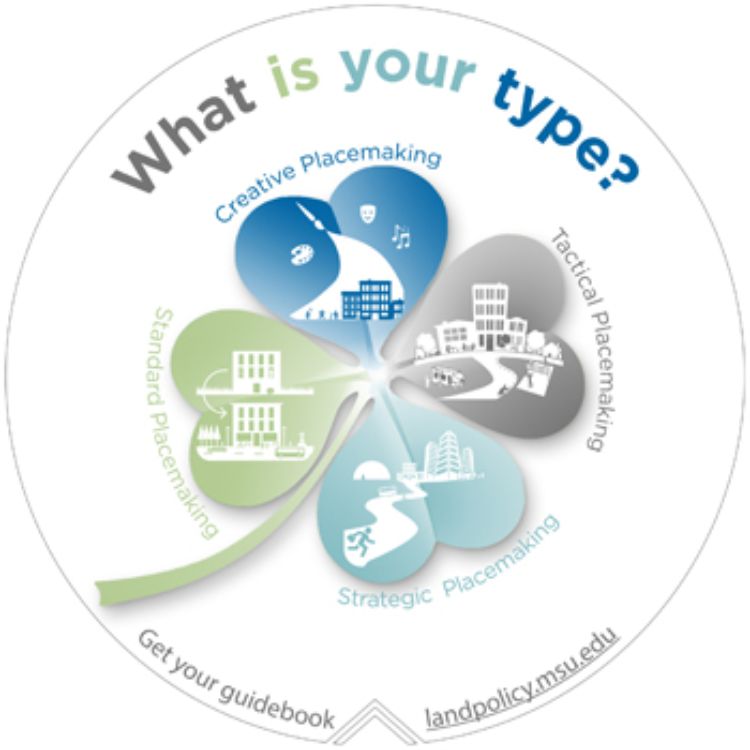 This year, the Land Policy Institute (LPI)'s contribution to research and outreach efforts have included such topics as placemaking, economic development, regionalism, legacy cities and land use, among others. The Institute has been working with many units on campus, as well as stakeholders and policy makers in the state and nationwide in support of building and maintaining sustainable communities in Michigan.
Please visit LPI's website in 2017 for updates on our research and outreach efforts. Be sure to check out our News Feed and Resources for additional highlights from 2016.
LPI Welcomes Yue Cui
LPI welcomes MSU Assistant Professor Yue Cui to the team
The MSU Land Policy Institute welcomed Yue Cui, PhD, to the team in May. She came to LPI from the MSU Department of Community Sustainability (CSUS) where she will continue her work as an assistant professor for the Center for Economic and Spatial Analysis for Planning and Management. Cui is also an adjunct assistant professor with the MSU School of Planning, Design and Construction (SPDC). In 2010, Cui earned a PhD from the former MSU Department of Community, Agriculture, Recreation and Resource Studies, now CSUS. She also has a PhD in Geography from Peking University in China. Cui has been working on estimating the regional economic impacts of recreation and tourism since 2007.
LPI Research
LPI and MHA partner on blight elimination study (project continuation)
The Michigan Step Forward program, administered by the Michigan Homeowner Assistance Nonprofit Housing Corporation (MHA) and the Michigan State Housing Development Authority (MSHDA), has allocated some of the State's Hardest Hit Funds from the U.S. Treasury Department toward the Blight Elimination program. The focus of the program is on eliminating the surplus of blighted single-family homes that have distressed communities for several years, with a goal of stabilizing neighborhoods and making the first step toward improving the quality of life in these neighborhoods and communities.
This year, LPI worked with MHA to gather and analyze information about the economic and social impacts of the Blight Elimination program in the 16 Michigan cities where funds will be spent, including Detroit, Flint, Grand Rapids, Pontiac, Saginaw, Lansing, Jackson, Highland Park, Inkster, Ecorse, Muskegon Heights, River Rouge, Port Huron, Hamtramck, Ironwood and Adrian. The LPI and MSU Remote Sensing & GIS also started collecting and mapping data on vacancy, foreclosure, foreclosure assistance and crime in these cities and neighborhoods that have been targeted for blight removal. In addition, LPI will be conducting a property price analysis to investigate the impact of blight and its removal on surrounding properties, as well as a survey of residents to assess their perceptions of how blight removal and property reuse will affect their neighborhoods and communities.
LPI's Wyckoff provided technical assistance to Michigan's 21st Century Infrastructure Commission
Recognizing that sound and modern infrastructure is vital to the health and well-being of Michigan's residents, Gov. Rick Snyder created the 21st Century Infrastructure Commission through Executive Order 2016-5 in January 2016. The Commission, comprised of state and independent industry experts, is charged with identifying strategic best practices to modernize the state's transportation, water and sewer, energy, and communications infrastructure over the next 30-50 years. The LPI's Mark Wyckoff provided technical assistance to the Water Infrastructure subcommittee of the commission providing valuable context, information and suggestions to help commissioners form recommendations for the report that is due to be released Nov. 30, 2016.
Community Impact Assessment of the Kent County Land Bank Authority
The purpose of this study is to assess the economic and social impacts of Kent County Land Bank Authority activities (from 2011-2015) such as demolition, rehabilitation and maintenance on nearby homes and regional economies. While most Land Bank Authorities are similar in that they purchase tax foreclosed properties and demolish, maintain, sell and renovate them, the Kent County Land Bank Authority (KCLBA) has some unique characteristics. This year, LPI began objectively and empirically measuring the economic and social impacts of these activities through an IMPLAN® economic impact assessment, a hedonic property price analysis and a social perceptions assessment. The final report is expected to be released in Spring 2017.
MSU releases study on integrated asset management for legacy cities
In April, Faculty in the MSU LPI and SPDC completed a study on a new "Integrated Asset Management" model that focuses on neglected infrastructure and vacant properties in legacy cities. The Michigan Applied Public Policy Research (MAPPR) Paper was funded by the MSU Institute for Public Policy and Social Research. Future research possibilities were examined and funding will be sought to apply the same type of optimization model in other Michigan legacy cities, such as Flint and Detroit. This policy paper is available online at: IPPSR MAPPR Paper.
LPI and Networks Northwest release regional services recommendations for Northwest Michigan
A report detailing analysis of state and regional services that currently, or could potentially, support Networks Northwest's Framework for Our Future Regional Prosperity Initiative was made available by the MSU LPI in July. The Northwest Michigan Regional Services Recommendations report includes an assessment of overlaps, gaps and inefficiencies in the funding or implementation of targeted programs available to the northwestern counties of Michigan's Lower Peninsula. This report was prepared by LPI for Networks Northwest. The study analysis included a number of programs within five major categories: Workforce Development, Business and Economic Development, Community Development, Transportation, and Housing. These categories align with several chapters from the Framework Plan.
LPI Outreach
LPI's Wyckoff and Madill shared placemaking expertise at the MTA annual conference in Jan. 2016
The Michigan Townships Association (MTA) hosted their annual conference Jan. 19-22, 2016, in Detroit. On Jan. 21, 2016, the MSU LPI and MSU Extension partnered to deliver two separate extended sessions on placemaking. Both sessions introduced placemaking and quality places, and then explored the relationship between placemaking and economic development, and what makes quality places. The LPI's senior associate director Mark Wyckoff, and director of the Planning & Zoning Center at MSU; and Glenn Pape, extension educator for MSU Extension, presented Strategic Placemaking as an Economic Development Tool in Suburban Townships. . . Holly Madill, outreach specialist for LPI; and Dean Solomon, senior educator for MSU Extension, presented Placemaking Projects to Improve Quality of Life in Your Township.
LPI's Graebert shared expertise on walkable urban places at the Building Michigan Communities Conference
On Apr. 25-27, 2016, the annual Building Michigan Communities Conference (BMCC) took place at the Lansing Center in Lansing. On Apr. 27, the LPI's Mary Beth Graebert spoke on a panel titled "The Where, Why and How of Missing Middle Housing Development." Graebert presented on a study that the George Washington University Center for Real Estate & Urban Analysis, and LPI recently completed on Walkable Urban Places in Michigan, which identified downtown locations with high walkability and regional economic activity, and confirmed that rent premiums show an increasing demand for housing and commercial space in these areas.
LPI continues work on placemaking initiatives with MSHDA
The Land Policy Institute continued working with MSHDA on two projects this year: 1) Placemaking Curriculum and the Placemaking Guidebook. The LPI conducted two Placemaking Curriculum trainings this year.
Then, on Jun. 1, the LPI, in collaboration with the MIplaceTM Partnership Initiative, announced the release of a guidebook titled Placemaking as an Economic Development Tool. It is the most comprehensive publication on placemaking to date, drawing from the best works available. The complete guide seeks to assist neighborhoods and communities with quickly reshaping their thinking and acting on how effective placemaking can greatly enhance community and economic development. With an emphasis on economic aspects of placemaking, this tool is particularly valuable in states, regions and localities that are attempting to reshape their communities to again be competitive in the global New Economy. To date, more than 1,200 orders have been fulfilled, including 40 copies for people in 12 countries outside the U.S. To order a free digital copy today, visit: Placemaking as an Economic Development Tool.
The guidebook and the team that produced it have received several awards since the release in June.
The LPI published several articles this year related to the guidebook:
Additionally, the LPI team made numerous presentations about the guidebook in Michigan and nationally.
Wyckoff presented on the MIplaceTM Partnership Initiative and demographic trends related to placemaking at a conference in November for executives of state housing development authorities in Indianapolis.
LPI hits the road: Wyckoff & Madill to share expertise on placemaking, economic development and infrastructure
LPI hit the road this past fall, presenting at a couple of conferences. LPI's Mark Wyckoff was invited to speak at the Council of Michigan Foundations 44th Annual Conference, which took place Sept. 18-20 at the Ann Arbor Marriott in Ypsilanti. He presented a session on Uniting Rural and Economic Development.
Wyckoff and Madill share expertise on planning, placemaking and economic development at 2016 Planning Michigan Conference
The Michigan Association of Planning hosted its annual Planning Michigan Conference Oct. 26-28, 2016, in Kalamazoo. . . LPI's Mark Wyckoff, and Holly Madill, were on-hand to make presentations during the event. On Thursday, Oct. 27, Wyckoff facilitated the plenary session to about 300 attendees titled, 21st Century Solutions for 21st Century Challenges. . . Also, Wyckoff taught the Legal Aspects of Planning and Zoning session of the MSU Extension Michigan Citizen Planner Program, while Madill taught the session on Best Practices for Innovative Planning and Zoning Techniques to about 30 interested citizen planners from across the state.
LPI Events
LPI's Planning & Zoning Center celebrates record attendance at 2016 Zoning Administrator Certificate Training Program
Since 2009, the Planning & Zoning Center has hosted the popular Zoning Administrator Certificate Program. This program was designed to offer zoning administration and enforcement techniques in ways that reduce legal risks to the zoning administrator and their community. In February, the PZC conducted its latest round of training in Muskegon, MI, with 52 attending the three-day program! The Program has offered training in 14 different locations around the state; attracting more than 250 participants. This year's class saw record attendance for a single session, necessitating the need for two concurrent sessions due to the high demand.
LPI and SPDC co-sponsor Neighborhoods in America's Legacy Cities: A Dialogue in Detroit in September
In September, LPI and SPDC co-sponsored an interdisciplinary meeting in Detroit to discuss the role of historic preservation in revitalizing America's legacy cities, led by the State Historic Preservation Office, MSHDA and Wayne State University. Continuing the conversation begun in 2014 at the Historic Preservation in America's Legacy Cities conference, held at Cleveland State University, the event addressed difficult questions about what role preservation can and should play in shaping the future of Legacy Cities; how to identify and leverage historic assets; what benefits and impediments exist in integrating preservation into community and economic development; and how decisions are made about what to save and what to destroy.
LPI News
Planning & Zoning News, Vol. 34 No. 7
Recovering from the Flint Catastrophe: What is Flint doing? What would your community do?
May 2016
For the third time in a decade, Michigan made national and in­ternational headlines for negative reasons. First, as part of the Great Recession, it was the huge unemployment and collapse of the auto industry in 2008-10 which required a federal bailout. Then it was the Detroit bankruptcy, the first major city in the na­tion to default on its bills. Now it is citywide poisoning from lead in Flint's drinking water caused by a series of bad decisions at every level of government. In each case, many people and businesses suffered. . . People are trapped in homes and businesses with water they are afraid to drink, bathe in and use for nearly any purpose, while paying among the highest water rates of any community in America. . . While the Legislature provided temporary relief on the cost of water issue in Flint, the extreme challenge of trying to get through a day on bottled water is not simply inconvenient, it is punishing. . .
Coming from LPI in 2017
Following is a brief description of projects upon which LPI and the Planning & Zoning Center have recently embarked upon or that will continue in 2017.
2017 Zoning Administrator Certificate Program
Join the more than 200 participants from past programs and be in the know about all things zoning administrator in Michigan. In Winter 2017, the PZC is offering the next Zoning Administrator Certificate Program in Plymouth at the Hilton Garden Inn Feb. 15-16, 2017. The main difference from past years is that the program will be offered in two days instead of three. To register and learn more, visit: Zoning Administrator Certificate Program. Questions about registration should be emailed to Holly Madill at madill@msu.edu or call (517) 432-2222. Space is limited, so be sure to reserve a seat today!
LPI Studies/Reports
The final reports for the Blight Elimination Study with MHA and the Community Impact Assessment of the Kent County Land Bank Authority are expected to be released in Spring 2017.