Macomb County youth learn leadership skills through community service
Eight Michigan youth participated in a three-day leadership academy where they learned and practiced leadership skills through discussion, activities and team challenges.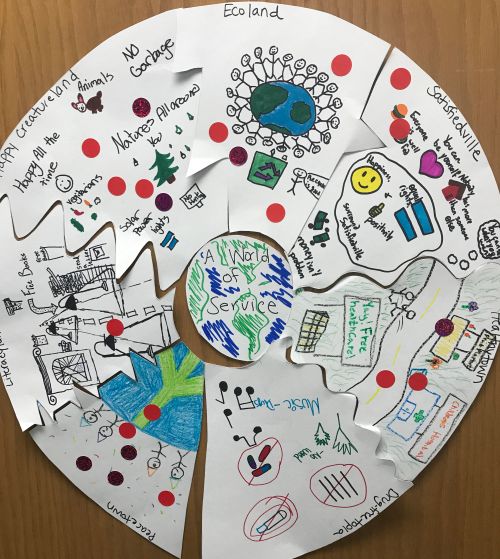 During the summer of 2017, eight youth ages 11-17 participated in a three-day leadership academy hosted by Macomb County Michigan State University Extension. Michigan 4-H Youth Development staff utilized lessons in the goLead curriculum from GenerationOn to guide youth as they learned and practiced leadership skills through discussion, activities and hands-on team challenges. Additionally, youth learned about community service, researched local needs and planned their own community service project concluding on the third day of the academy.
Through the process, youth envisioned a world where people's basic needs were met in hypothetical utopias titled Ecoland, Satisfiedville, Healthytown, Drugfreetopia, Peacetown, Literacyland and Happy Creatureland. The youth used their visions of a perfect world to consider opportunities for meaningful community service and began to narrow down the areas in which they wanted to contribute.
Once the youth focused on two areas of interest, they made phone calls to local community service agencies to better understand the needs that existed in their local community. They listened to presentations from panelists dedicating their careers to work in these areas.
At the conclusion of the program, the youth decided to make dog and cat toys and blankets for a local animal shelter, as well as weeded and prepared garden beds for the winter at the adjacent community garden.
When asked what they learned through the experience, youth reflected:
"I learned that everybody has an opinion that should be listened to."
"I learned I don't always have to be the leader of the group."
"I learned that I can do community projects with my family and friends."
To host a leadership academy in your community, contact members of the MSU Extension leadership and civic engagement team at 4-hleadership@anr.msu.edu. To learn about the positive impact of Michigan 4-H youth leadership, citizenship and service and global and cultural education programs, read our 2016 Impact Report: "Developing Civically Engaged Leaders."
Did you find this article useful?
---