Macomb Food Collaborative hosts annual local food conference
Join many local food supporters on March 20th to learn, connect and eat at the All About Food Conference.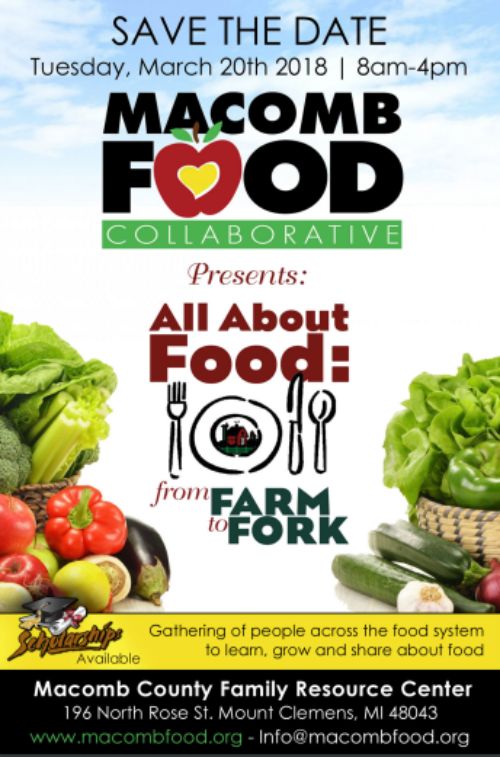 While this conference is a regional event, this year's theme, highlighting the Macomb County food system, is All About Food Conference. A keynote panel of Macomb County food and beverage business owners will kick off the day, setting the focus on the local context. The speakers will share information about their businesses along with their role in supporting locally sourced food and locally made alcoholic beverages. The panel will include voices from a vineyard, brewing supply store and a brew house/restaurant.
For the seventh year, this conference will be one of the few spaces where local food systems stakeholders gather on a regular basis in Macomb County. The event aims to feature a wide range of breakout session speakers, to appeal to an audience that has historically been representative of various food system sectors. The event primarily attracts participants from the Southeastern Michigan region, with fewer numbers from around the state.
The tradition holds this year with a breakout session line-up representing a diverse range of topics. Gardeners and farmers may take interest in the basic vegetable gardening, soil health and testing and a garden in a bucket sessions. Schools and other institutions will be represented with farm to school, feeding the whole child and food safety sessions. Those that take interest in local food from an environmental standpoint may find themselves attending sessions on disappearing farms and farmland and closed loop systems. Other sessions will address a myriad of food related topics including legislative advocacy, starting businesses, vegetarianism and local produce in USDA designated food deserts. For a complete schedule visit this link.
The day of learning will be broken up by opportunities to shop and learn at a local pop up market. Participants can network with one another while purchasing wares from local food businesses and gathering information from food related organizations.
As any local food conference attendee would hope, a locally sourced and prepared lunch will be provided as part of the cost of attendance. Several local food businesses will contribute their goods to support what is anticipated to be a delicious spread. A selection of those contributors include Henry Ford Health Systems, Dorsey Culinary School, Westview Orchards and the Clean Plate.
Registration is currently open for the All About Food: From Farm to Fork Conference on March 20, 2018. The event is hosted by the Macomb Food Collaborative, a non-profit organization focusing on food business development, food access and promotion of local food. The Macomb Food Collaborative was founded by a Michigan State University Extension Community Food Systems Educator, and the Community Food Systems team continues to serve on the board of Collaborative, supporting this annual event. This year the conference will be held in a new location, the Macomb County Family Resource Center, at 196 North Rose Street, Mount Clemens, MI.
Early bird registration is open through March 16 with a fee of $25. Online registrations can be completed at http://www.macombfood.org/all-about-food-conference.html. A limited number of walk-ins will be accepted on the day of the conference with a fee of $35.
In an effort to build community connection and support around food related topics, Michigan State University Extension supports local food systems conferences throughout the state. For more information on conferences and other local food events, consider subscribing for news on community food systems.