Magister SC receives label for twospotted spider mite control in hop
Hop growers have a new option for mite control with Magister SC (Fenazaquin).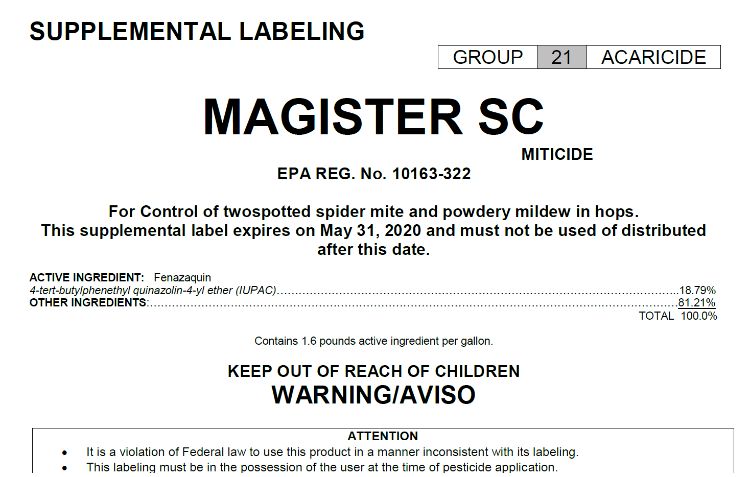 A supplemental label has been granted for the use of Magister SC (Fenazaquin) in hops. Magister is a miticide but is also shown to have activity against powdery mildew and can provide a double-duty application for growers looking to treat for twospotted spider mite and prevent powdery mildew.
Magister is a broad-spectrum miticide with contact activity against motile mites and also reduces egg viability. One foliar application per year is allowed on hops. The recommended rate for the control of spider mites is 36 fluid ounces per acre.
Initial applications are toxic to the motile forms of the predatory mites but not the eggs, which allows beneficial mite populations to rebound. It is a Group 21 acaricide with the same mode of action as Fujimite and Portal, and should be rotated with a material from a different group for resistance management purposes.
See the Michigan State University Extension bulletin, "Michigan Hop Management Guide," for more information on rotational partners.
Growers who plan to export hops should note that Magister is not yet harmonized with the European Union or Japan.