Make your own frozen yogurt
Fruit, dairy and protein all in one.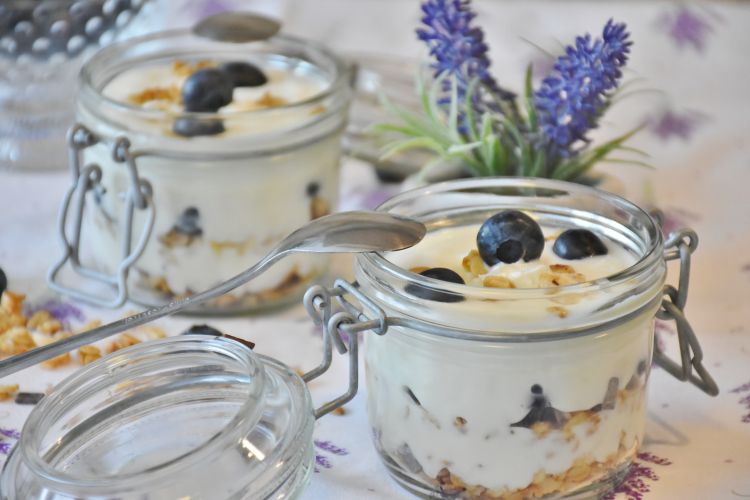 There are times when a quick, nutritious snack can help get you through the day. Adults and kids often need a nutritional snack between meals to provide the energy necessary to work hard and play hard.
Our lives can get extremely busy and good recipe ideas can make snacking fun while you and your loved ones get positive nutritional benefits. Michigan State University Extension recommends eating lean protein and low-fat dairy to help nourish the body. The following recipe features Greek yogurt mixed with a blend of fruit juices. Enjoy making this recipe with your family, young children or loved ones. Incorporating children in the kitchen is a great way to bond and spend time together.
Frozen yogurt
Ingredients:
8 ounces of vanilla Greek yogurt
6 ounces of 100 percent pineapple juice
1/2 cup of 100 percent orange juice
Instructions:
Slowly blend juices into the yogurt to prevent lumps. Divide the recipe into three to four custard cups or coffee mugs that can be frozen. Canning jars are excellent to use to store frozen yogurt in the freezer. Freeze for at least two hours to allow yogurt to harden. When removed from the freezer, wait a few minutes for it to defrost. You can store this in the freezer covered for up to one month.
Greek yogurt is a good source of protein, providing approximately 19 grams per serving, according to the U.S. Department of Agriculture. MyPlate informs consumers that proteins function as building blocks for bones, muscles, cartilage, skin and blood. They are also building blocks for enzymes, hormones and vitamins. You can find additional information about protein on the Choose MyPlate website.
Kids and adults love to eat fruity treats. Consider making your own frozen yogurt to keep on hand for a quick, fun and healthy snack. Yogurt is a healthy way to get protein and dairy into your daily food plan.
These simple tips are meant to provide general recommendations on how to incorporate healthier options into your life. If you would like to learn more about healthy eating and wellness, visit Michigan State University Extension. MSU Extension offers various educational programs for adults, families and children that focus on lifestyle changes to promote healthy eating and wellness.