Make your soil smoke for optimum soil health
MSU Agriculture Innovation Day to feature smoking soil and more from experts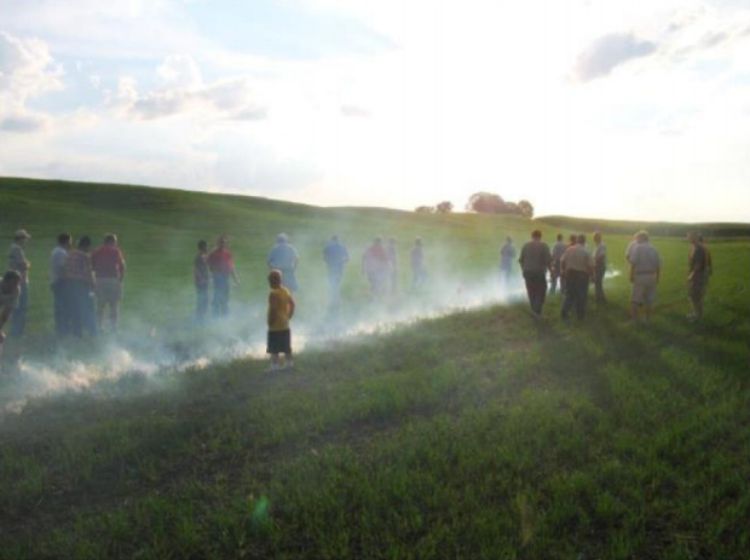 Watch smoke rise from the ground while learning how water percolates in tiled fields with various soil structures during a featured demonstration on Aug. 24 as part of MSU Agriculture Innovation Day: Focus on Soils in Frankenmuth, MI.
Attendees will learn about the importance of soil structure to water holding capacity from certified soil scientist Frank Gibbs. The demonstration will cover techniques to manage and improve soil quality, all while reducing direct pathways for nutrient displacement.
"Soil health is a real thing that you can feel and see with your own eyes, and I hope people take that away from the demonstration," Gibbs said.
As one of several presentations at MSU Agriculture Innovation Day, Gibbs' aims to help farmers determine how to build their own management strategy tool box including: the 4-R's – Right Source, Right Rate, Right Time and Right Place – and various drainage conservation practices to help ensure a safer water supply and improve your soil quality.
"A healthy soil is porous, well-structured and contains lots of air space for living creatures, especially earth worms," Gibbs said. "Healthy soils absorb water from large storms. Roots from cover crops hold the soil in place and recycle nutrients, preventing them from washing away."
In addition to Gibbs' demonstration, the educational field day will cover topics ranging from soil quality to compaction and tile technology. MSU Agriculture Innovation Day aims to develop important relationships between leading soil experts and farmers to create sustainable healthy soil.
MSU Agriculture Innovation Day takes place on Aug. 24, 2016 from 8 a.m. to 4 p.m. at the Saginaw Valley Research and Extension Center in Frankenmuth, Michigan. The event is free, and MSU president Lou Anna K. Simon will speak to attendees over a free lunch.
For more information on MSU Agriculture Innovation Day: Focus on Soils, visit: www.msue.msu.edu/msuaginnovationday or contact Ron Bates at batesr@msu.edu.