Malting barley research in Michigan's Upper Peninsula reaches across the Atlantic
A recent international partnership award between the United States, United Kingdom and Canada has opened the door for research and collaboration on malting barley production.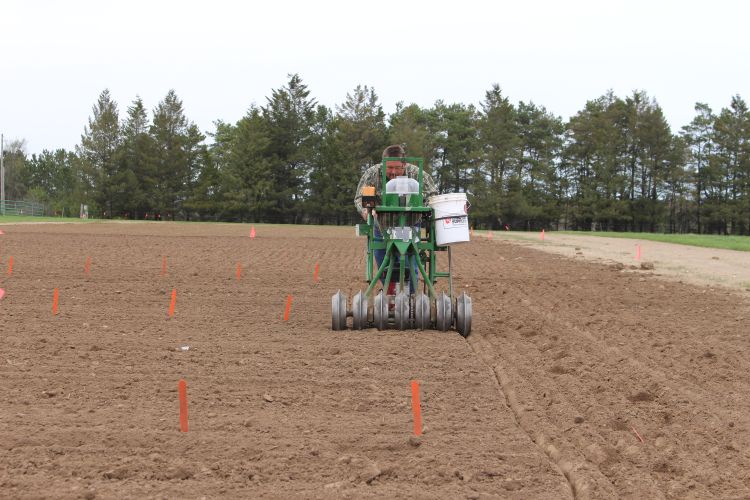 The MSU Upper Peninsula Research and Extension Center (UPREC) has established itself as the leader in malting barley research in Michigan. That fact caught the attention of researchers from the John Innes Centre in Norwich, UK, who are working on of heritage barley lines for new malt flavors and potential Fusarium head blight (FHB) resistance – a disease that poses a great challenge to upper Midwest barley production. In 2014, Drs. Christopher Ridout and Sarah de Vos, researchers from the Centre in the UK, visited the various research trials ongoing in Michigan, leading to a formal collaboration in partnering award grants worth around $60,000 from the UK research council BBSRC.
"We were impressed by the high quality of the trials performed at UPREC, and the passion of the researchers to re-establish malting barley in the region," said Ridout.
Other partners include researchers from Penn State, Cornell, Agri-Food Canada (Prince Edward Island), Virginia Tech and Deer Creek Malting in Pennsylvania.
Eastern North America is the focus for this work because of the emerging malting barley and malt industries in those regions. In recent years, those industries have been primarily in the western states, and so too have the variety breeding programs. Now, as interest increases in the east, farmers and maltsters are finding it difficult to identify varieties that are well-suited to a less arid climate. Reviving some of these heritage barley lines, naturally adapted for the UK climate, may serve as a useful tool as more adaptable varieties are developed domestically. Another area of research to be examined is the soil health implications of malting barley cultivation – primarily as it relates to the barley's ability to form beneficial associations with mycorrhizal fungi and soil bacteria – a research focus well-aligned with the MSU UPREC mission.
Although a bulk of the research will not begin until 2016, researchers in the U.P. have already put six UK varieties in the ground. They were selected from a cross with Chevallier, a popular barley from the Victorian period, for resistance to FHB. This, made possible through the BBSRC partnering award, will open the door for additional varieties to test in the future, along with support for research and knowledge to flow amongst partners. Exchange programs will also be established to allow early-career researchers from the UK to travel to the US, and vice versa. In addition, a research symposium open to all collaborators will be held in the UK in 2016.
If you are interested in learning more about malting barley production or malt processing in Michigan, feel free to reach out to me, Ashley McFarland at 906-439-5176 or ashleymc@anr.msu.edu, coordinator of the Michigan State University Upper Peninsula Research and Extension Center in Chatham, Michigan and a Community Food System Educator with Michigan State University Extension.