Management considerations for beef × dairy cattle webinar
A multi-state beef × dairy virtual program provided by Michigan State University Extension and The Ohio State University.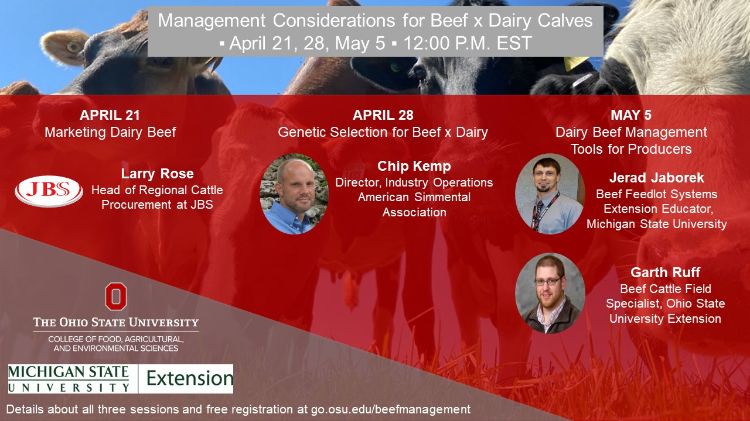 Crossbreeding beef sires to dairy cows has become increasingly popular over the last decade to provide additional profit to the dairy operation. Implementing a beef × dairy crossbreeding strategy affects multiple sectors of the dairy and beef industries. This impacts the calves being born on dairies, the growth performance and efficiency of cattle in feedlots, and the meat quality and yield at packing plants. Join us on April 21, 28, and May 5 at noon EST, for the webinar series "Management Considerations for Beef x Dairy Cattle."
With decisions stretching across many industry sectors, this program will cover marketing considerations, genetics and sire selection, and general management considerations for crossbred dairy beef cattle.
On April 21, Larry Rose, head of regional cattle procurement for JBS USA will be discussing marketing options for fed dairy cattle and how crossbred dairy beef cattle fit into the beef production supply chain.
On April 28, Chip Kemp, director of commercial and industry operations at the American Simmental Association and International Genetic Solutions, will be sharing which beef cattle EPD's and traits to consider to maximize the value and marketability of crossbred dairy beef cattle.
On May 5, Jerad Jaborek, beef feedlot systems educator for MSU Extension, and Garth Ruff, OSU beef cattle field specialist, will cover a variety of on farm management strategies for dairy beef cattle.
This webinar is free to anyone interested in crossbred dairy beef production. Register online at go.osu.edu/beefmanagement. If you have any questions about registering for the program, please contact Jerad Jaborek, Michigan State University Extension feedlot systems educator.