March is National Nutrition Month
Enjoy the taste of eating right!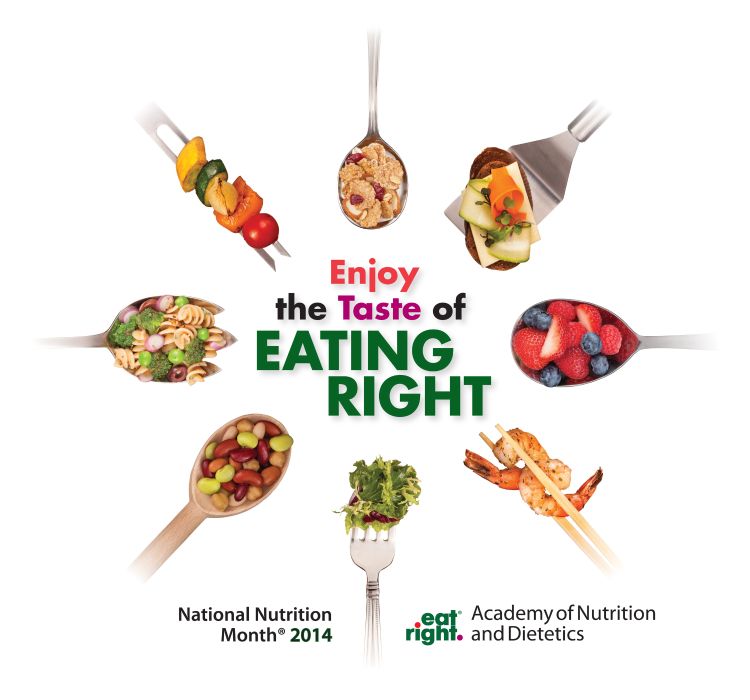 Health professionals realize that people won't eat healthy food if it does not taste good. Consumers often think that it's too difficult or confusing to choose and also prepare delicious healthy meals. Michigan State University Extension suggests that people follow the U.S. Department of Agriculture My Plate food guidelines to help with variety and balance of healthy food choices.
The goal of National Nutrition Month® 2014 is to promote healthy foods which are appetizing. The Academy of Nutrition and Dietetics recommends consumers increase healthier food choices by using the following food preparation tips:
Make oatmeal creamier by using fat-free milk instead of water. Try mixing in some raisins, dried cranberries, cherries or blueberries. Make sandwiches on whole-grain bread, such as whole wheat or whole rye. Add slices of avocado, tomato or cucumber to lean roast beef, ham, turkey or chicken.
When eating out, look for nutrient-rich choices, such as entrée salads with grilled seafood and low-calorie dressing, baked potatoes topped with salsa, grilled vegetables and reduced-fat cheese and yogurt parfaits made with strawberries and blueberries.
Drink nutrient-rich, low-sugar beverages such as low-fat or fat-free milk or 100 percent fruit juice.
Top foods with chopped nuts or reduced-fat sharp cheddar to get crunch, flavor and nutrients from the first bite.
Spend a few minutes to cut and bag vegetables so they are in easy reach of every family member: Some ready to eat favorites include red, green or yellow peppers, broccoli or cauliflower flowerets, carrots, celery sticks, cucumbers, snap peas or radishes.
Serve meals that pack multiple nutrient rich foods into one dish, such as hearty, broth-based soups that are full of colorful vegetables, beans and lean meat. Make chili with a dollop of low-fat yogurt. Serve these with whole-grain breads or rolls.
For dessert, enjoy a tropical treat by blending mango, plain low-fat milk, ice and a splash of pineapple juice, or stir chocolate syrup into a cup of coffee flavored yogurt, freeze and enjoy
We all like good tasting food. By using some simple cooking techniques, trying new foods and flavors and using wholesome recipes, you and your family can enjoy the taste of eating right!