March is Reading Month: Five fun ideas to expand on your children's favorite books!
Bring your child's favorite books and story characters to life and encourage their love of reading with these fun ideas!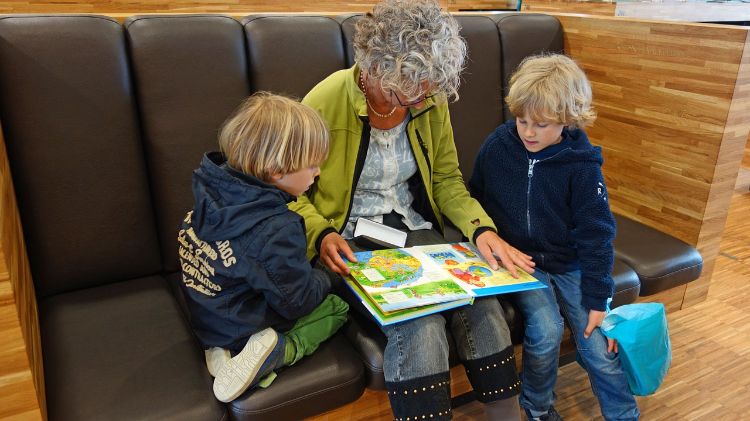 March is Reading Month! This month provides a great opportunity to expand your children's interest in books. Research tells us that children whose parents read to them regularly in early childhood have larger vocabularies, are more prepared for kindergarten, and are more likely to read on grade level in grades K-3.
While there are many great children's books, here are five that have fun corresponding activities to enjoy with your child!
The Lorax by Dr. Suess - Yarn truffla trees
In the book The Lorax, the truffla trees are harvested into extinction and the Lorax speaks for the trees throughout the book. Make your own truffla trees with your children by using yarn and popsicle sticks. Have children decorate the popsicle stick like the trunk of the tree and attach a bundle of yarn at the top. Alternatively, construction paper could be used for the trunk and trufflalas, or other supplies such as straws for the trunk.
It Looked Like Spilled Milk by Charles G. Shaw - Cloud blots
This classic book features a white shape on a blue background on each page. The shape looks like a rabbit, or a bird, or many other familiar silhouettes. This book easily lends itself to being recreated with blue paper and white paint. Fold the blue paper in half, crease and unfold. Have the child place paint on the paper as they desire, then fold paper in half, so the paint is inside the fold. Smooth out the paper, spreading the paint, and then unfold. Have the child describe what they see and record their answers.
If You Give a Moose a Muffin by Laura Numeroff - Muffins
Children love the opportunity to bake alongside their parents and caregivers! After you read the book together, find your favorite muffin recipe and jump in. Have your child or children participate in baking, measuring and mixing! Of course, keep kitchen safety in mind, including what tasks (oven, mixer, etc.) might present a risk to children. If You Give a Mouse a Cookie and If You Give a Pig a Pancake, both by Laura Numeroff, are also great books to extend into your kitchen!
Alphabet Under Construction by Denise Fleming- Alphabet letters
In this fun book, Mouse constructs alphabet letters A through Z with a wide variety of materials. You can do the same by providing children with a large paper letter of their first initial and a selection of collage materials. Colored noodles, feathers, stickers and more can be used to decorate "their" letter. Michigan State University Extension offers a Family Book Sheet for Alphabet Under Construction with a variety of other fun and engaging ideas for children!
We are Going on a Bear Hunt by Michael Rosen - Sound effects
Many books feature great sounds, including this one! One fun way to expand on children's interests is to let them make the sound effects as you read the book. For example, in this fun book, the grass goes swishy-swashy, and the river goes splash-splosh and the mud goes squelch-squerch. Read the book once through with children and identify all the sounds, then encourage them to figure out what items could be used to make those noises. A broom, for instance, for the swishy-swashy noise. Then re-read the book, having the children create the noises as you read.
As you read other books with your children, look for ideas to expand on the concepts in the book. Children's literature offers a wealth of fantastic early learning opportunities. Think outside of the box as you look for craft, science or other ideas to expand on these fun early learning concepts.
MSU Extension offers additional resources on early childhood language and literacy development, including Family Book Sheets, webinars and face-to-face trainings on early childhood literacy development.